Textaizer Pro: One Text Mosaic & ASCII Art Generator To Rule Them All
For those of you who aren't familiar with ASCII art, it's a form of graphic designing wherein a photo is made entirely out of the characters from the ASCII chart. Basically, it is text-based visual art that can be created with any text editor. However, manually creating ASCII art takes up a lot of time and requires a lot of concentration. If you want to convert an existing photo, for instance, a photo of yourself, into ASCII art, you can use a software to do the job for you. Previously, we reviewed ASCII Generator (an open source application that lets you convert images to text-based art, allows adjustment of density levels, brightness, contrast and dither of the converted images). Today, we have a similar application with a much more extensive set of options. Meet Textaizer Pro, a text mosaic and ASCII art creator for Windows; perhaps the best, most comprehensive one we've come across so far.
Other than ASCII art, the application allows you to also create Mosaic, Word, Crazy, Draw, Text and Video art. The Tools menu allows you to fix basic image settings, including Brightness, Contrast and Saturation. The main interface has all the menus and their options on the right side, the source image preview is available at the top right, while the preview of the converted image can be viewed in the left pane.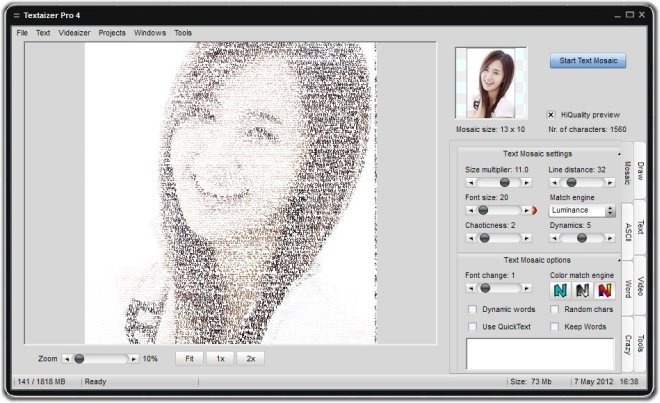 Each art creation mode has its own extended options. For example, if you select Mosaic, you can specify the Text Mosaic settings, including Size Multiplier, Font Size, Line Distance etc, the Text Mosaic options, such as Color Match Engine, Font change etc, and Circle settings, like Circle Density and Kerning.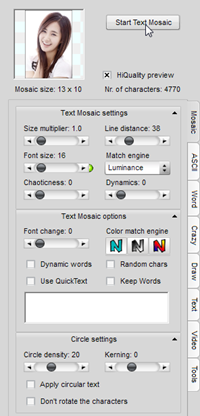 Other modes (accessible from the extreme right side of the interface) allow you to create different types of art, including ASCII, Draw, Text, Crazy, Word etc. If you select the Text mode, you can write text using characters of your choice. Moreover, the application lets you change the Macro Font, Font Size and make it Bold and Italic.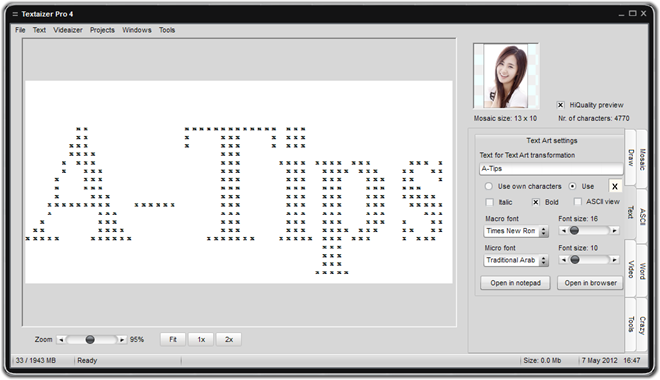 The finished images can be saved as JPG, as Text, in an HTML file, and as a meta file. They can also be directly printed from within the interface. During testing, we ran into some stability issues, and hope that the developer will work towards fixing them in the next release. Textaizer Pro works on both 32-bit versions of Windows XP, Windows Vista, Windows 7 and Windows 8. Testing was done on a 64-bit Windows 7 Ultimate machine.