ToYcon – Free PNG To Icon Converter
Looking for a quick way to convert PNG image to ICO format? We have previously covered a portable app for this purpose called ImagIcon. ToYcon is another powerful utility that allows quick conversion from various image formats to ico formats. The benefits of ToYcon over ImagIcon is that it allows two way conversions between png & ico and also supports more options and resolutions.
Just drag & drop the image you want to convert to icon into the dropbox and it will convert and save it instantly. By default, the icon will be saved in the same directory where the image(source) is located, but you can also choose a custom directory(if Choose Destination option is enabled).
By default it converts Png into Ico format, but you can change that by right-clicking the dropbox selecting Choose Type, and then choosing the desired conversion formats.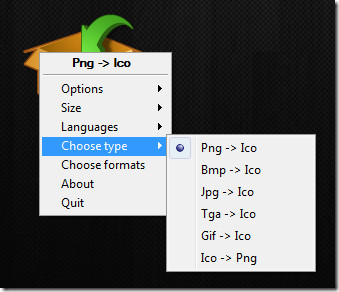 It has special tab for Vista and Windows 7 where you can choose formats and generate compressed icons(this options is optional). Also you will find a tab for Icon to Png conversion.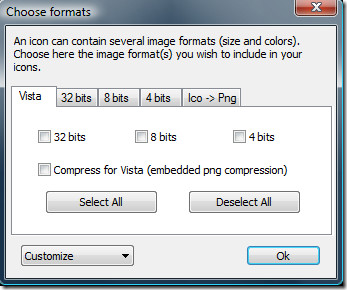 Download ToYcon (The author's page is in French, clicking the button below will being the download)
It works on Windows 2000, Windows XP, Windows Vista, and Windows 7. Both 32-bit and 64-bit versions are supported. Enjoy!