Transfer Files To Multiple Bluetooth Handsets In Windows 7, Vista, XP
Once you have installed the Bluetooth driver, you will have the ability to transfer files to only one handset by default. Files To Phones is a free 3rd party tool that allows users to transfer multiple files to multiple number of handsets. It supports BlueSoleil, Toshiba, WidComm/Broadcomm and Microsoft stacks.
The whole process is dead-simple as illustrated in the screenshot below. Select the files, choose the discovered Bluetooth devices, and hit Start to initiate the transfer. Since I don't have multiple devices, I am taking the screenshots from the developer's page.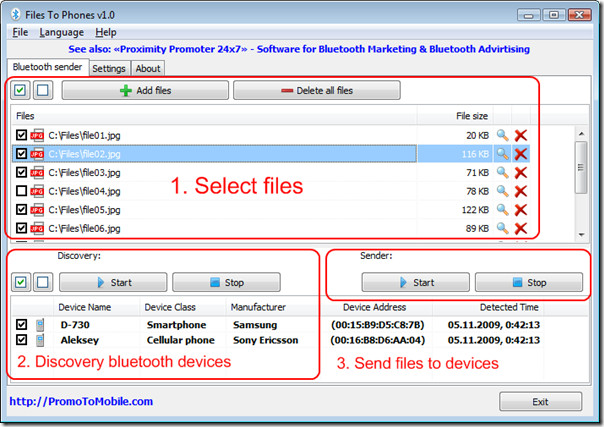 Here is another screenshot showing the Settings tab. You can choose to use authentication, enter PIN, and select other options.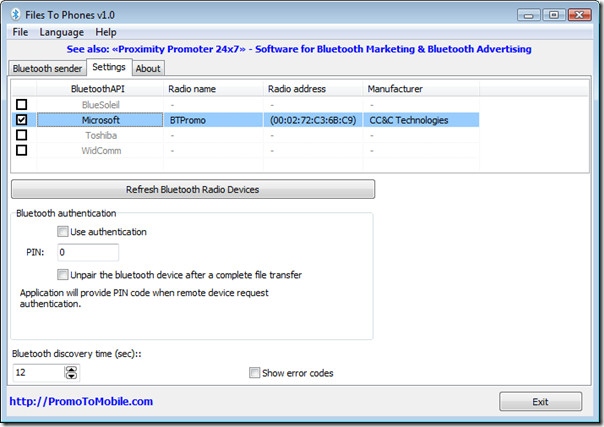 The only downside is the nag screen which can be really annoying, otherwise it is a great app.
It works on Windows XP, Windows Vista, and Windows 7. Enjoy!