Transfer MS Access Database To MySQL In 4 Simple Steps
Looking for an application that can help you easily migrate your MS Access database to MySQL without having to follow any tedious procedure? Transferring databases from one system to another is always a headache regardless of how big or small the database is. Therefore, database managers and administrators look out for a simple tool that can perform an export and import operations with all the variations involved. If you're planning to migrate data from Access to MySql, you'd probably have a lot methods in mind to port databases. Before implementing any of them, try MS Access to MySQL. It is an ingeniously simple utility for Windows that is designed to quickly port Access database to user-defined MySql database. It supports a wide range of database formats, including, MDB, MDE, ACCDB, and ACCDE database formats, and also shows you the MySql database hierarchy to choose the destination database path. Furthermore, password protected (encrypted) databases can also be exported on the fly without having to decrypt them.
The application supports two transfer modes – Direct transfer and Dump file creation. In direct transfer mode, you need to enter the host address, port, DB username and password along with the DB name where data has to be directly ported, whereas the Dump file creation method lets you choose a local location to create SQL dump file for importing it later.
It has a simple wizard with 3-4 steps for transferring data. In the first step specify source database, second step refers to choosing transfer type. Depending upon the type, it will ask you to choose options in later steps. In direct transfer mode, enter the required information for establishing connection, specify the DB name, and pick out the storage engine.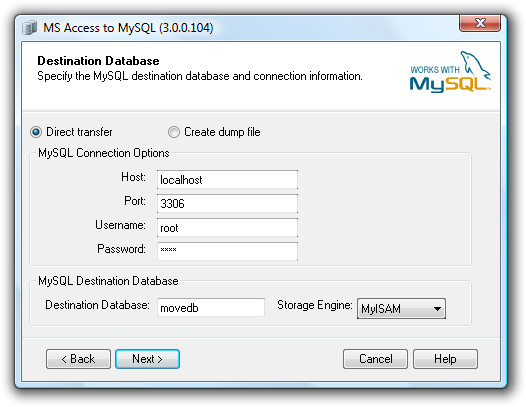 In the last step of direct transfer, it will ask you to choose some database transfer-related options, such as include transfer indexes and records, Include the column list in the INSERT, create tables, enable Unicode (utf-8), create tables and transfer records. Depending upon the requirements, select the appropriate options and click Run Now to begin the process.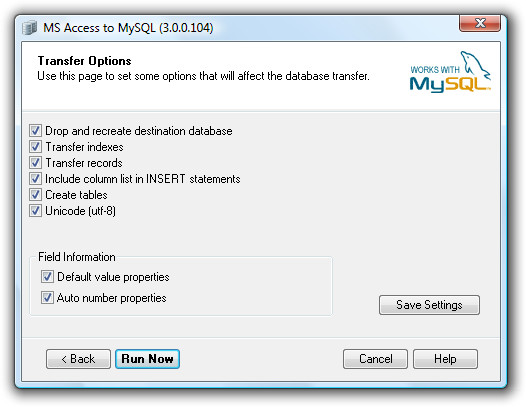 Creating SQL Dump file mode needs nothing except specifying the target location where you want to save the Sql file. After the transfer is completed, it is recommended to thoroughly verify the the database migration including all the included tables with indexes to prevent any conflicts in the future. It works on Windows XP, Windows Vista, and Windows 7.