Clownfish: Translate Text, Enable Text-To-Speech & Voice Changer In Skype
Technology has made it easier and cheaper for us to communicate with people from different countries. Now you have audio and video conversations with your friends and relatives without spending a lot of money. Participation in discussions on different forums allows us to meet with new people and make new friends. Doing business across continents also involves meeting with people from a different culture, who speak a different language than your own. Communicating with each other and getting the correct message across can be a major hurdle in such situations. Some days ago, we reviewed Skype Translate, a real-time chat translator for Skype that lets you translate text to and from different languages, enabling you to communicate with people from different parts of the world. Clownfish for Skype is another text translation service for Skype which, apart from text translation, hosts lots of other useful utilities. It lets you translate text, enable text-to-speech, change your voice with voice changer, record calls, send fun and art messages, enable spell checker and encrypt your messages, all done in real-time.
After you install the application, you will have to allow permissions for Clownfish for Skype to access your Skype account. It can translate using Google, Babylon, Yahoo, Bing, SysTran and Promt translation services. Right-click Clownfish for Skype's system tray icon, and select a service from Set Translator menu. Then, go to Google Settings and choose From Language and To Language. You can either set a custom language or choose Auto Detect as the language setting.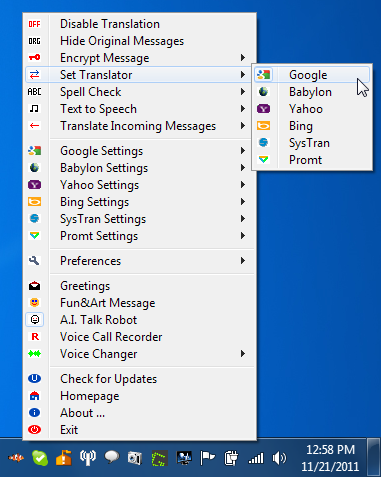 Once all settings are done, enter text in Skype and it will be automatically translated to your desired language. The text will be sent in both English (To Language) and From Language to the receiver.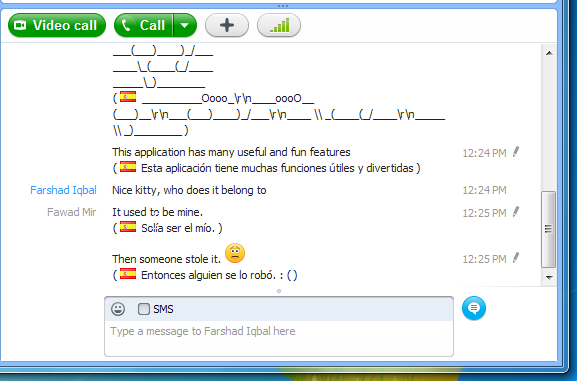 A fun feature of Clownfish for Skype is Voice Changer that allows you to change your voice during a call to voice of different characters such as Alien, Robotic, Pitch (Male), Pitch (Female), Echo etc. Select Music submenu to play music in your call.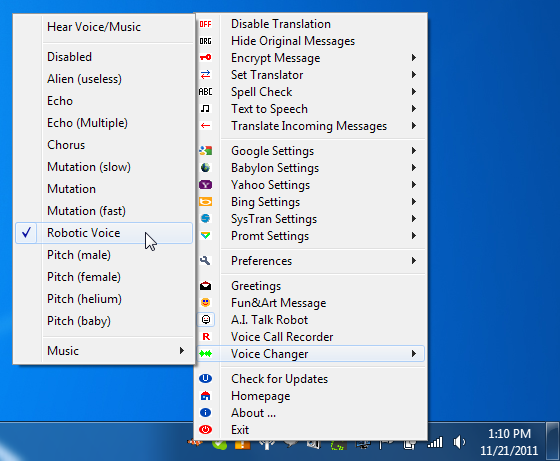 The Preferences menu lets you select Interface Language, Set Speech Rate (for text-to-speech), configure Connection Settings, A.I. Settings and enable/disable Translation Flags.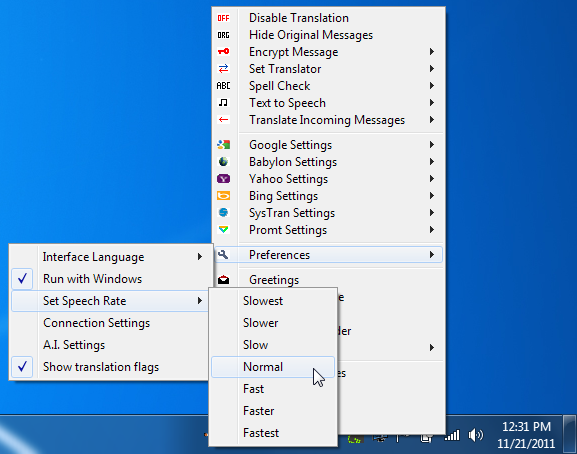 Other features of Clownfish for Skype include Encrypt Message (to send encrypted messages), Spell Check, Text to Speech, Translate Incoming Messages (to translate messages that you receive),  Greetings, Fun&Art Message (to send graffiti), A.I. Talk Robot and Voice Call Recorder (to record your Skype calls). The program requires Skype to be installed on your system, and works on all versions of Windows.