Turn Your PC Into A Virtual Wireless Router With Virtual Wi-Fi Router
Sometimes it can be hard to place a wireless router in the right place within the house or at office. This is because the signals are often not as strong  throughout the premises as one would like them to be. Another dilemma occurs when one simply does not have a wireless router (such as desktop users using a direct ADSL modem). This makes it hard to share the internet connection with another computer in a separate room or a smartphone such as an Android device. A solution to this problem can be found in the form of a virtual Wi-Fi router.
Virtual WiFi Router is a portable application which enables you to perform reverse Wi-Fi tethering via your Windows 7 system. This allows you to share your internet connection wirelessly with other computers and mobile devices. To make your computer a wireless hotspot, go to Control –> Panel –> Uninstall a Program –> Turn Windows features on or off.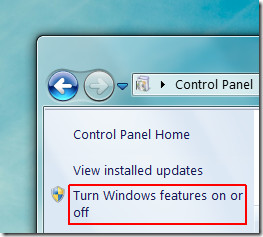 Scroll down to Microsoft .Net Framework category (in the new window that pops-up) and enable Windows Communication Foundation (both HTTP and Non HTTP) Activation options.
Once done, head over to your network card properties via Network and Sharing Center –> Change Adapter Settings, click Properties and go to Sharing (tab). From here, enable internet connection sharing.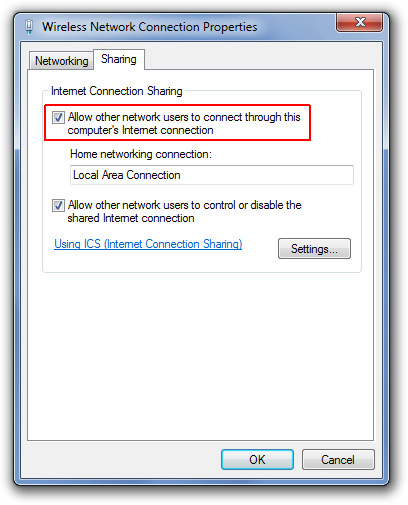 Now, launch Virtual Wi-Fi Router application, select a network card interface from the drop down menu and click Configure. Enter a name and password for your virtual network connection and click Start to enable your Wi-Fi hotspot. A new wireless connection will instantly become available. Anyone with the password assigned to Virtual Wi-Fi Router application will be able to enter it for accessing the network.  You can view all connected devices from the Clients Connected tab. Virtual Wi-Fi Router works pretty much like previously reviewed MaryFi.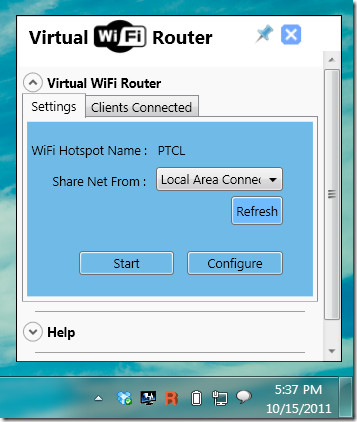 Virtual Wi-Fi Router works on Windows 7 and Windows Server 2008.