Tweak And Optimize System Performance With Mz 7 Optimizer
Mz 7 Optimizer is a system optimization suite that comes with almost all system-related, and performance-specific tweaks, options and tools to gain full control over the system. It differs from previously covered variants, such as, True System Security Tweaker and Ultimate Windows Tweaker because it contains a huge array of tweaks which enable users to manipulate major system elements in any way they want. Be it registry backup, registry restoration, shutdown scheduling, network performance optimization, memory & processor management, system performance based options, security related tools, or game enhancement tweaks, it covers all in one simple & easy to use interface.
After the installation, it will prompt you to backup registry before tweaking with different system tools and changing other security or administration settings. Simply click OK to let it backup registry for you. Moreover, you can restore registry anytime and schedule the registry backup as per requirements.
Editor's Notes: We do not recommend this tool for every PC user. It is developed for administrators and should be used with extreme care. Backing up the registry is one way to make sure nothing goes corrupt forever!
Once the backup is created, you will be safe to proceed. The main interface has a  navigation bar, containing tweaks for System performance, Generic Windows tools and options, Internet, Generic customization, and System security. Just select a category from the left side and it will list down all the respective options and settings which can be tweaked in the main window.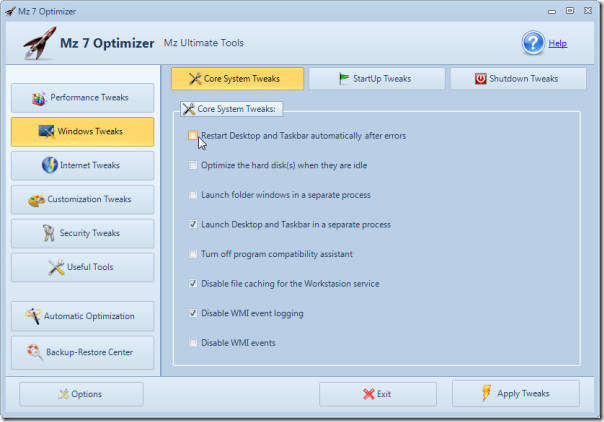 Under each category, you have further inter-related tweaks available. Take Windows Tweaks as an example, it offers Core System Tweaks, Startup Tweaks, and Shutdown Tweaks.
Besides being an tweaker, it encompasses a great deal of useful tools as well. From Useful Tools window, you can go for optimizing system for perfect gaming experience. And make use of Advance CPU optimizer, Smart RAM optimizer, PC cleaner, Windows registry defragmentation, and lot more.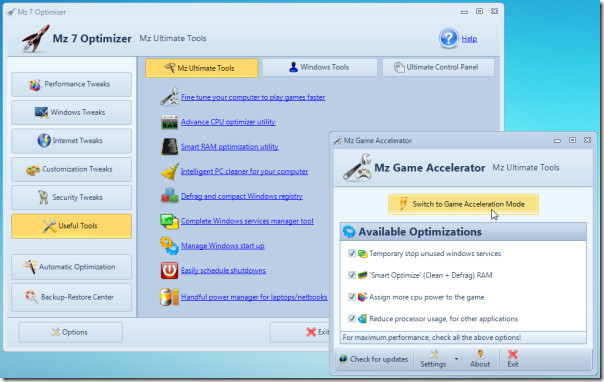 Furthermore, it comes with an Ultimate Booster feature which can optimize various kind of system elements and performances. It lets user Clean temp files, Optimize Windows boot file, Defrag registry, and speed up Firefox in one go.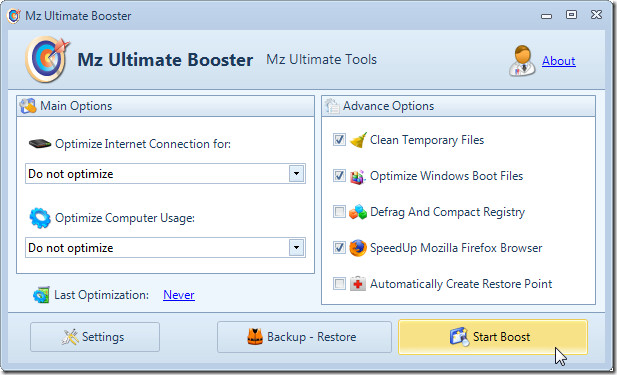 Overall, it is one powerful tweaker, considering the vast options and features it brings, you can add multiple types of performance enhancing and security layers to the system. It runs on all versions of Windows, testing was done on Windows 7 x86 system.