Uninstall Applications And Completely Clean Their Leftover Data With ZSoft Uninstaller
One problem which many users face with Windows native Add & Remove utility is that sometimes it fails to remove registry entries, linked libraries, and other created folders of an application which is being uninstalled. This leaves user with two choices – either to manually find all the left over content or to use system cleaning utilities which often takes forever to scan the system for such junk content. ZSoft Uninstaller, despite being able to completely remove the applications and other related files and folders, it also comes with tools to promptly clean application files, temp data, and empty folders from the system. The application is highly portable and encourages users to carry it in USB drives. It applies pre and post installation analysis method to log all the files, folders and other related changes happened during the installation of an application. So, when you want to uninstall the application through it, it will quickly reverse all the changes.
Run ZSoft Uninstaller executable to view all the installed applications. The left sidebar shows information regarding the selected application and holds a search bar to quickly look for one specific program in a list.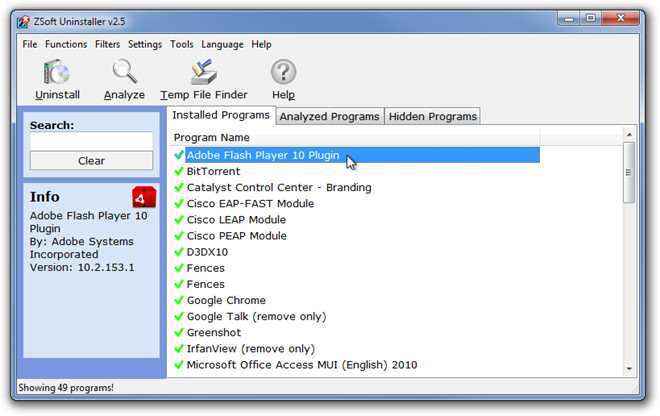 From right-click menu, you can uninstall any selected application, hide and delete the app from the list, and view and edit all the related information, such as, Version, Size, HelpLink, Publisher, UnsinstallString, UpdateInfo, etc.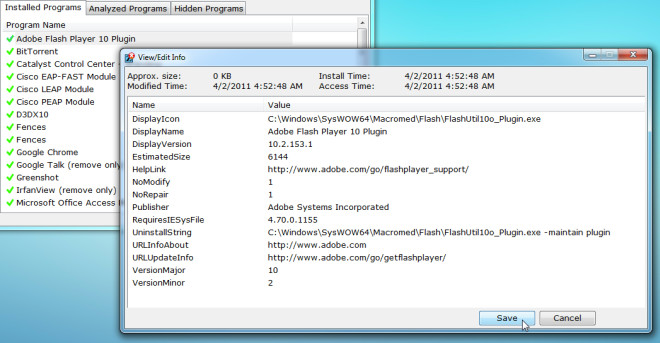 The toolbar contains 2 important tools to analyze disk for pre and post application installation changes and to remove temp files from selected disk drive. The Temp file finder not only deletes the temporary files, but allows creating backup prior to deleting the temp files in order to reverse the operation if required. Before analyzing disk for installation changes, you must set up the Ignore List to let it consider only those changes which are not system specific. Once the Before Installation process is finished, install the application and run the After Installation scan to find all the changes.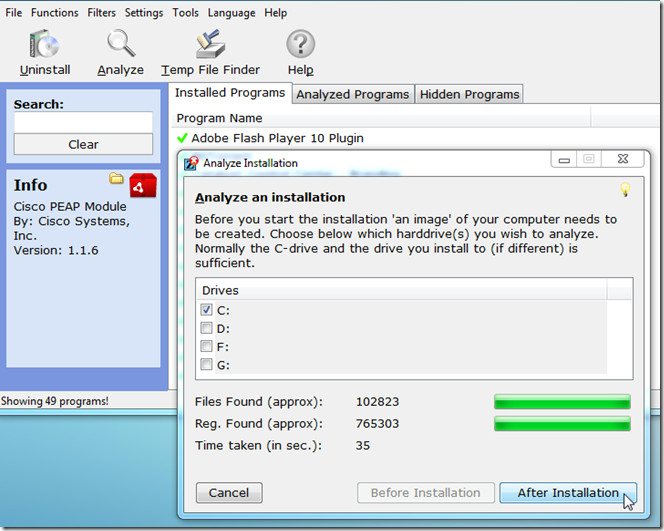 The empty folder cleaner is accessible from Tools menu. It requires you to specify the path which is to be scanned for empty folders. After all the empty folders are listed, select those which you wish to remove and click Remove Selected from bottom pane.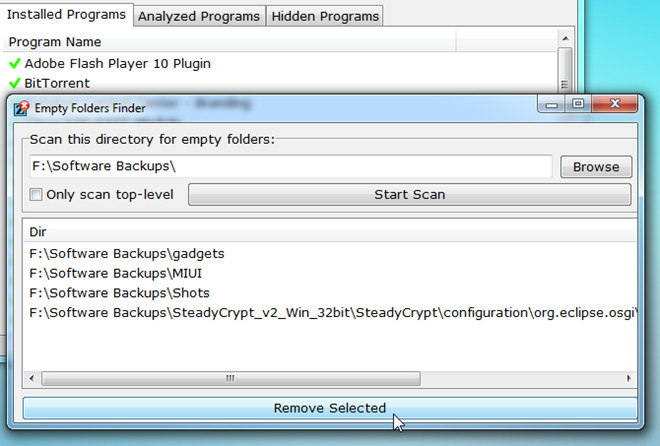 ZSoft Uninstaller is a great portable utility to completely uninstall the installed programs and their left over data and folders. It comes useful when you are trying to clean up your system. It supports all version of Windows.