How To Reset Windows 7 To Original Factory Settings [Complete Guide]
We all know that the next version of Microsoft Windows OS – Windows 8 will have an immensely handy option to reset Windows to original state, also referred to as, restore system to original factory settings. Many Windows 7 users feel that it'd be better if there is any tool or system recovery utility which can effortlessly revert the system running Windows 7 back to its original state (provided you have not made a recovery disk). As far as Windows 7 is concerned, there are lot of methods available online, claiming to bring back the original settings of Windows 7 with default set of pre-installed programs, application compilers, and software packages, but sadly, all the contrived methods seem tiring and require a lot of effort, leaving user with no other option than to manually reset Windows to original settings.
In this post, we will look at to what extent a Windows 7 user can bring the original settings back to achieve super fast processing speed and best system performance. The process of resetting Windows 7 back to factory settings will ensure that Windows doesn't contain any invalid Windows registry entries, superfluous Windows shell components and right-click context menu options, files and folders which were created by Windows for processing different kind of operations, bloated Temp folders, empty folders filled with junk files, application cache files, and other libraries which got registered in Windows System32 folder.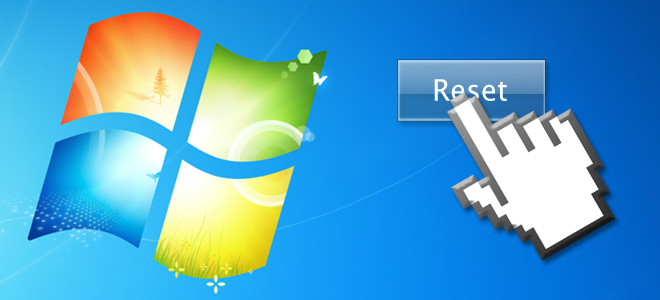 To start off with resetting Windows 7, first, make sure that you've backed up all the important data and portable applications with saved user preferences to external storage drive or to any other system.
Remove Third-party Applications and Programs
Obviously, the first step is to head over to Windows Control Panel for removing all the applications which you've installed since first run of Windows 7. To quickly open add/remove programs window, type Add or remove programs in Windows Start search and hit enter. Once the applications get listed, start removing all the applications, desktop utilities and software suite packages except those which come pre-installed with Windows 7. The fastest way to quickly remove all programs is to select them by Publisher name.
For example, the best way to quickly list down the all the items from Microsoft is to select Microsoft Corporation from Publisher column drop-down menu to view all the applications, utilities, compilers, library packs, codecs, etc from Microsoft. It doesn't necessarily mean that all the applications from Microsoft come pre-installed in Windows 7, so remove only those applications which you've installed from Microsoft, like, MS Office, Silverlight, SQL Server, etc., along with all other third-party utilities.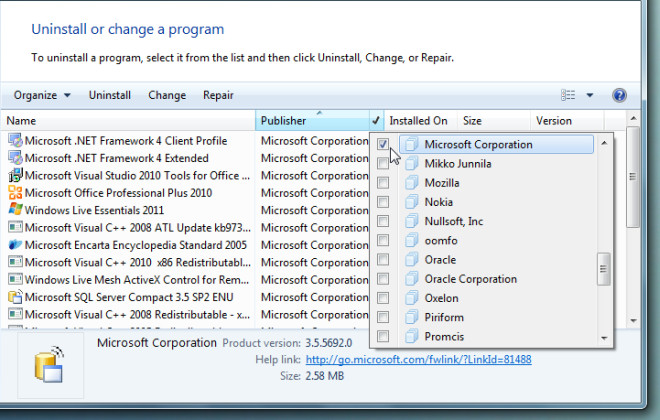 Remove Application Cache, MRU List, And Clean & Fix Invalid Windows Registry Entries
After you've uninstalled all the applications and utilities from Add/Remove list. It is advisable to reboot the system in order to completely remove applications cache files, registry entries, folders, and other temp files. To make sure that all the unnecessary application files / folders, cache are removed without leaving an invalid / unassociated registry key, you need to run a system cleaner. Piriform's CCleaner is a widely known utility to unclutter the system in numerous situations and has various options to clean the junk off the system. It can clean MRU (Most Recently Used) lists, saved information in installed / previously installed applications, clear application cache, antivirus generated files, saved passwords and history, and so on. After analyzing the data which is to be removed, click Run Cleaner to perform the cleaning operation.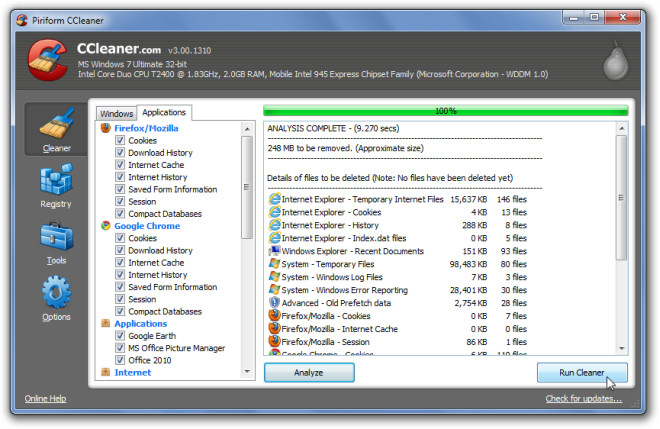 CCleaner, despite being efficient in cleaning various kinds of application data and info, also claims to be useful in analyzing the Windows Registry integrity and then cleaning invalid paths, application keys, Type libraries, MUI cache, un-bridged library keys, etc. To begin, Click Registry from left sidebar and select all the underlying options to thoroughly check Windows Registry integrity. Once it is finished with scanning registry issues, select all the items in main window, and click Fix selected issues to fix invalid registry entries.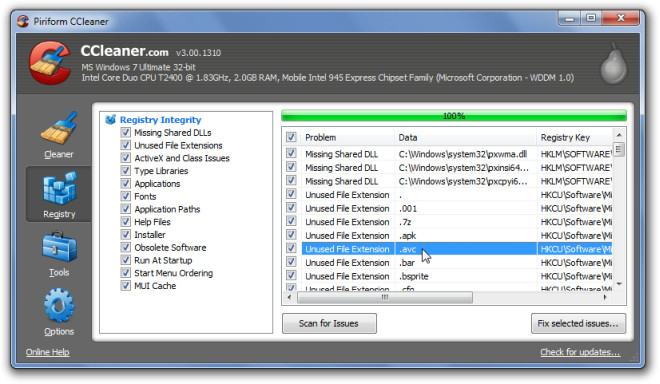 Glary Utilities is another popular all-in-one app to fix a slew of system issues. After cleaning the applications junk and scanning and fixing registry issues, use the free Glary Utilities to clean file traces, fix broken shortcuts, and find those incorrect and invalid Windows registry entries which slipped through CCleaner cracks.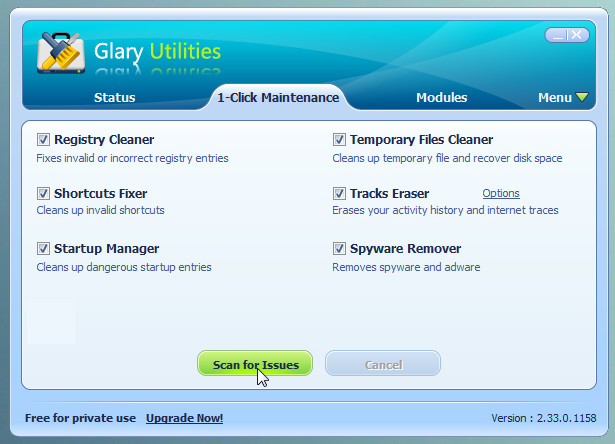 After the scanning process is completed, click Repair Problems to fix all the issues it found during the scan process. You can also click Show Details prior to fixing the broken links and registry entries to review all the problems it discovered. The Modules tab refers to other complementary tools which ensures optimum system performance, including, memory optimizer, context menu manager, system file checker, and registry defragmenter.
Clean Unused Windows Shell Components And Right-Click Context Menu Options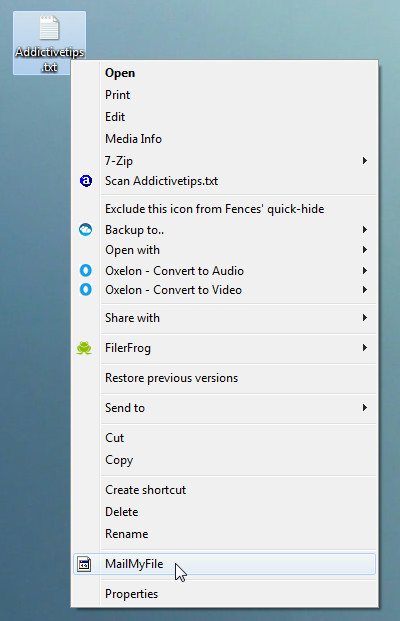 Even though CCleaner removes all the registry keys which are associated with unused or missing applications, there might be a case that after cleaning the system with CCleaner and uninstalling applications manually, you have a  bloated Windows right-click context menu.
Cleaning useless right-click context menu options and other Windows shell components takes a lot of effort and time. I am aware of all the utilities out there to remove unused right-click context menu options and have tested all of them with varying results. Therefore, I can't vouch for one utility on which you can rely on. To remove context menu options, try methods and applications in following articles.
Manual Guide to Remove Useless Items from Windows right-click context menu from Windows Registry.
Context Menu Editor: Edit items from Windows 7 right-click menu.
ShellMenuNew: Remove items from 'New' Menu of Windows 7 right-click menu.
If there are some extra useless options present in Send to menu, you can follow this guide to quickly remove them and keep those which come by default.
Clean Unused Windows Startup Items
There are countless system cleaning utilities available to manage Windows startup items. If you don't rely on third-party cleaning applications, you can always use Windows native System Configuration utility to view all startup items and disable them promptly. However, the main purpose of using startup manager is to identify those applications which surreptitiously add process(es) into Windows Startup items list. To begin, type msconfig in Start Search, and hit enter to open Windows 7 System Configuration utility. Now move to Startup tab to select and hover mouse pointer over an item which you want to delete from Windows Startup items list.
The best method would be to launch the application and manually disable the Startup item entry, however, the quick way is to un-check the item from System Configuration window followed by opening the path of application in question in Windows Explorer to uninstall or remove the application manually.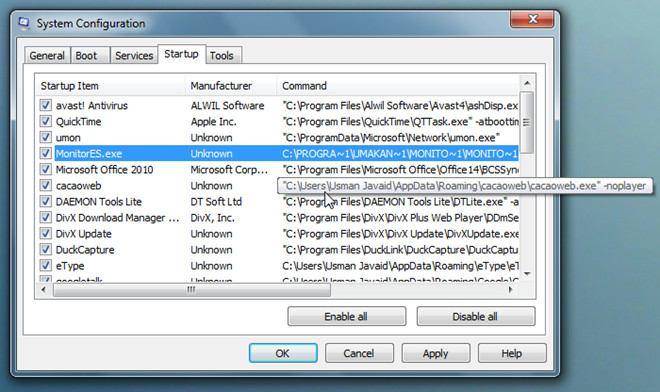 Remove Empty Folders, Stop Sharing Folders & Drives, And Delete Log Files
Even though using the Windows Add/Remove utility to uninstall the application is the recommended way for removing application files, linked libraries, and registry entries, there are times when applications folders don't get removed automatically even after following the proper application removal steps. Therefore, to clean all the empty folders and other associated log files, you need to use a dedicated application for this purpose, such as, previously featured RED.
Launch the application and scan all the drives to find and delete all the empty folders. It offers some intuitive set of options to detect the empty folders according to user-defined rules, so you can create a rule to include those folders, which are, apparently not empty, but contain nothing but useless junk, such as, desktop.ini and image thumbnail cache files.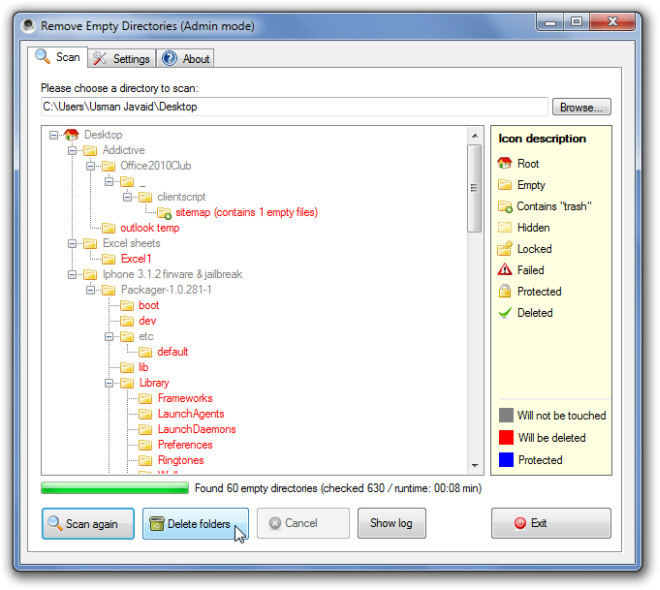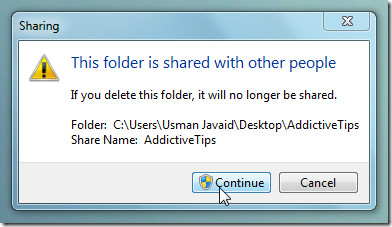 Deleting folders which are being shared over the network is rather difficult, as you need to have administrative privileges to proceed with deletion and, even, if you're logged in as system admin, you will get to pass through the shared file deletion prompt that states 'This folder is shared with other people. If you delete this folder, it will no longer be shared.'
To make shared folders deletion easier, right-click Computer and click Manage to open Computer Management utility. From left sidebar, expand Shared Folder to view all the shares. Now select all folders and drives (while holding Ctrl on keyboard) which you want to stop sharing, right-click on any shared item and click Stop Sharing to immediately quit sharing all the selected items. Once all the selected items disappear from the list, you can easily remove all the shared folders.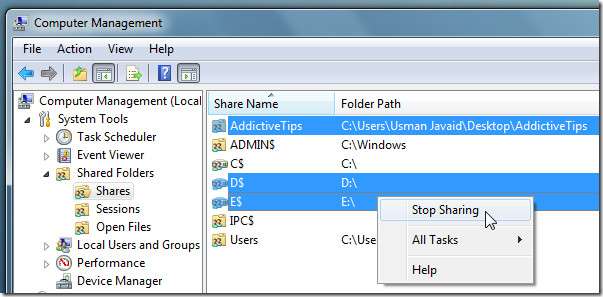 Out of all the cleaning utilities that we've tried so far to remove log files, we found Del log command to be the most efficient. When run in Windows Command Line environment with all the parameters – a, s, q, and f, it ensures that all the log files will get removed. The screenshot below exhibits removing all the log files from Windows directory, nevertheless, you can run this command in root path of any application folder which contains a complex hierarchy of sub-folders with lots of log files.
Activate Administrator Account And Delete All User Profiles
Windows 7 User Profile folders, usually, take more than a 3-4 GB of your system, and even in some cases, they use more than 10 GB of your hard drive, Just like Windows Vista, Windows 7 saves all the application preferences, user folders, documents, music, pictures, application cache, etc in Windows User Profile folders. If your system is used by more than 2 users, it becomes indispensible to clean the junk off these folders on regular basis to save precious disk space. Since our focus is to reset Windows 7 to original settings, lets take a look at the best way of removing User profile folders. If Administrator account is not active on your system, it is advisable to activate administrator account to start afresh.
To begin, run CMD from Windows Search with administrative privileges. Now enter following command to activate the administrator account.
net user administrator /active:yes

Once activated, log off from Windows and log into Administrator account. Now type Advanced System Settings in Start Search and hit Enter. Under User Profiles section, click Settings to view all the User Profiles. Delete all user profiles except one which is currently being used.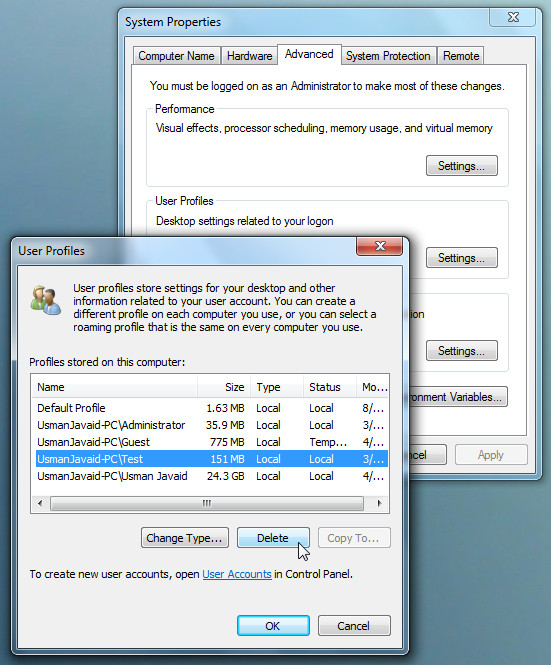 Conclusion
Hopefully, after following above steps, you would be able to reset Windows 7 to the original clean state. Don't forget to defragment your hard disk volumes in the end. We've tried to touch the most prominent aspects to retain Windows 7 default settings and may have missed out on many. If you have any other important tool, method, or a script in mind which can assist user in resetting Windows 7 to factory settings, drop it off in comments section below.
Author's Note: After moving to a new laptop, I wanted to clean my old laptop without having to reinstall Windows 7. It went better than expected. The guide above was written after many experiments and was made as simple as possible so that everyone can follow.