Use Hotkey To Switch On Or Off Icon Labels In Windows 7 Taskbar
The default taskbar icons of the opened windows are quite convenient because of their compact size. However, sometimes it can be quite handy to view labels of the opened windows to enhance focus and to identify programs easily. This may, particularly, be the case with people who require working with side by side stacked windows of similar labels (e.g. when working with Windows Explorer) or Internet Explorer pinned site which might not have unique labels.
Taskbar Labels is  portable application which allows toggling the taskbar text labels on and off using a simple hotkey. The aim of this app is to help you easily display and hide taskbar text labels for open windows. To view the labels, you will require launch this application each time, therefore, it might be a good idea to create a desktop shortcut for the executable file.

Once the app is launched, the text labels automatically appear. You can turn the labels on or off by hitting the Ctrl+F11 hotkey.

The default hotkey can be changed by right clicking on the system tray icon and selecting a hotkey from Settings.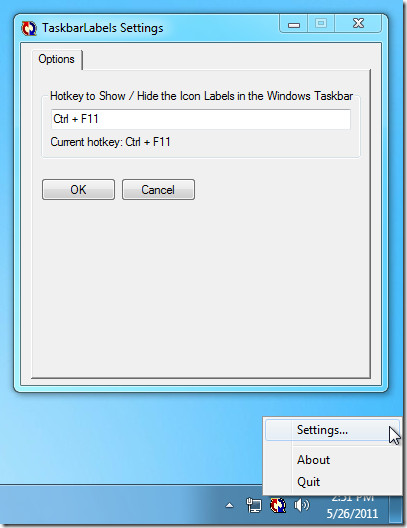 Taskbar Labels works on Windows 7 only. We tested it successfully on our Windows 7 x64 machine.