VPNium Offers Registration-Free Private Browsing Over Encrypted VPN
You don't have to be a secret agent or a mafia member to care about anonymity; even the average Joe has many good reasons to care about their privacy and remain anonymous on the internet. With the recent unveiling of NSA's data mining projects like PRISM, it's quite clear that the government won't leave a single chance of harvesting your private information without you even knowing. That's why it's better to be safe than sorry. VPNium is a desktop application for Windows that lets you browse the internet anonymously by acting as a VPN between your computer and the internet. This way, you can surf the web while hiding your real IP address. The application boasts plenty of features like 256 – 2048 bit encryption, zero registration for free variant, and full access to blocked or partially unavailable online services in your vicinity.
To get started, you need to download and install VPNium via the link provided at the end of the post. The service offers a desktop client for Windows only as of this writing. Once installed, VPNium resides in the system tray area just like many other VPN services and loads a few network drivers upon first run.

You can right-click the app's notification icon to make changes to its functionality from the context menu. For instance, you can access Settings and then tinker around with a few different options before commencing your anonymous session. VPNium allows you to select between UDP and TCP connection types, as well as change your connection port (Random, 80,  443,  1194), manually install or remove VPN drivers and specify custom Proxy settings.
The application gives you a choice of two server locations in the free variant i.e. Germany and Luxembourg. To unlock additional servers, you will need to opt for one of the premium plans.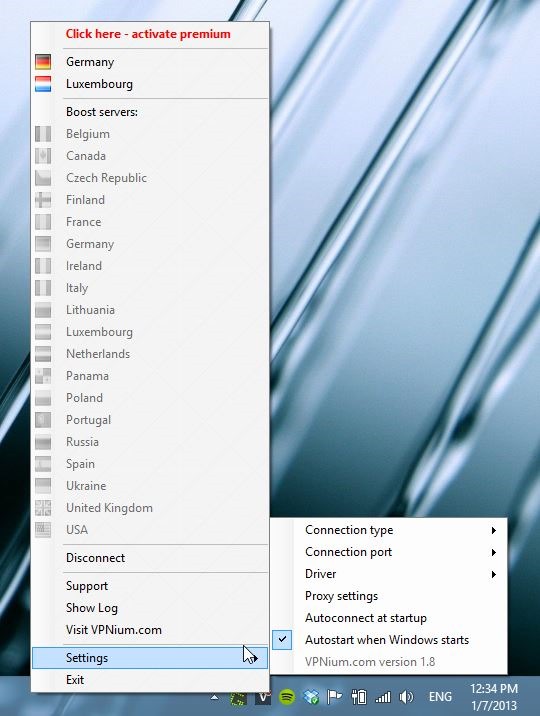 To connect to a server location, simply click on it and VPNium will instantly start routing your traffic through that server. During our testing, it worked flawlessly every time I established a new connection. Internet browsing was also quite fast and downloads worked smooth and steadily. To disconnect from the server and switch back to your regular connection, click Disconnect from the context menu.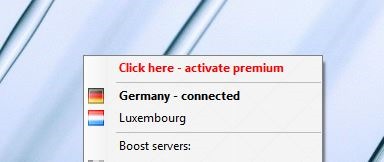 Premium users can activate their desired subscription via purchasing the required code from VPNium website, followed by entering it into the activation window of the app. Simply type in the code, click Activate and you're done.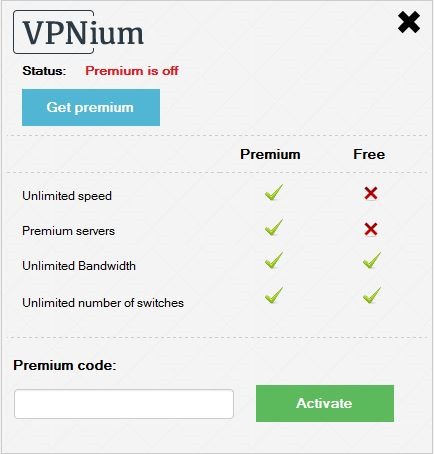 Although, the free version provides a very limited server selection, VPNium's fast web browsing, unlimited bandwidth and zero subscription model are definitely worth praising. And if the free variant doesn't quite cut your needs, you can always subscribe for a premium plan. Further information about premium activation and pricing plans can be found at the official website.