Wave Editor Is Free Audio Editor With Great Sound Effects
Wave Editor is a powerful digital audio editor which is developed to make small audio adjustments, like, a light fade-in/fade-out effect with a blend of sudden silence has to be added in an audio file to make it perfectly match with complementary video, while sometimes amplification and de-amplification are also required at certain points to get the much needed effect. Wave Editor includes all such effects in addition with basic options to reverse, copy/move or delete a defined audio part.
To begin editing an audio file, first, open a supported file (MP3, WAV, and WMA files) in the application and click Play button. You have all the audio editing options lying on the toolbar, oscillations in center pane can be zoomed in/out to closely view the inserted effects, like if you've inserted silence, you can analyze the duration of silence over the graduated timeline.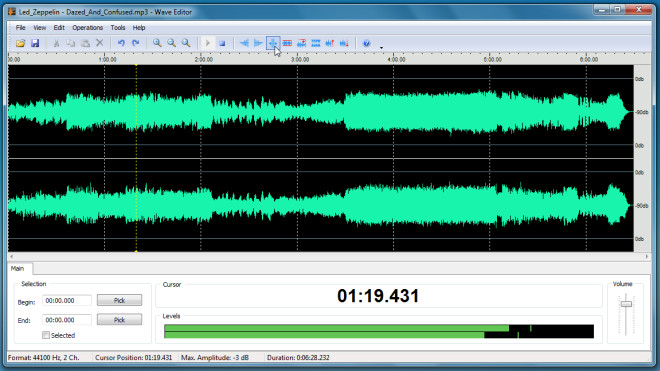 From bottom section, you can define duration of audio track to either apply effect over it or to cut a specific audio part, and change master volume. The basic cut/copy and paste operations can be applied through right-click menu in main interface.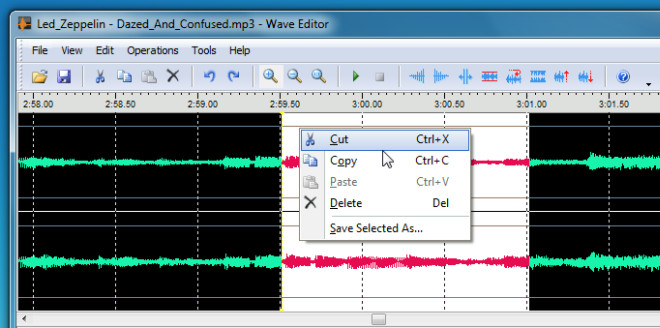 After you've applied the effect, click Save button and specify output folder to save the file. Overall, it will prove to be handy tool for audiophiles who need a freeware to tweak and add sound effects themselves. It runs on Windows XP, Windows Vista and Windows 7. Testing was done on Windows 7 x86 system.