What Is OpenDNS? Speed Up Your Web Browsing
We will discuss the following points in this post:
What is DNS?
What is OpenDNS?
How to configure OpenDNS for faster browsing?
What is DNS?
DNS stands for Domain Name System, whenever you type a web address for example www.addictivetips.com in your web browser's address bar, your computer resolves the domain name to the IP address with the help of the Domain Name Service. Every computer which is connected to the internet uses the Domain Name Service to connect and browse the World Wide Web. By default, Windows uses your ISP's DNS server. Every ISP has a pair of DNS servers which are used for resolving web addresses for their customers.
What is OpenDNS ?
OpenDNS is a free DNS resolution service. It is the world's leading provider of Internet navigation and security. It provides faster and safer internet browsing free of cost. OpenDNS provides free alternative DNS servers that anyone can use to do faster web browsing. In many cases, your ISP provider's DNS servers are overloaded and they are handling more than normal queries, so the overall web access time for all of the customers increases. Use OpenDNS's Name servers in such situations, they are absolutely free and provide quicker and reliable browsing. OpenDNS also provides some advanced level services for a minimal cost, but web browsing is absolutely free with their DNS IPs. For more details visit OpenDNS.
How to configure OpenDNS for faster browsing?
Open the Internet connections window, click Start, type ncpa.cpl and hit Enter. Once loaded, right click the Local Area Network Connection option and choose Properties.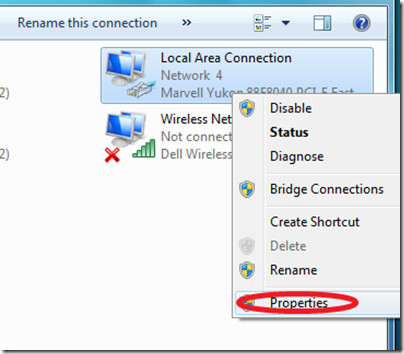 Now choose Internet Protocol Version 4 (TCP/IPv4) and hit the Properties button.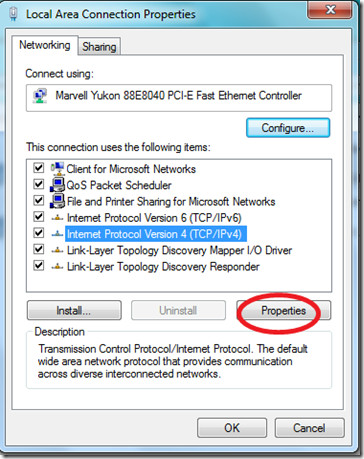 In the Internet Protocol Version 4 (TCP/IPv4) Properties window, select the Use the following DNS Server Addresses option and enter the following mentioned IP's there. Please note that these IP's are the DNS Servers of OpenDNS which anyone around the world can use.
208.67.222.222
208.67.220.220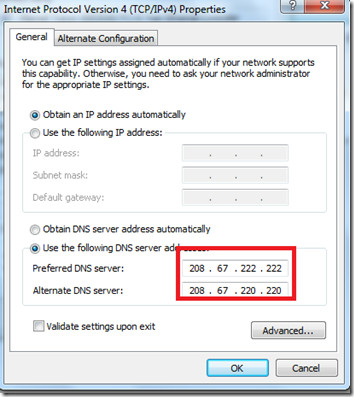 That's it, click OK and enjoy the faster and safer browsing with OpenDNS.