WifiInfoView: View And Monitor Wireless Networks Around You
NirSoft is renowned for creating user-friendly and minimalistic applications. They never ceased to amaze us with simple yet highly useful utilities, especially their network related tools – such as the previously covered NetBScanner that lets you view computers on your network within specified IP range, and WakeMeOnLAN that remotely wakes up computers on your network. The company's latest creation, the WifiInfoView, is another addition to the ever-popular Nirsoft's software archive. It's a portable application that keeps an eye on wireless networks around you. WifiInforView is designed to scan all the wireless networks in your proximity and provide you with a wide range of information. You can view an Access Point's SSID, Mac Address, PYP Type, Signal Quality and so on. The application also allows you to specify the refresh frequency for all Wifi related information. The users can also change the view mode of the application among five different categories.
Upon launch, WifiInfoView instantly scans the wireless networks around your current location. It provides extensive details regarding each network and displays the information separately in different columns. The tool's Full Details Mode, upon which it executes initially, lets you know of the networks' name (SSID), MAC Address, PHY Type, RSSI, Signal Quality, Frequency, Channel, Elements Count, Router Model, Router Name, Security (status), Maximum Speed, Detection (time) and Detection Count. Selecting any network on the upper pane, provides its further information in the lower pane, in hexadecimal format. The frequency at which the available information is updated, is set to high by default, but you can easily alter it, as well as change MAC address format from the Options menu.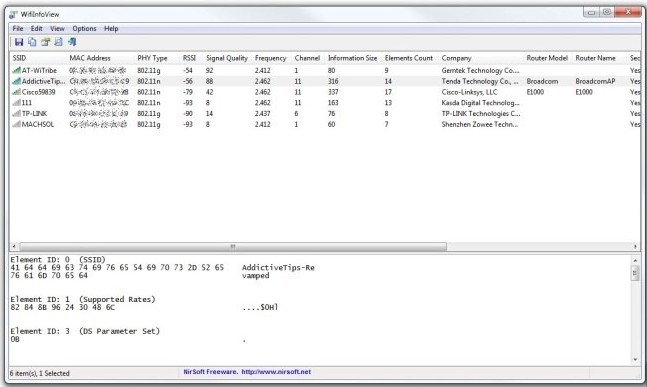 Apart from Full Details Mode, the application contains Channel Summary, Companies Summary, PHY Types Summary and Max Summary modes. For instance, Channel Summary Mode sorts out the networks according to the number of channels they support, such as Channel 1, 2, 3 and so on.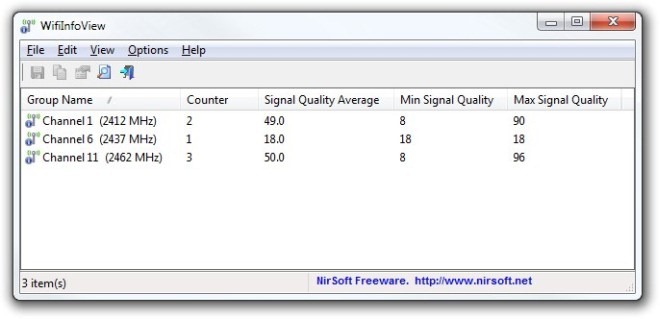 Likewise, Companies Summary Mode groups the items according to the manufacturer's name. Almost all NirSoft tools let you generate HTML reports of the selected items in a list, and WifiInfoView is no exception. The saved HTML files can be easily opened in all modern web browsers for further analysis.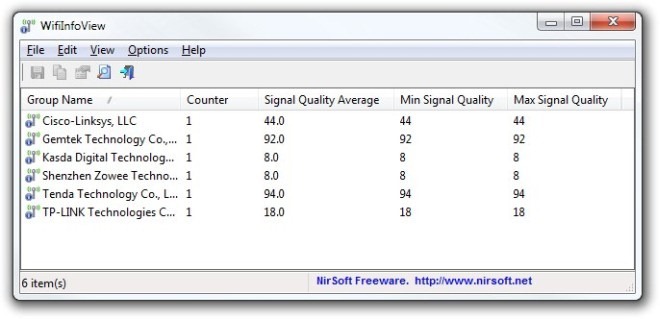 Since the application provides an extensive set of information about the scanned SSIDs, this can annoy some users, especially they want to keep a tab on particular parameters of the network. Even though you can choose different view modes, the application also allows to toggle only the columns that you wish to check. You can customize Column Settings by clicking View -> Choose Columns from the menu bar.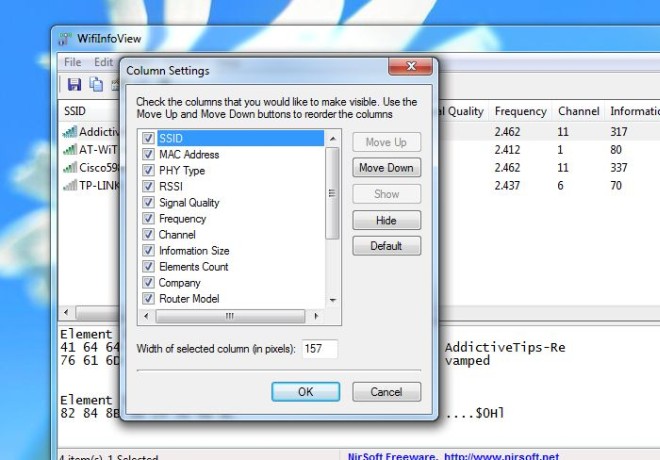 WifiInfoView has done a great job in maintaining the trend of ergonomics and simplicity already set by the developer's other tools. It works on Windows XP, Windows Vista, Windows 7 and Windows 8.