[FIX] Windows 10 No Sound: Why Is There No Sound?
Sound devices work out of the box. You might need a driver for some devices to work but Windows 10 will install them automatically so that you won't hear anything other than the chime that indicates new hardware has been found. This goes for devices that you plug into the jack, and for Bluetooth audio devices.
A perfectly functioning audio device can suddenly stop working. The audio might die out, or it might work on occasion, and not on others. It may also stop working altogether. Here's what you can do to fix no sound on Windows 10.
Windows 10 No Sound [FIX]
You may be tired hearing this, but the first thing you should do is to restart your system. A lot of audio devices, exceptionally external ones, can randomly stop working; restarting them is a reliable solution in many cases. You cannot, of course, restart a sound device so you have to restart your Windows 10 PC. If the issue persists, run through the solutions below.
1. Check for Windows 10 updates
Windows 10 updates have been known to break audio, and to also disable it. It's an odd side-effect but it has happened. If the audio on your system has suddenly stopped working, check if a new update was recently installed.
Open the Settings app.
Go to the Update and Security group of settings.
Select the Windows Update tab.
Click the View Update History button.
On the next screen, go through the list of installed updates and check if a new one has been installed recently.
Google to see if the update has broken audio. You will find forums or maybe even an update from Microsoft if a Windows 10 update has broken something i.e., Audio.
To uninstall a Windows Update, open Control Panel. Go to Programs and select Uninstall a program.
In the column on the left, select View Installed Updates.
Select the update you want to uninstall, and click the Uninstall button at the top.
Restart your system.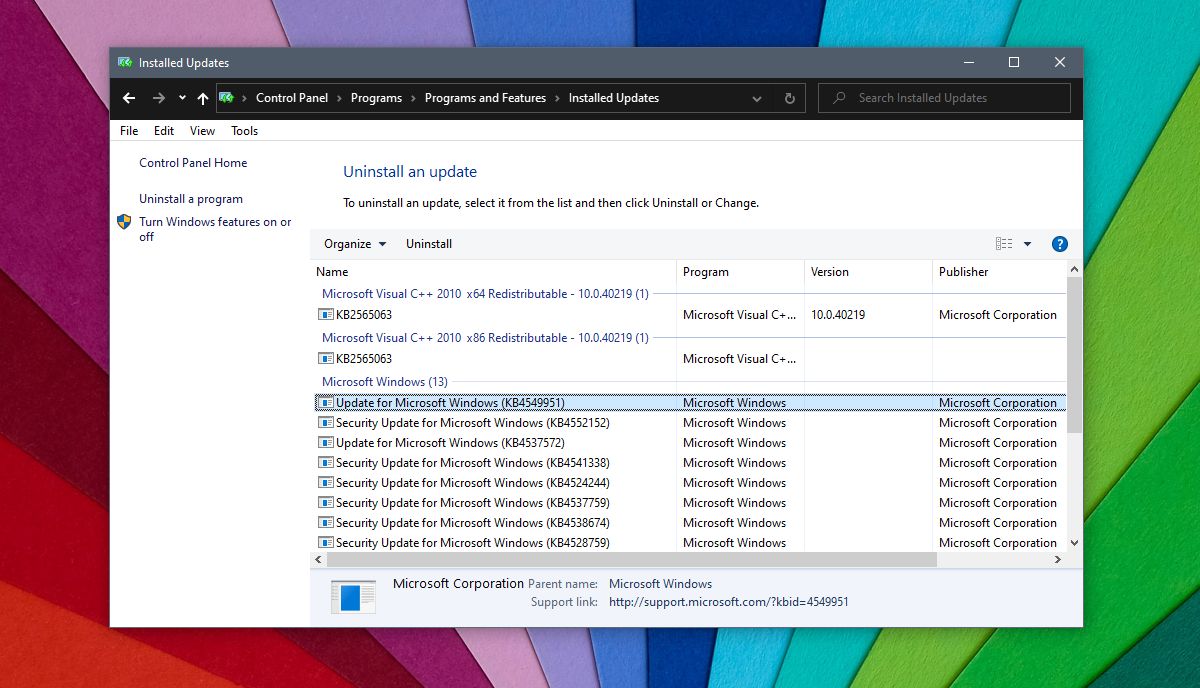 2. Check audio drivers
Audio drivers are updated automatically. Most users either have generic audio drivers, or Realtek audio drivers. The generic ones aren't much trouble but Realtek can cause problems. Check if your audio driver has been updated, and roll back to the previous one.
Open Device Manager.
Expand Audio inputs and outputs devices.
Look for your audio card; it might have a model name or you might see Stereo mix. Right-click it, and select Properties from the context menu.
On the Properties window, go to the Driver tab.
Click Roll back driver.
Restart your PC.
It is possible that the Roll back driver button is greyed out. In that case, try the following.
Open Device Manager.
Expand Sound, video, and game controllers devices.
Look for an audio device e.g., Realtek Audio or IDT High Definition Audio CODEC, right-click it and select Properties from the context menu.
Go to the Driver tab, and click Roll back driver.
Restart your PC.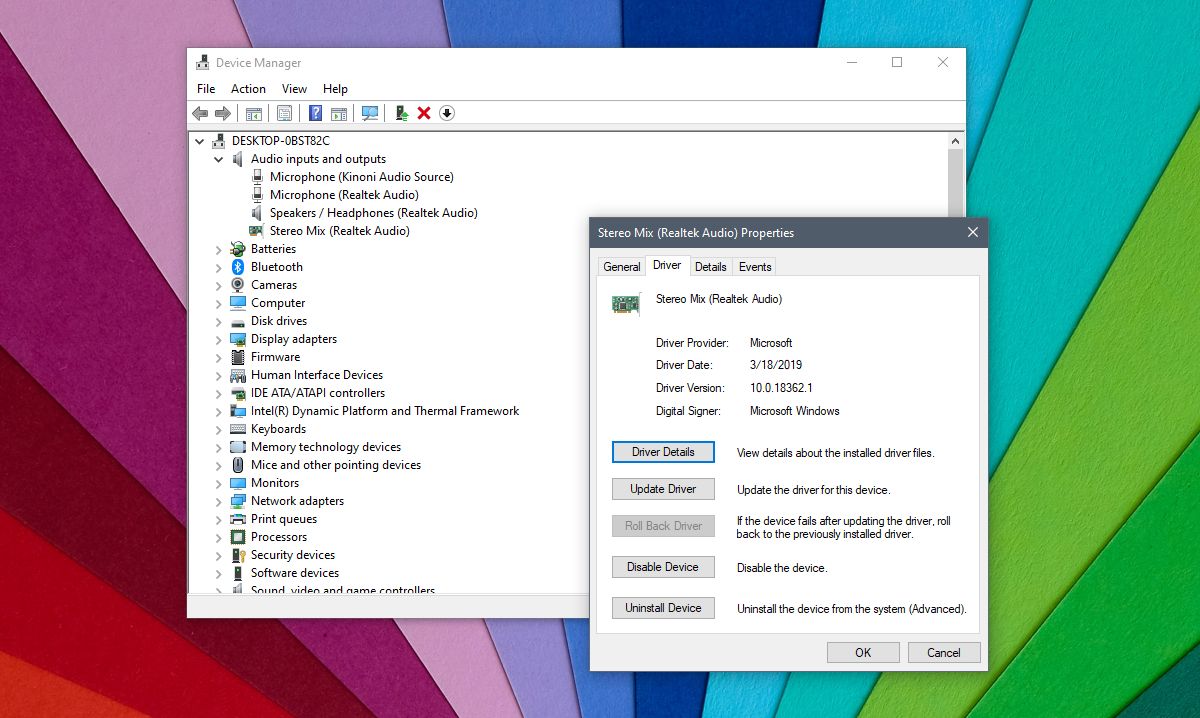 It is also worth checking for a driver update for both devices. Right-click the device and select Update Driver from the context menu.
3. Check enabled audio devices
An update or an app might have disabled audio devices on your system. This is annoying but very simple to fix.
Open the Control Panel.
Go to Hardware and Sound.
Click Sound.
Go to both the Playback and Recording tabs.
Your devices should indicate that it is enabled.
If the device has been disabled, right-click it, and select Enable from the context menu.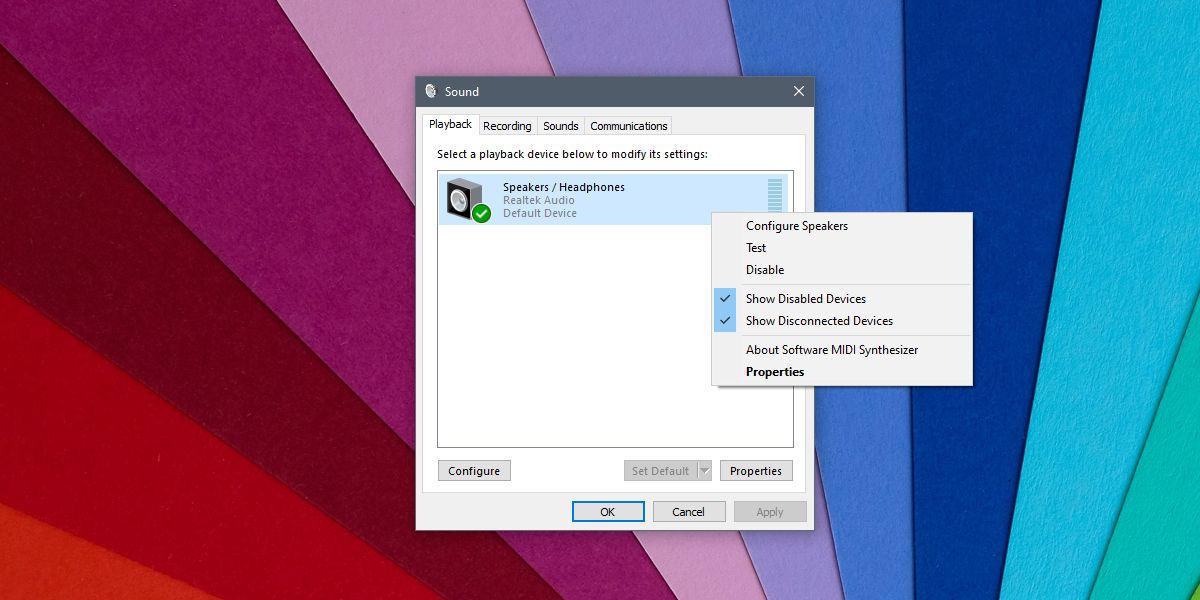 4. Check volume levels
Windows 10 has a system-wide volume control, and it has app-specific volume controls. If the audio in a particular app isn't working, this is where you should start.
Open any apps that you're having audio trouble in.
Right-click the speaker icon in the system tray.
Select Open Volume mixer.
Go through the volume levels for all apps, and for the system. Increase the volume if anything is set to zero.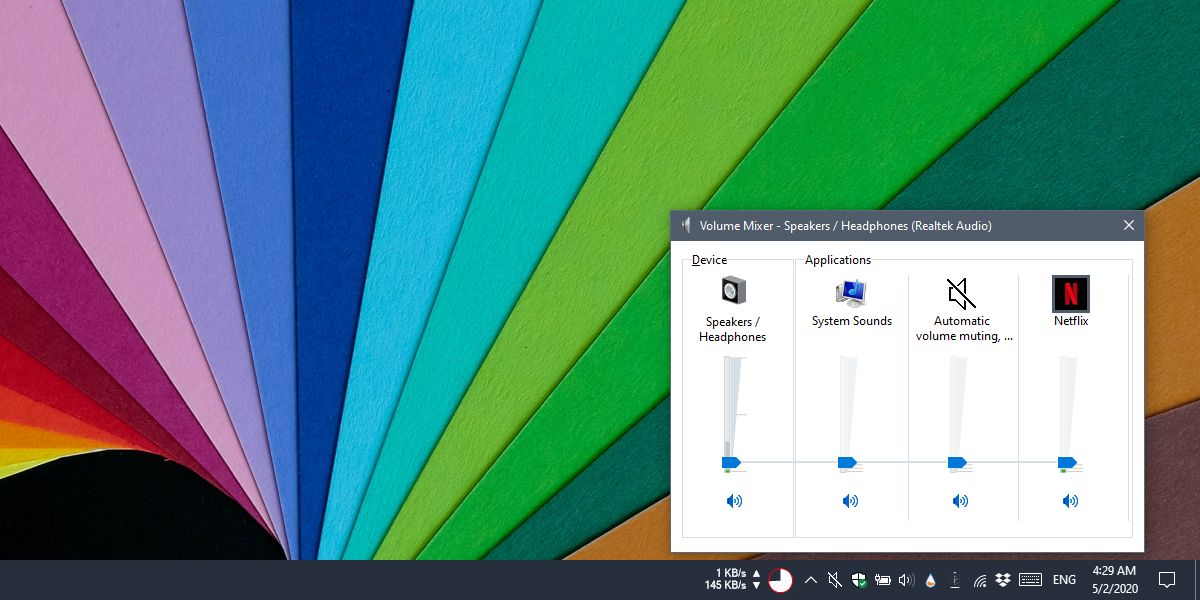 5. Run audio troubleshooter
Windows 10 has a built-in troubleshooter for audio problems.
Open the Settings app.
Go to the Update and Security group of settings.
Select the Troubleshoot tab.
Look for and run the Playing Audio troubleshooter.
Apply any fixes that it recommends, and restart your PC.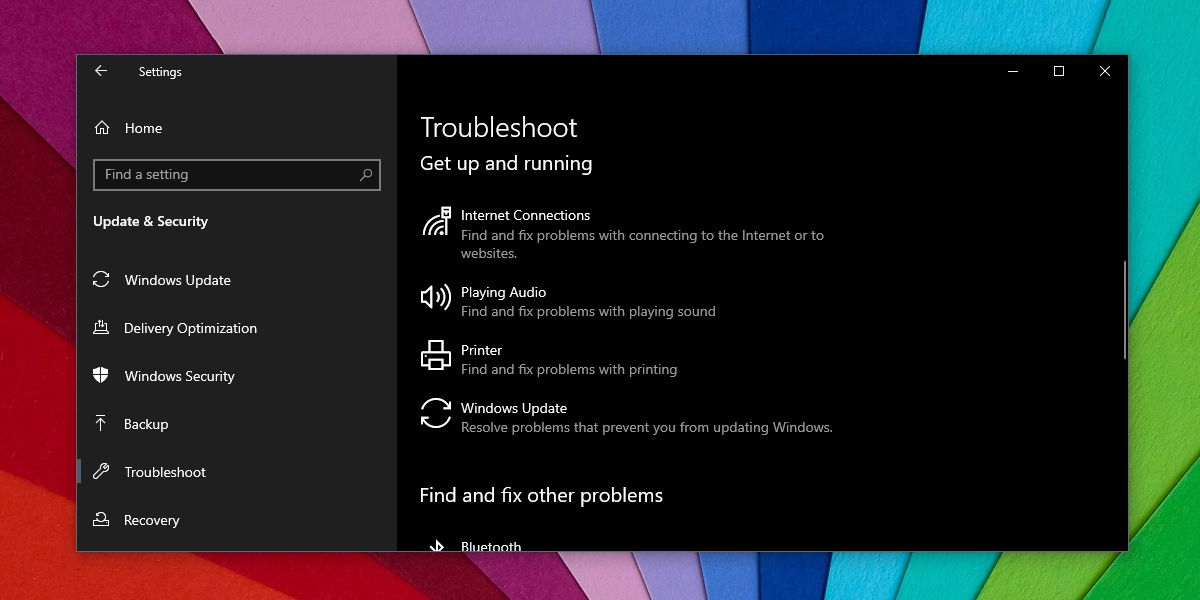 6. Check apps
If you've installed virtual audio devices, they may be interfering with the real/physical audio devices. If you've installed one, uninstall it. You should also check if you have an app that may be controlling the audio and either disable it, or uninstall it.
7. Hardware check
If you're using an external audio device that's connected to your PC via the jack, try connecting it to a different device/PC and see if it works. If it doesn't, chances are the device is broken. Connect a different device to your system and see if it works.
Conclusion
Audio devices, both internal, and external can break or run into trouble. The good thing is that audio is a very basic component on an OS and it isn't easy to break. When it does, getting it working again shouldn't be too much trouble.