Windows 7: Enable Aero Peek And Change Delay Time
Windows 7 users are loving the great Aero Peak feature, you might have noticed that the peak button which is located in the right most side of the taskbar takes some time to display the desktop, you can increase/decrease this time. If you want to perform this task manually then you will have to make some modifications in the sensitive registry files.
Let me introduce you to a small, light-weight and portable utility called Desktop Peek Tweak which lets you adjust the peak time with a single click. Simply adjust the delay time by moving the slider. Once satisfied, hit the Save Desktop Delay button to complete the configuration.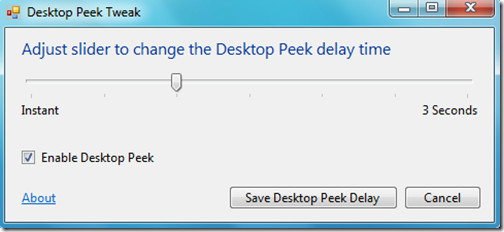 Also you can enable/disable the Desktop Peek feature by simply checking/unchecking the Enable Desktop Peek option.
It works on both 32-bit and 64-bit Windows 7. Enjoy!