Password Provider Is Perfect Windows 7 Password Manager
You must be looking for a good password manager for Windows 7 since there is no such build-in tool. I have been using Secure Password Storage for a few weeks, but the functionality is limited, the choices too are limited, and the app as a whole is sometimes quite slow and buggy.
Update: AddictiveTips now recommends LockCrypt, a free awesome password and information manager for everyone.
Today, I stumbled on Password Provider, a secure desktop password manager with tons of functionalities packed into a simple-to-use app. You can create, store, and access unlimited number of logon/passwords and other important information.
When you run the app for the first time, it will ask you to choose the location where the data file will be created. It is perfectly safe to choose the default location.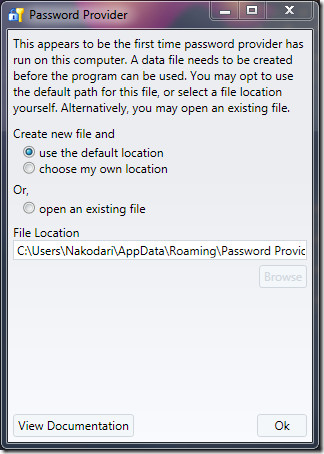 Next, it will ask you to enter the master password. Make sure the master password is long and contains alphanumeric characters. To further secure the master password encryption key you can set the number of iterations. The default value 20,000 is perfect but you could increase it to make the encryption more secure.
Please note that setting a very large number will take a long time for calculations. We would recommend using the default value, i.e, 20000
Once inside, click the Create New Site button given at the bottom-right side of the window. It will then show you three options – Create new logon site, create new credit card, and create new generic item. Select the desired link to proceed.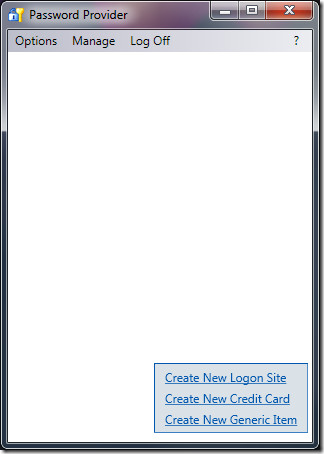 If you select Create a new logon site, you will need to enter the form in both Identity and Logon tabs before clicking OK. In Identity tab you have to fill the basic information of the website while in the Logon tab you need to enter the username and password.
There is also a build-in password generator which can generate random password of your liking.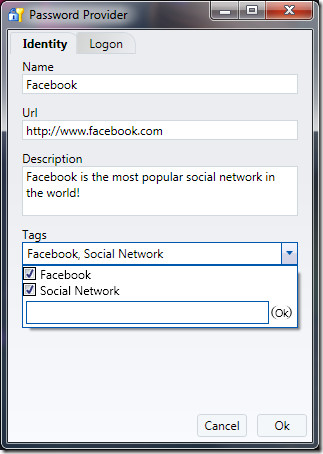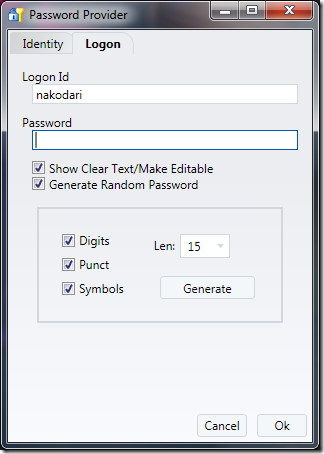 If you select Create new credit card, then you have to fill both Identity and Data tabs. They include basic information, such as, Bank Name, Issuing Company, Contact Number, Name On Card, Number, Code, PIN, Expiration Date, and so on.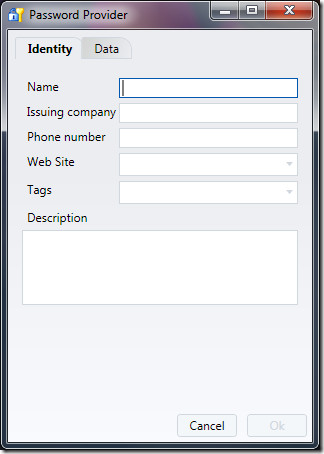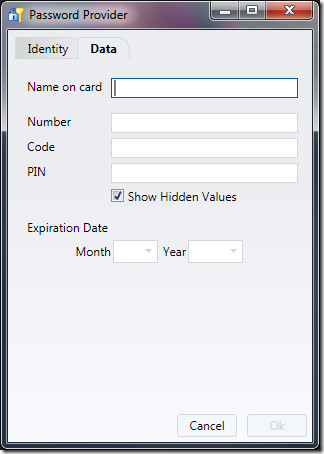 The Create new generic item link allows user to protect any important information, once you click OK, the information is secured. All new items created are neatly categorized on the main window.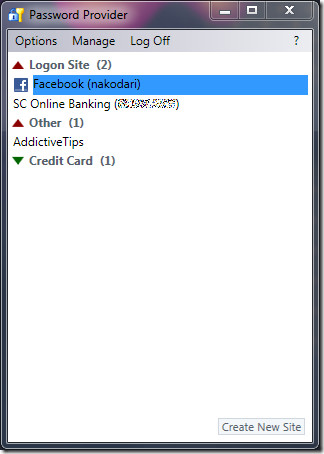 Did you notice the Facebook website's icon in the above screenshot? The app can retrieve any website's icon if this option is enabled. Go to Options and you can choose a new skin, change the sorting or grouping method, or change any other option. Have a look at the beautiful skins below.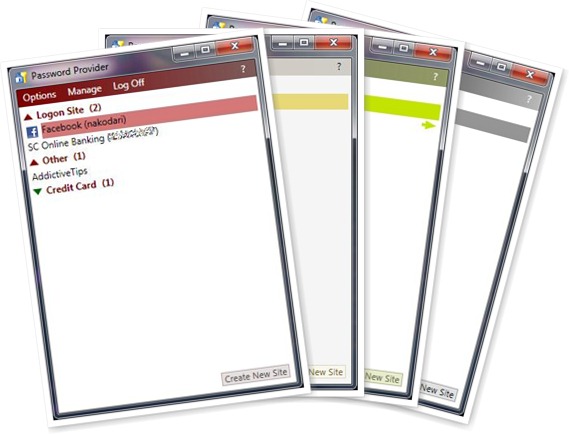 You can also run the program from system tray notification area if this option is checked.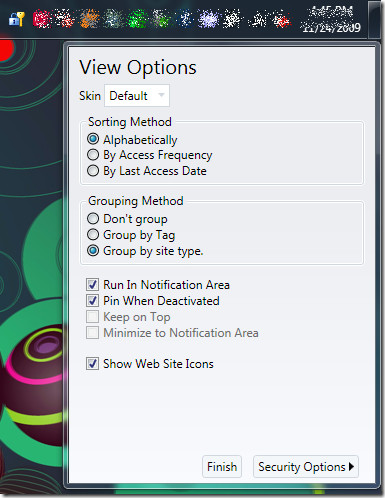 Password Provider is one advanced password manager packed with tons of features and clean layout. There is an option to choose a backup destination, you can either backup when every change is made or backup manually. It can also export all information to a text file.
Another interesting feature is the "Send Key" option which can be found when right-clicked on any logon website in the main window. Click this option once and then click on any text field in any other window to paste the password.
Personally, I have made it my desktop password management app of choice in Windows 7. It can also work on Windows Vista SP2 and requires .NET Framework 3.5, but has not been tested on Windows XP. It is developed on C# and uses WPF(Windows Presentation Framework) library. Enjoy!