Windows Task Scheduler Manager Z-TaskHelp
You are probably familiar with the Windows Task scheduler which lets you schedule the jobs. A scheduled job is automatically run by Windows according to its schedule. There could be some jobs which might affect the regular work on the PC and problems may arise with duplicate or unnecessary jobs.
If you are having such problems and are finding it difficult to manage the Windows jobs, try Z-TaskHelp. It is a free tool which lets you edit your Windows jobs in an easy way.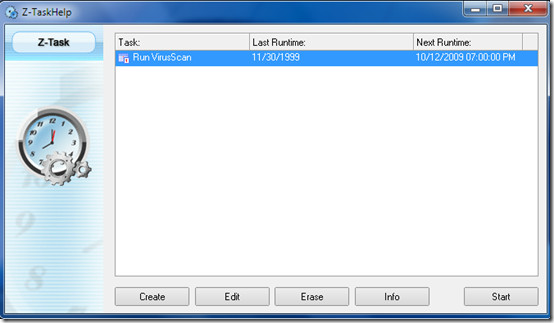 The scheduled job can be edited from the Edit option, you can remove any job by using the Erase button, Start manually runs the scheduled job instantly, Create can create a new job and the Info button provides useful information regarding the software.
Its works on Windows 2000, Windows XP, Windows Vista and Windows 7. Enjoy!