Windows 8 Start Menu Toggle – Enable / Disable Metro UI Start Screen
We covered a simply registry hack that disabled the new Windows 8 Start Menu (Metro UI Start Screen), Explorer Ribbon, and Task Manager. Going to Registry every time to enable back and disable Start Menu is both dangerous and a headache. Windows 8 Start Menu Toggle is a small 3rd party tool for Windows 8 that can enable or disable Start Menu (Metro Start Screen) in just one click. Of course this will also toggle Explorer Ribbon and Task Manager. If you prefer to sometimes use the Classic Start Menu, i.e, Windows 7/Vista Start Menu, then this tool is for you.
Just launch Windows 8 Start Menu Toggle and click Use Metro Start Screen to toggle between the Metro Start Menu and Windows 7 Classic Start Menu.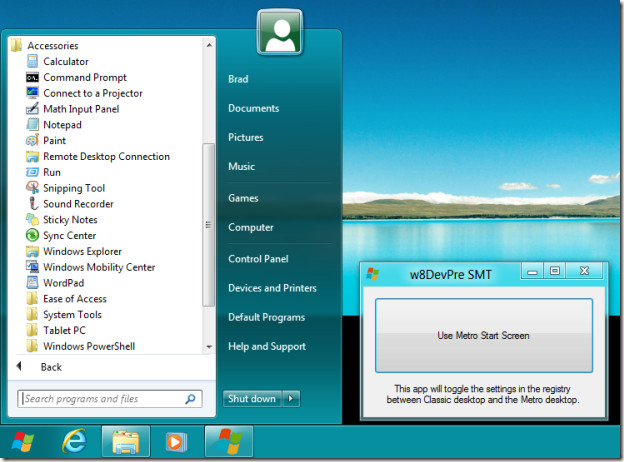 Note: Make sure that you run this application as an Administrator. You will be prompted to download install .NET 3.5.1 runtimes before being able to use this application.
Download Windows 8 Start Menu Toggle
Update: This app has been discontinued, it is no longer available on the DeviantArt website. If you are looking to disable Windows 8 Start Screen so you can jump directly to desktop, check out this guide.