WinKey Helps Assign Shortcuts To Files & Applications With Windows Key
WinKey is a lightweight tool which helps redefine keyboard shortcuts with the Windows key. You can assign hotkeys for your favorite system folders, applications and even web links. Some hotkeys are assigned by default, for Control Panel, Network Neighborhood, Printers, Registry, and so on. WinKey provides up to  200 key combinations consisting of the Windows key and associated characters.  The available key combinations are used with the Windows keyboard Super key and appear as, e.g. Windows+A, Windows+CTRL+F9 and so on. WinKey requires being functional for the assigned shortkeys to work. However, since it can be easily minimized to system tray, therefore, it is not an obstructive application.
Since most new shortcuts that come with Windows 7 make full use of Windows key (Super key), having a tool like WinKey to add support for more shortcuts makes sense. If you right-click any desktop shortcut, you can set shortcuts like Ctrl+H, Alt+H, or even Ctrl+Alt+H, but you cannot set Win+H. WinKey simply gives the Windows key more importance.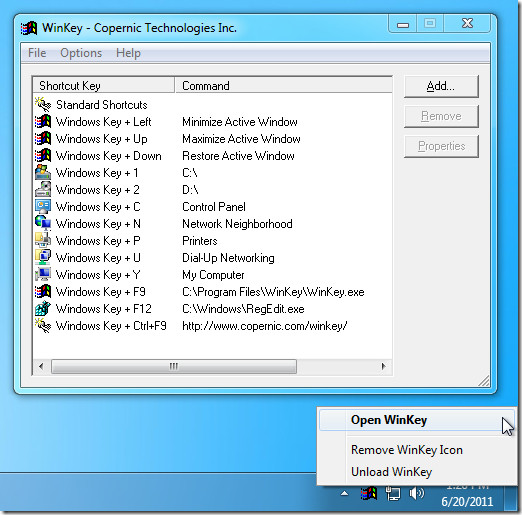 Launch WinKey and click Add button to begin assigning hotkeys to launch applications, folders, web links, or apply actions. Select a file (such as a shortcut or EXE file for portable applications) or folder, a shortcut key from the drop down list and choose a source file or folder in a normal, minimized or maximized window. The Shortkey list contains a number of combinations which can be selected as hotkeys.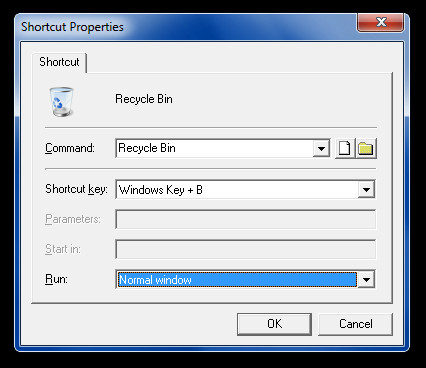 Assigned hotkeys can be removed and edited from either the buttons on the main interface or via right-click context menu. WinKey has quite a simplified user interface and does not requires any elaborate settings. However, you will require running it in from system tray to use the assigned keys. It is also worth mentioning here, that WinKey is not compatible with 64-bit operating systems and works only on 32-bit OS.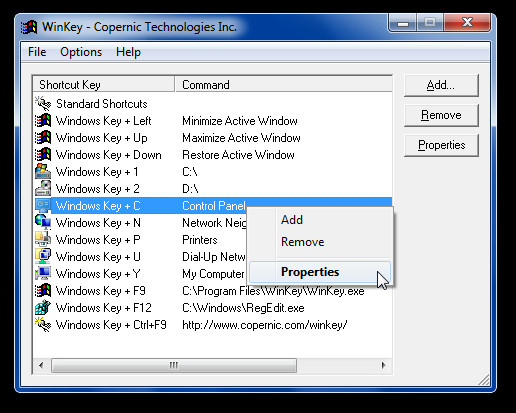 WinKey works on Windows XP, Windows Vista and Windows 7 (32-bit only).