WinUSB Maker Lets You Create Bootable USB From Folders & ISO Images
Some years ago, Compact Drives were the only way to install a software, or transfer data to and from your PC. The invention of USB Flash drives proved to be a blessing to computer users, as unlike Compact Disks, it was reusable memory, meaning that you could delete the data and write more in its place whenever needed. Now, with flash drive capacities reaching up to 32 GB, you can install even complete operating systems from the USB drive. We have covered a lot of ISO  manipulation tools, one of them being the Windows 7 USB/DVD Tool that creates a bootable DVD or USB device of Windows 8 by defining the ISO image. Another tool, WinSetupFromUSB, allows you to create a multi-boot setup from a folder containing the setup files. WinUSB Maker is yet another portable application that combines both of these applications into one. It can create and burn bootable ISO images to a USB drive, either by defining the setup folder or an ISO image. It supports devices up to one terabyte, including external hard disk drives.
The interface is very simple, with Setup Folder on the left and ISO Image radio button on the right side. The buttons to Browse, Refresh and select the USB drive to be made bootable are located in the center. Make it Bootable option is present in the lower right corner of the interface.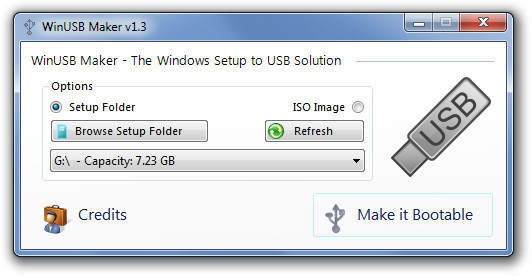 To create a bootable USB, select Setup Folder if the setup files are located inside a folder, or select ISO Image if the setup is in ISO format. Click Browse Setup Folder or Browse ISO Image to select the required files. If multiple USB drives are inserted in your PC, select the one that you want to make bootable from the drop down menu. If any drive is not available in the list, hit Refresh once. With all settings completed, click Make it Bootable to start the file copying process.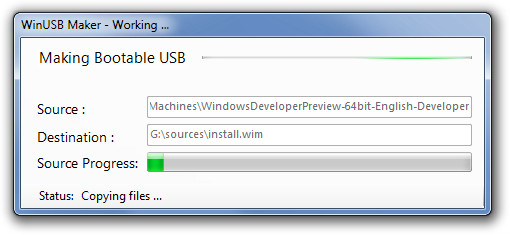 When the process is complete, a success message will pop up, and your bootable USB will be ready to be used.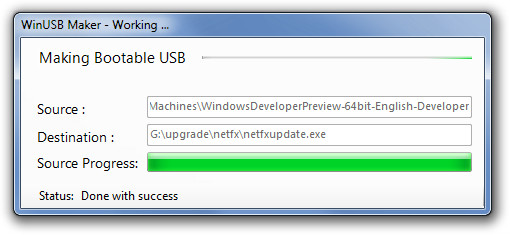 WinUSB Maker can create bootable images for Windows Server 2008/2011 Family, Windows 7 and Windows 8.