XP Style Network Activity Indicator For Windows 7
For almost all users who love Windows 7, we do miss one tiny little feature back from the days of Windows 98 SE's glory, and up to Windows XP. Remember those two little monitor icons sitting in the system tray, indicating network activity by blinking innocently with traffic transmission? Used to be the easiest way to tell whether you network connection was alive or not.
So, users having nostalgia or just wanting the simplistic ease of having two blinking monitors, Network Activity Indicator will do it for you. This standalone executable does nothing except adding those two monitors back to your system tray. There are a bunch of settings users can tweak, as seen in the screenshot below.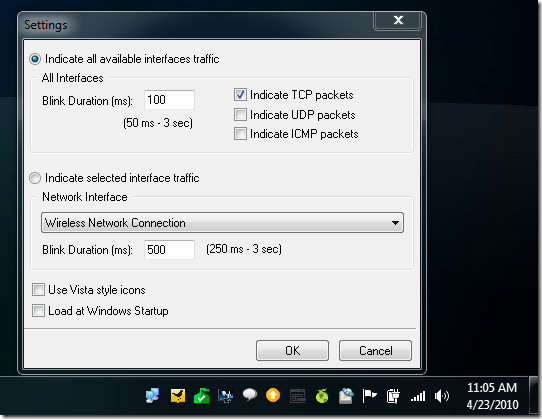 Unlike the original Windows XP utility (that had individual indicators for each interface), this program indicates outgoing and incoming network packets on all available interfaces.
That's about it. There are no feature-sets to play with or much options to customize. Next time you suspect your network connection is passing out, check these two little monitors before you run an advanced diagnostic. Needless to say, this tool is for Windows 7.
Download Network Activity Indicator