AirDroid 2 Adds Remote Connection Over Web & Anti-Theft Features
In AirDroid, Android users have arguably the best and most feature-packed solution to wirelessly access, manage and control almost all aspects of their smartphones and tablets from a web browser. A few days back, the developers announced an invite-only beta of the latest version of AirDroid, which is now openly available to anyone interested. Currently available in beta, AirDroid 2 comes with a 'Remote Connection Mode' that allows users to access their devices' contents and features over the internet from anywhere in the world in addition to the existing Wi-Fi connection mode, thus eliminating the limitation of having the computer and mobile device on the same Wi-Fi network. In addition, the latest update also brings remote camera access and a 'Find Phone' anti-theft feature. Further details after the break.
Let's first explore the biggest feature addition of this particular update – the Remote Connection Mode. This mode grants you access to all the AirDroid features that we've already seen in the debut release as well as the subsequent updates, over the internet as well, in addition to Wi-Fi. This means you can have your PC at work connected to the internet from your work Wi-Fi, and your device at home connected to the internet via your home Wi-Fi or its own mobile data connection (EDGE/3G/HSPA/LTE), and still access it through AirDroid.
To use Remote Connection Mode, you'll need a valid AirDroid account to pair the web and mobile clients together. As of now, the Remote Connection Mode allows wirelessly transferring any file up to 20MB in size. The total data usage quota allotted to each user in this beta release is 1GB. Instead of navigating to web.airdroid.com, you are now required to log in to the app via a new domain: https://v2.airdroid.com, or you may enter the IP address displayed on the AirDroid mobile app into your browser's URL bar. If you have the device with you, you can simply scan the QR code shown on the website to log in.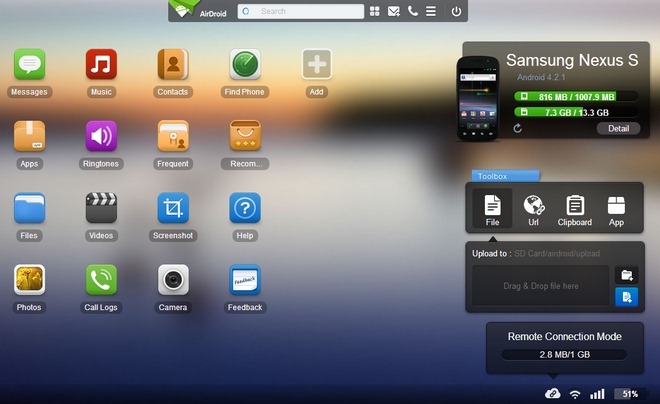 You have the option to signup for a new AirDroid account using your Google, Facebook or Twitter account. Once connected, you can stream your music and videos, view your Gallery photos, manage files on your mobile device's local storage, install apps, read and send SMS messages, keep track of call history, view contact details and device status, and perform a whole bunch of other supported tasks, all remotely over the internet or Wi-Fi.
Already capable of wirelessly capturing device screenshots through the web browser, AirDroid now supports a brand new Camera tool that can be used to remotely snap photos from your device's camera. Once you click the Camera icon in the browser, the camera on your device is automatically activated, and you're ready to preview and capture live camera images straight from your browser, complete with the option to zoom, pause and rotate view. Each image captured using the tool goes straight to the Downloads folder on your computer.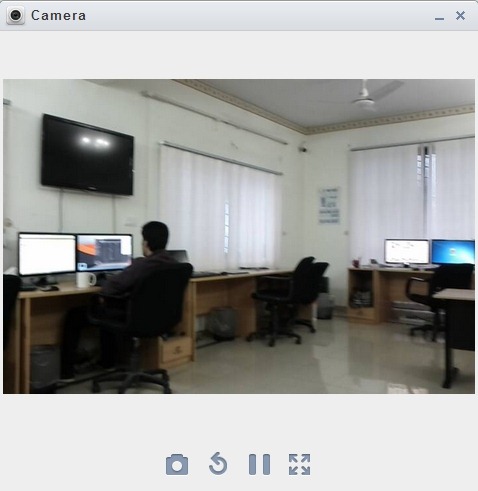 If you often have a tough time keeping track of your device, the brand new Find Phone feature of AirDroid might prove to be a lifesaver. As with many other anti-theft mobile apps, you can instantly track the current location of your Android device on the map with this feature. Even if your device loses internet access or powers off, you can still see its last registered location. That's not all – the Find Phone feature comes with several additional device tracking tools such as sounding an alarm, sending a text message and remotely locking and wiping the device itself.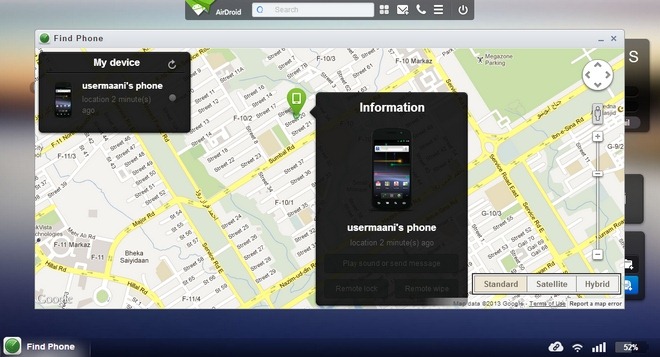 Since the app is currently in beta, you can expect a few occasional glitches in some of its functions. Also, some of the remote device tracking features appear to be non-functional at the moment, and are there just to show you what's in store for the final version. Note that when registering, if you provide a username that is also a twitter username, you will be requested to change it to another one, or authenticate via Twitter that it is yours. For this reason, many users had to authenticate their new accounts via Twitter.
As with the previous update, this latest AirDroid update has to be lauded as a massive boost to the app's overall capabilities. With such a dedicated development team behind the app, we are sure that AirDroid is on its way to becoming the most comprehensive remote device management tool for Android.
Download AirDroid 2 Beta For Android (APK File)
Update: AirDroid v2.0 is now live on the Play Store.