AntTek Explorer Ex For Android Impresses With Customizable Layout & Much More
File managers for Android have been around since the initial days of the OS, and have continued to evolve till date, offering more and more features with friendlier and easier UI for the average user. AntTek Explorer Ex tends to challenge this already competitive genre of apps with it's rich features and a clean, customizable UI, along with features like multithreaded processing for file operations such as copy/paste. Add to this a built-in music player that further sports some rich features like an equalizer and playlist support, cloud storage support for your favorite services, and root-level read-write access for the enthusiasts, and the result is an app that's poised to become the new default file manager for many Android users. Head on after the break to learn more about this new app.
Apps from AntTek such as AntTek Quick Settings and AntTek's Floating Dictionary have usually received much positive feedback from users, and their file manager is no exception. If you have used a file manager on Android before, navigating this app should be a breeze, though that doesn't mean those who are using an app like this for the first time will feel completely lost. as the contextual toolbar makes sure you are not kept guessing about the the functions available to you. Swipe inwards from the left edge or tap the cube icon to access a slide out navigation drawer. Services like Network access, Cloud and Root explorer can be directly accessed from here. Also accessible are the Bookmarks for quick access to your favorite files.
When it comes to browsing through your files, there are plenty of views and sorting options to play with, along with the option to hide/show hidden files. Image load times were fantastically fast – faster than most file browsers I have used.
As discussed above, the app comes with support for network access, FTP/FPTS/SFTP, and cloud storage services including Dropbox, SkyDrive, Box and Google Drive.
Multiple panels can be configured via simple drag and drop gestures, with the side panel serving as your bookmarks bar, parent explorer, recent files list, or another explorer window. The last option gives you a full dual-pane file manager, complete with drag and drop functions from one pane to the other.
I'll let the screenshots below speak for themselves. It's essentially a full-featured music player for Android with support for playlists, equalizer and some nifty audio effects. Playback can also be controlled from the notification dropdown.
Although the themes just seem to change the background for now, the available options look brilliant. Though there's room for improvement in this department by offering different icons and fonts with each theme, and perhaps offering a way for third-party theming.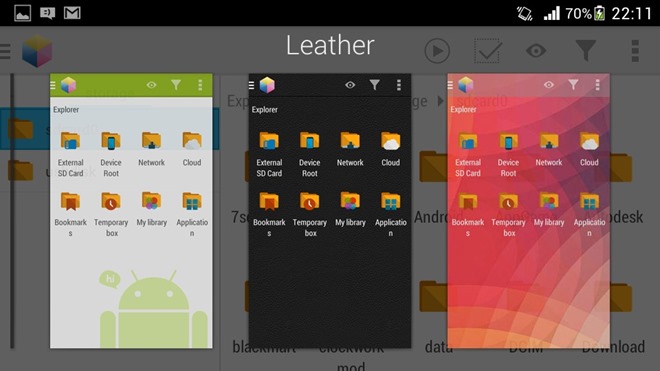 Here's how the app looks with a couple of different themes applied. As you can see, the background changes while other UI elements remain pretty much the same.
As is the case with most apps from AntTek, AntTek Explorer Ex is here to impress, and is likely to become a favorite among many Android users once the final version is released on Google Play.
Update: The app is now available on the Google Play Store. We've updated the link.
Install AntTek File Explorer Ex from Play Store