How To Fix Firefox Slow Startup Problem
If you're a regular user of Mozilla Firefox browser and facing very long startup times (some users reporting over 3 minutes of startup times), chances are that there is something wrong. This issue is even more pronounced with users working with Firefox 3, and no matter what operating system you are using, there is an easy fix that you can try. However, it's not necessary that this method will work for you, as a new profile, while it will refresh whatever is bugging your browser bad, is by no means a guaranteed solution. Still, since it doesn't cost anything, we consider it worth a shot anyway for any user who's annoyed by slow start up times for their favorite browser.
The solution we are going to try is creating a new user profile. Most of the times this method will fix the issue. Here's how you can do it.
-First, make sure that you are using the latest version of the browser (currently 3.6.3).
-Close the browser by selecting File –> Exit from the menu bar.
-If you're using Windows 7 or Windows Vista, Type the following command in the search bar of your start menu.
firefox.exe –ProfileManager
-Press Enter.
-(For Windows 2000 and XP users, type the same command in the Run dialog and click OK)
Note: If the profile manager fails to open, you may need to specify the full installation path for Firefox, enclosed in quotes, e.g.,
"C:\Program Files\Mozilla Firefox\firefox.exe" –ProfileManager
The Profile Manager window for Firefox would appear. If still not, kill Firefox process from task manager as it still may be running. If all else fails, try restarting your computer.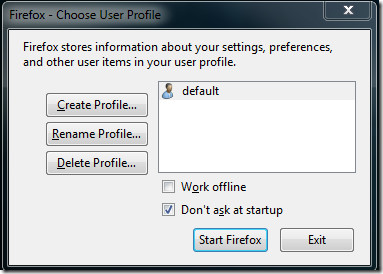 -Now, to create a new profile, click the appropriate button. Click Next and enter a name for your profile.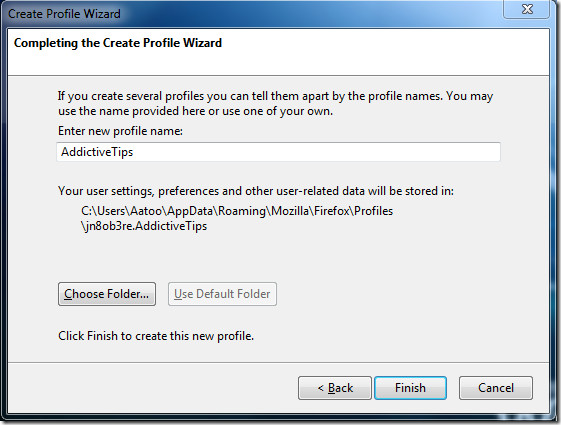 -You may optionally choose the storage path for this profile by clicking Choose Folder, where you can store the profile in a location other than default. Click Finish to complete the profile creation process.
By default, if you have multiple profiles, Firefox will ask you at startup which profile to use. Test the new profile for a while, and if the problem is solved you can simply remove the old profile and save the new one as default. Please note that doing so, you will need to reinstall all extensions/addons afresh, as well as all your personal settings.
To read more on Firefox Profile Manager, check out the Mozilla knowledge-base article.
Let us know if this solved the problem for you.