RightToClick: Enable Forbidden Right Click Options [Firefox Addon]
RightToClick is an add-on for Firefox that allows you to right-click on any webpage that has forbidden this command. There are many such instances where administrators disable the right-click command in a bid at preventing users from copying the text or images. In such cases, the right-click command fails to execute and you are prompted with the Right-click has been disabled message. The add-on lets you right-click on any page, even those for which the right-click command is disabled.
It occupies a tiny space at the bottom right of window. You will see a golden mouse icon there. Left click on the mouse to enable the right-click command on the page you're browsing. So every time you visit a webpage that blocks right-click selection, you should just click on the mouse icon to enable right-click context menu for that page. When the mouse is clicked once, it will start transform into two green mice (as shown below).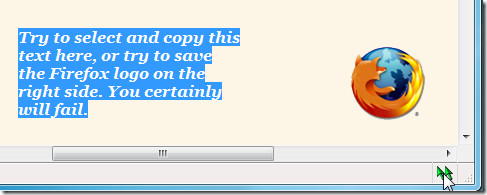 You can access advanced options by right-clicking on the mouse icon and selecting Options. In the Options menu, you can select all functions that are to be disabled upon clicking the mouse icon. For instance, you can select Disable site cut/copy/paste/text-selection handlers to disable the site text-selection blockages. Any options that are not yet fully developed or those that may not function on every webpage are clearly highlighted by the developer.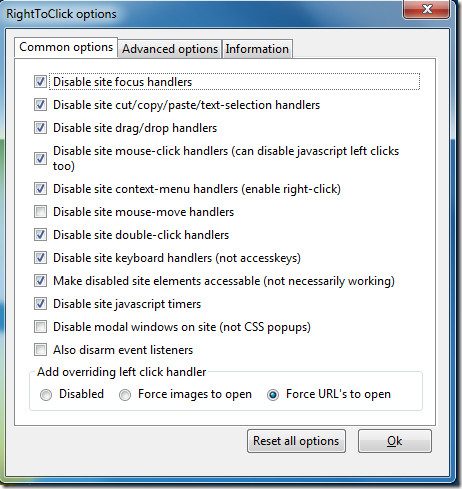 Other options include disabling site javascript timers on a webpage, disarming event listeners, forcing URLs to open and more. From Advanced Options tab, you can also select the options to disable CSS styles or fetch images.