How to save a photo from the clipboard to the camera roll on iOS
The clipboard on iOS can store text as well as images. Many apps that can display an image will generally let you copy the image to the clipboard while some will also let you save the image directly to your camera roll. For apps that do not let you save images to the camera roll, copying them to the clipboard and then saving them to the camera roll can be a long process. If you often need to save a photo from the clipboard to the camera roll, consider using the Save Clipboard Photo shortcut.
Save photo from clipboard to camera roll
Import the Save Clipboard Photo shortcut into the Shortcuts app. Make sure you open the link in Safari and not in any other browser. Since the Shortcuts app was added in iOS 12, you must be running at least that version, or later.
Once the shortcut has been imported, open the Shortcuts app and tap the three dots button at the top right. The shortcut will need access to the camera roll. Tap the 'Allow Access' option under the last action for Photos, and grant it the permission it needs.
Next, go to any app with images in it, and copy it to the clipboard. Return to the Shortcut app, and tap the Save Clipboard Photo shortcut. The first time you run the shortcut, the Shortcuts app will tell you it was imported from Safari and ask you to confirm if you want to run it. Go ahead and run the shortcut, and the image on your clipboard will be saved to the camera roll.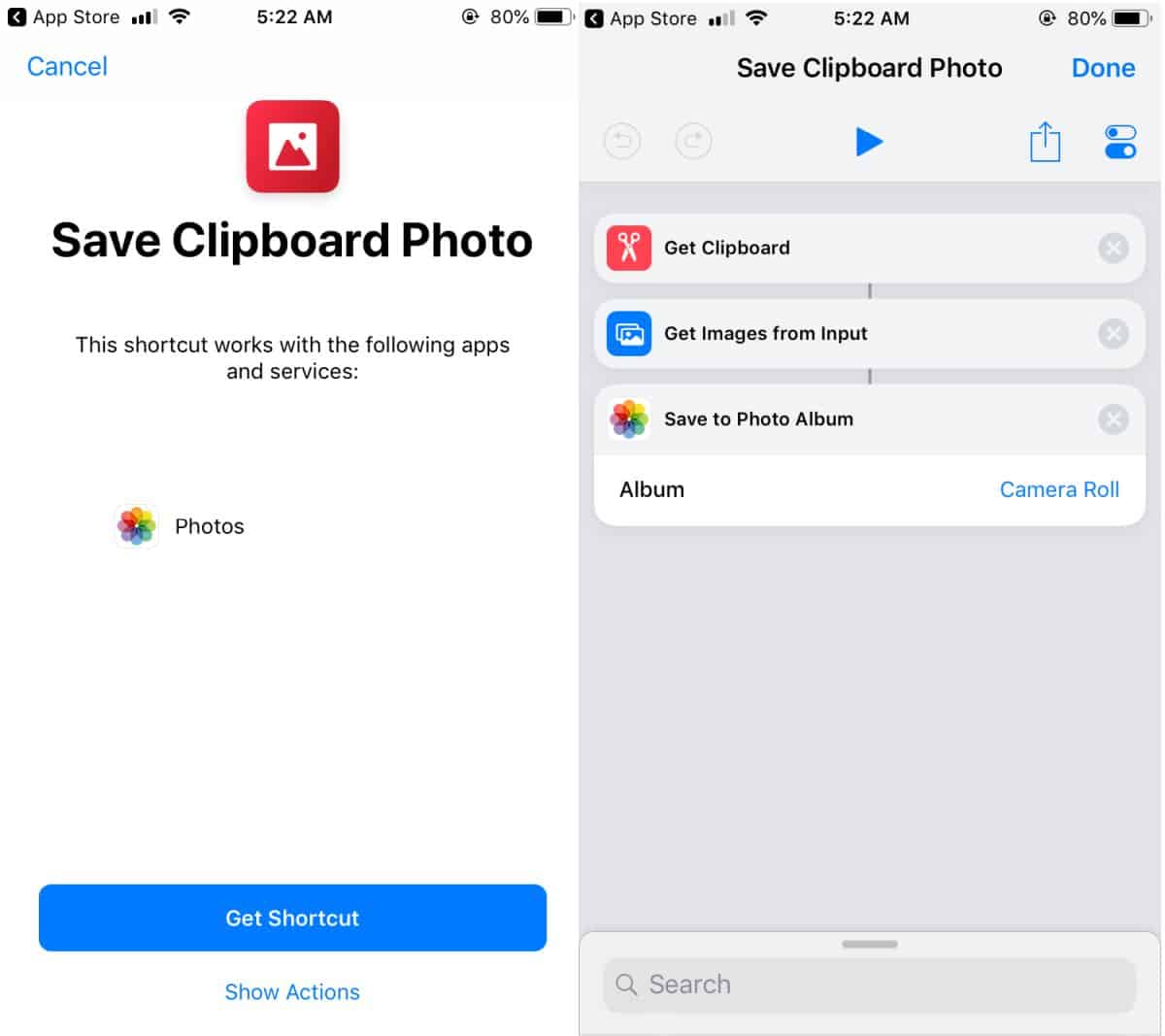 While this works flawlessly, you will still have to go to a different app i.e., the Shortcuts app to save the image to the camera roll. If the app that you often have to copy images from supports the Share Sheet, you can add this shortcut to it and make it easier to access. You can also add the Shortcuts widget to the Notification Center, and use the shortcut from there.
In the absence of this shortcut, the image copied to your clipboard has to be pasted somewhere that gives you access to the 'Save Photo' option. This is normally an app like Notes or you can send the image over iMessages and then save it to the camera roll after that. It takes quite a few taps to get the job done. It's not too bad if you only need to save an image once in a while but for frequent use, you'll find that it's time-consuming without the shortcut.