Clipboard History For Mac Holds Rich Clipboard Items To Paste Them In Any Order
Since many clipboard managers available for Mac impose a limit on number of items that can be saved in their stack, there might be a case when you want to have an enormous clipboard item list for one really long work session.  Clipboard History for Mac (free for limited time) is a clipboard manager which can save almost unlimited number of clipboard items whilst allowing users to paste them in any order they want, anywhere. Since hotkey support seems to be essential for clipboard managers, it also allows registering hotkey combination, so you can instantly paste the saved clipboard items in any application window. Additionally, it supports widely used clipboard data types, such as, text, images, plus a combination of both data types, including, rich text documents, HTML, and PDF. You can even navigate through clipboard items, search saved clippings, preview selected items, and finally save important ones to any local location.
After the the application is downloaded, launch the application and bring up the Preferences to increase the clipboard history size to 100. You can enable option to automatically clear the history when application closes, keep icon placed in either dock or menu bar, and finally register hotkey for bringing up its menu over application windows to paste clippings.
Now begin copying items to stack up the clipboard manager. You can access all copied items, open History, access Preferences, and choose to delete all items from system tray menu bar. Each item represents the data type, i.e., with text copied from HTML page, you will see green HTML icon, and similarly with Image and Text clippings, it shows TXT and image thumbnail respectively.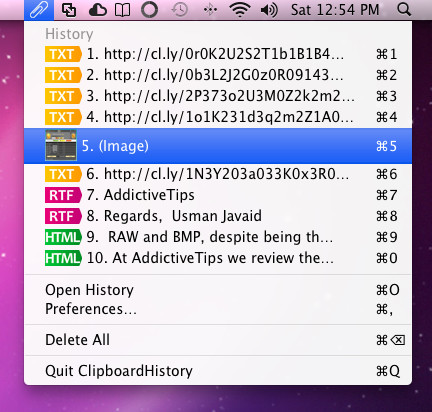 To paste rich text, image and text clippings in workspace, use the hotkey combination over the active workspace to select those clipboard items which you want to use.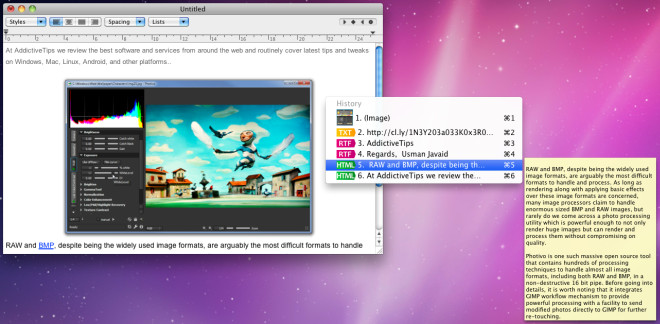 The Clipboard History window, which can be accessed from menu bar, displays all the clipboard items of current session with options to preview the clippings content. It works on Mac 10.6.6
Install Clipboard History from App Store