Maintenance For Mac OS X Lion: Run System Optimization, Cleaning & Rebuild Tasks In One Go
Developed by the makers of OnyX and Deeper –  Titanium Software, Maintenance is a small, yet extremely useful application for Mac OS X Lion that lets you perform a variety of system maintenance tasks with a click. Unlike other system optimization and maintenance tools, which attempt to delete critical system logs and application temporary data from system wide locations, Maintenance allows you to clean junk files only from current user account folders, keeping all the important system utilities files and users' data safe. Since Maintenance is a low-level system cleaning and optimization tool, you can choose to perform junk cleaning from system-wide locations, and set it to perform maintenance operations for other users as well. Talking of its features, you can run a variety of maintenance tasks including repair permissions, reset Spotlight index, create new LaunchServices database, rebuild Mail-mailboxes index, remove application, font and system cache. Read past the jump for details.
When you launch the application, it checks the S.M.A.R.T status of your hard drive for generating S.M.A.R.T logs. The S.M.A.R.T is a technology that is built into modern hard disks, and is responsible for alerting users about impending hard drive failures. Since it checks S.M.A.R.T status every time you start the application, it takes some time to open the main interface. However, you can choose to disable S.M.A.R.T status check on start up from its Preferences. In addition to S.M.A.R.T status, the application also asks you to verify the startup disk volume for widely known discrepancies. You can skip the disk verification process, and then do it manually from Preferences.
The main window contains system optimization tasks in different categories such as Maintenance, Cleaning and Rebuild. You just need to enable the task that is to be performed and click Execute to immediately run the task. It must be noted that some tasks require administrative privileges, so you may have to enter the admin password to run them. Also, keep in mind that tasks like permission repair and Spotlight search index rebuild require quite some time to finish. Therefore, it's advised to close all heavy background processes before you start repairing permissions or rebuilding entire search index.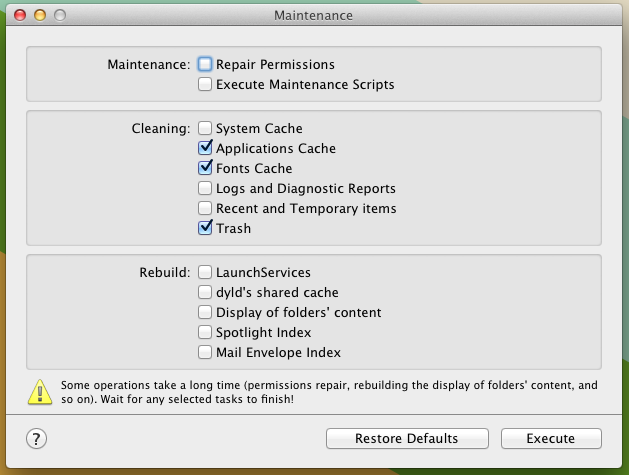 The Preferences dialog can be accessed from Maintenance menu. It allows you to tweak the interface, adjust its opacity, and set application At launch and At quit behaviors.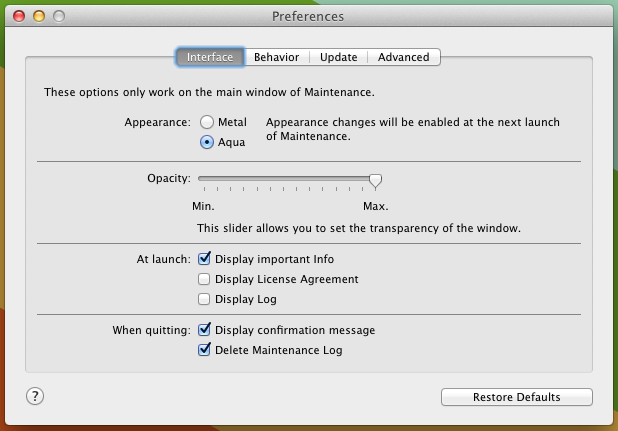 Under Behavior tab, you can enable All accounts option to perform Maintenance tasks for all user accounts.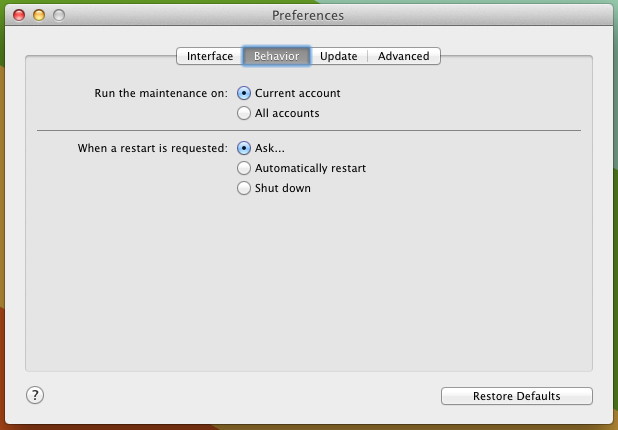 As stated earlier, you can disable S.M.A.R.T status check at startup. The Advanced window lets you disable not only S.M.A.R.T status check, but also startup disk verification process. You can also manually start the startup disk verification process to identify disk-related issues.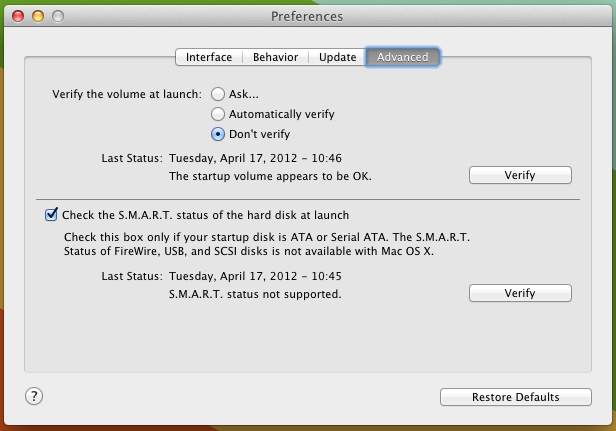 All in all, Maintenance provides users with quick system optimization tools to fix basic system issues and perform cleaning operation for current user account. While Spotlight search index rebuild feature may help you resolve file and folder search related issues. you can use repair permissions and rebuild folder's display of content options to achieve quick file access. Maintenance provides a separate variant for each Mac OS X version. We tested the Mac OS X Lion variant without any issues, whatsoever.