Simple Comic For Mac: Open Multiple Comics & Export Pages As JPG
Simple Comic is an intuitive comic reader for Mac OS X that will enhance your comic reading experience by letting you control the way you want comics to appear. Not only does it allow you to change the page layout, it also lets you change the page order from left to right and vice versa and scale pages to 3 sizes including original size, window fit and horizontal fit.  While it has the ability to open multiple comic archives at the same time, it supports CBZ, CBR, ZIP, RST, TAR, 7Z, LHA and many other types of digital comic formats. Apart from pre-defined page scaling modes, you can zoom in on defined area and use page rotation options to change the orientation of comics. Furthermore, it enables you to extract individual pages from the comics archive; just use command-c hotkey combination and select the page you want to extract to local location as image.
The application doesn't show main interface unless you drag the comics book over its system dock icon. Once dropped, it will open the comics in 2 pane layout with scale to window size. However, you can change page view settings from toolbar, which contains Page Order, Page Layout, Page Scaling options, Turn Page controls, and Thumbnail and Full Screen modes.
The bottom lane shows the total number of comics pages in the book and a slider. When you hover mouse pointer over slider, it shows the thumbnail preview of pages, letting you easily jump to your favorite comics pages.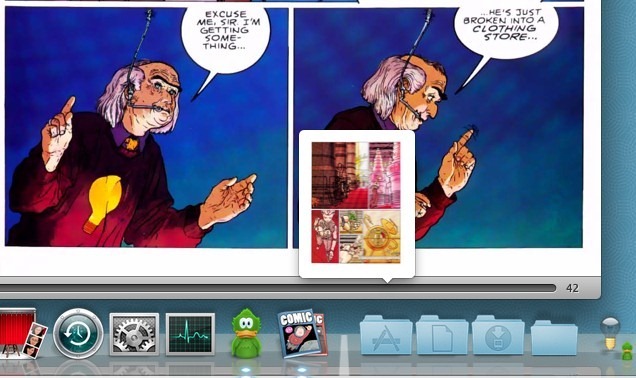 Clicking the Full-Screen option present at top-right corner shows current comics page in full-screen mode. However, the thumbnail mode generates thumbnails of comic book on entire screen.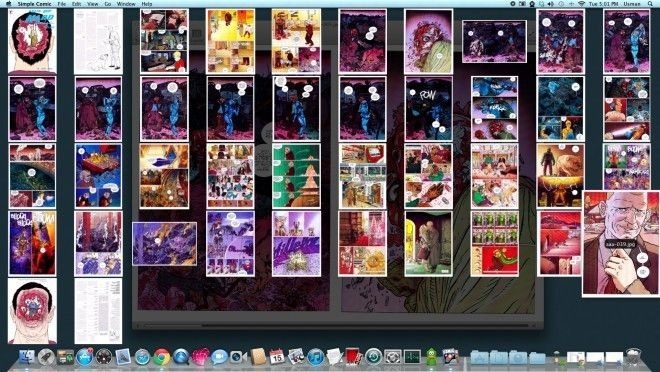 Unlike other comics readers which offer basic zoom-in option, it uses a smart way to zoom in the page content. Just right-click the area which you want to zoom, it will zoom in only the specified area, letting you read the content more clearly.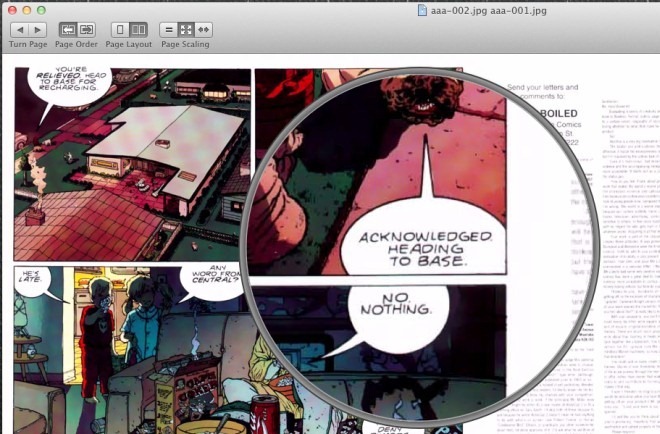 You can change the default page order and page scale settings from Preferences dialog, which is accessible from Simple Comic menu. Under General tab, you can change the right to left page order to left to right and define the default page scale. Additionally, it lets you choose the default background color.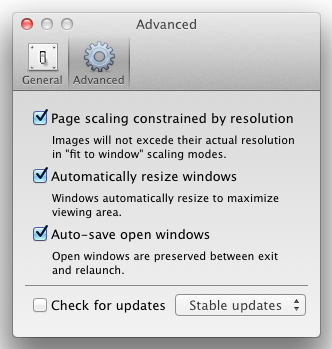 Under Advanced tab, you can enable Page scaling constrained by resolution option, toggle auto-resize page and auto-save open windows options On or Off.  Simple Comic is a lightweight comic reader for Mac OS X that can render hefty comic books quite smoothly without taking too much of system resources. It is an open source application that works on Mac OS X 10.5 and higher.