Vox Audio Player: Apply Sound Effects & EQ Settings To Songs [Mac]
If you're an avid music listener and looking for an easy to use, visually appealing and free music player for Mac OS X, Vox could serve your needs. It's a miniscule, yet powerful music player that supports a wide range of audio formats including MP3, AAC, Musepack, Monkey's Audio, Apple Lossless, AIFF, FLAC, WAV, IT, MOD and more. Besides having a drop-dead UI, it contains numerous sound effects for music enthusiasts who love to tweak the quality of sound as per their taste. What makes it different from other music apps such as previously covered Enqueue and Cog is its ability to play all widely known audio formats, export audio tracks with enabled effects to AAC, WAV & Apple Lossless format, playback control and playlist navigation from menu bar. Additionally, the application is highly configurable in terms of sound qualities, audio channels and stereo left/right pan settings, volume limit, playback effects and modes.
The main interface has basic playback, volume, playlist and track navigation controls with options to bring up playlist, audio equalizer and sounds effects windows. On the right side, you will find the album art display area with file info, album art toggle, and settings menu. In order to create a now playing playlist, hit the playlist option present alongside the volume control and then drag the tracks over the playlist window. It automatically categorizes the playlist items into 3 tag-based groups namely Title, Album and Artist.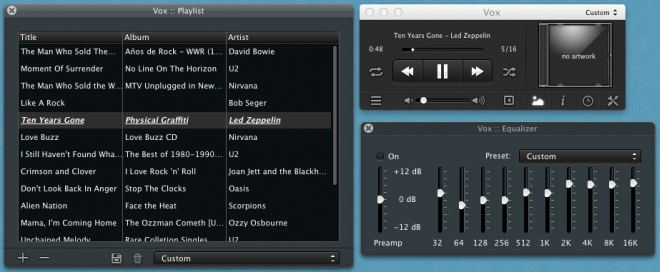 Clicking the Settings button (present in bottom-right corner of main interface) shows the basic menu, which lets you open sound effects and equalizer window. You can also open source location of current track, delete the selected track in playlist, clear the playlist in one go and export the track with applied sound effects.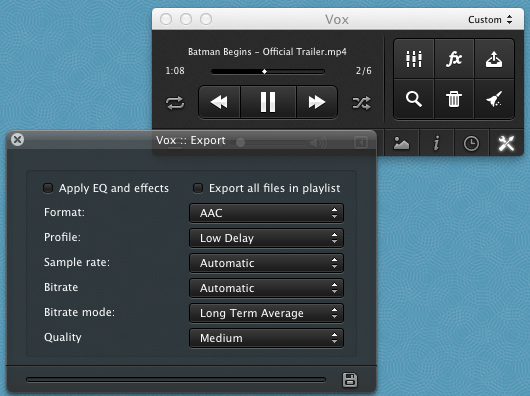 Vox includes a total of 18 Apple sound effects that you can apply over the track. In addition to default settings of effects, you have the option to tweak each effect according to your requirements. Adding effects to the track is easy, click fx from Settings and then click add button to select the sound effect from Apple menu to add and tweak with selected sound effect's quality.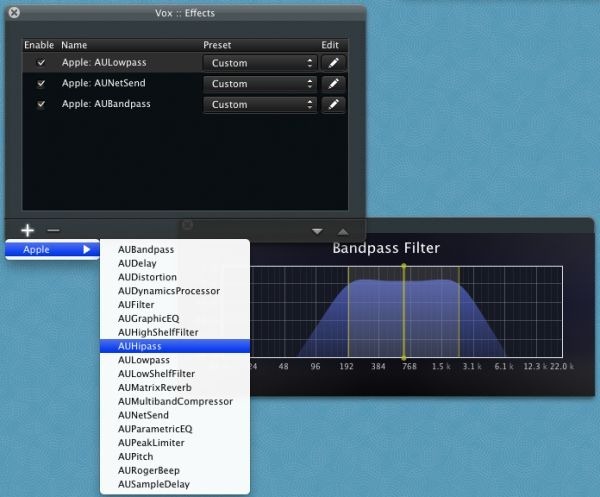 As mentioned earlier, it resides in system menu bar, allowing you to easily control playback, jump to next and previous tracks in the playlist and select the track from current playlist.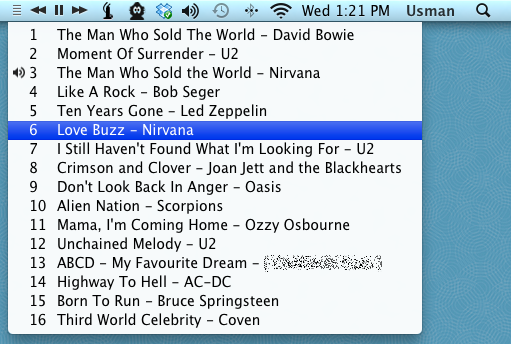 You can customize the audio effects, application interface and other general settings from Preferences, which can be accessed from Vox menu. The General tab contains application behavior, menu bar, dock, audio units and Growl notification settings, whereas from Audio tab you can switch between system default output and built-in output, enable synchronization of sample rate, change audio channels mode and pan settings, set sample rate and anti-aliasing, define maximum volume limit & buffer size and access Audio MIDI setup dialog. It also includes an option to restore the settings back to original with a click.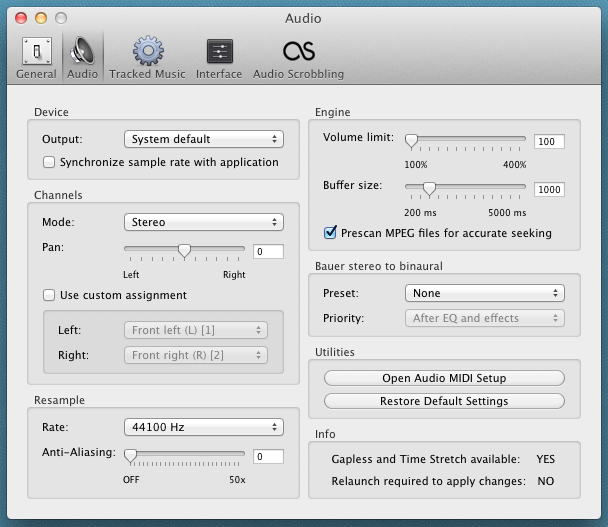 The Tracked Music tab deals with sound quality, behavior effects and playback modes. You can change the default Interpolation – Linear with Sinc, enable Surround effect, switch between reamping options etc. Like Enqueue, it supports last.fm scobbling; you can connect with your last.fm account from Audio Scrobbling tab in Preferences. Vox is an all-in-one music player for Mac OS X that wholly satisfies the needs of music enthusiasts. It works on Mac 10.6 and higher,