We are reader supported and may earn a commission when you buy through links on our site.
Learn more
How to Watch Iron Man 3 on Netflix from Anywhere?
Iron Man is definitely one of the most beloved Marvel characters, and Iron Man 3 is one of the movies that you absolutely have to watch. The problem is whether or not we can watch the film on Netflix, and we're going to dive in and see if and how we can do this.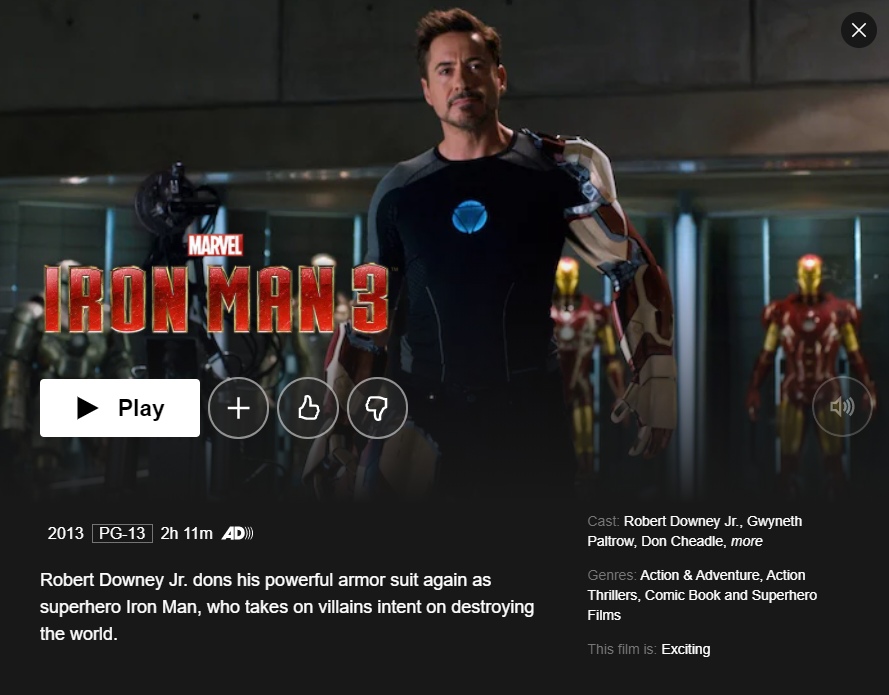 Iron Man 3 is a film that was released in 2013, although it doesn't seem like so long has passed. It comes after Iron Man and Iron Man 2, which were released in 2008 and 2010, and it is overall the seventh film of the Marvel Cinematic Universe.
Featuring Robert Downey Jr, Gwyneth Paltrow, Don Cheadle, Guy Pearce, Jon Favreau, Ben Kingsley, and many others, Iron Man is a great movie that managed to bring over $1.2 billion at the box office, on a budget of just $200 million.
Can I watch Iron Man 3 on Netflix?
If you're hoping to watch Iron Man 3 over on Netflix, then you are quite lucky because you can definitely watch the film on the platform in Canada. Unfortunately, we didn't get to find it in the United States or the United Kingdom, but Canada should do it if you want to catch up with the Iron Man movies.
How can I watch Iron Man 3 on Netflix from anywhere?
As we already mentioned, Iron Man 3 is a film that is available on Netflix but only in Canada. The platform is available in about 190 countries, and it is available with separate libraries in each of these nations. The libraries are not accessible from other countries, and it's your IP address that dictates what content you get to enjoy.
Therefore, if you want to watch Iron Man 3 on Netflix, you need to appear to be in Canada – which you can do by changing your IP address. In order to do this, you need to have a VPN that can route your internet connection through a foreign server of your choice and change the address on your device. This will make it seem like you are in Canada and will open up the local library for you.
If you do not know which VPN to use, our recommendation is to go for NordVPN. The tool has thousands of servers everywhere in the world, and some really great privacy features, which will make it super-easy for you to keep up with anything you want while also protecting your privacy.
Here's what you need to do:
Start by subscribing to NordVPN. They offer a great subscription deal now, so you should head over and grab it now!
Get the apps for your device and enter your account to have the app ready whenever you need it. Look for a server that is located in Canada and connect to it.
Once the connection is established, you'll be able to load Netflix in your browser or to relaunch the app on your device, depending on which one you're using. Search for Iron Man 3 and go ahead and enjoy the film on Netflix no matter your location.
That was pretty simple, and we do hope you've managed to go back and enjoy Robert Downey Jr as Iron Man.
Does Netflix know I'm using a VPN?
Netflix does have a way of knowing if you are using VPNs or not, but its methods usually work on free VPNs. We haven't had issues while using NordVPN, but that doesn't mean it cannot happen, just that it's less likely to.
If you do happen to have issues with playing Iron Man 3 on Netflix Canada, you can start by swapping the server you are connected to. You should also clear out your cookies on your browser, as that might help as well. If you're still having issues, you should connect to the NordVPN support team, as they are there to help you figure out what server to use that will work with the platform you are interested in. The NordVPN customer support steam is available 24/7, so it doesn't matter what country you're in.
Why not use a free VPN instead?
Free VPNs sound great in theory, but they are quite dangerous in practice. One of the major issues we have with free VPNs is that quite often over the years, security researchers have discovered that cybercriminals were using them to attract people and fool them into downloading malware-infected apps. Once installed, the app would collect information on the users, like credentials for your social media accounts, banking information, and so on. This could lead to blackmailing, banking fraud, identity theft, or even data breaches against your employer.
Something else you need to take into consideration is the fact that free VPNs are usually the first to get blacklisted by Netflix because they are easy to track. Since the apps are free, lots of people are using them, which makes those IP addresses super-easy to pick out of a crowd. There is also the fact that even if the apps worked and could bypass the blockade, they would still be unable to properly allow you to watch Iron Man 3 because internet speeds are notoriously low with free VPNs since their servers are grossly overcrowded.
We should also mention another category of VPNs are often offered for free and which use peer-to-peer routing. This means that you would be offering your own device as a sort server for other people to use while you use their devices in turn. Sadly, this method can be rather dangerous for your privacy because these apps do not use encryption, and they also have a habit of collecting internet browsing histories. Obviously, this is quite problematic since VPNs are associated with the notion of online privacy. The fact that using such a tool deeply impacts your computer's performance and the apps do not stop working when you stop using the VPN are also elements you need to consider.
Final thoughts
Adding another bill to your monthly load may not be ideal. Still, it's the best thing you can do for your privacy, especially if you often find yourself wanting to keep up with shows that are not locally available on your streaming platform. The fact that we still get to watch Iron Man 3 on Netflix at all is a notable experience on its own, so let's go ahead and watch Iron Man 3 on Netflix no matter where we live.