We are reader supported and may earn a commission when you buy through links on our site.
Learn more
Best BT Sport VPN: How to Unblock BT Sport 1, 2 and 3 Outside UK
If you've ever wondered how to unblock BT Sport channels from outside the U.K., today's article is for you. The process is dead simple, so long as you have the best VPN for BT Sport installed on your device. We'll help you choose a reliable VPN provider, then show you how to use it to unblock BT Sport anywhere in the world.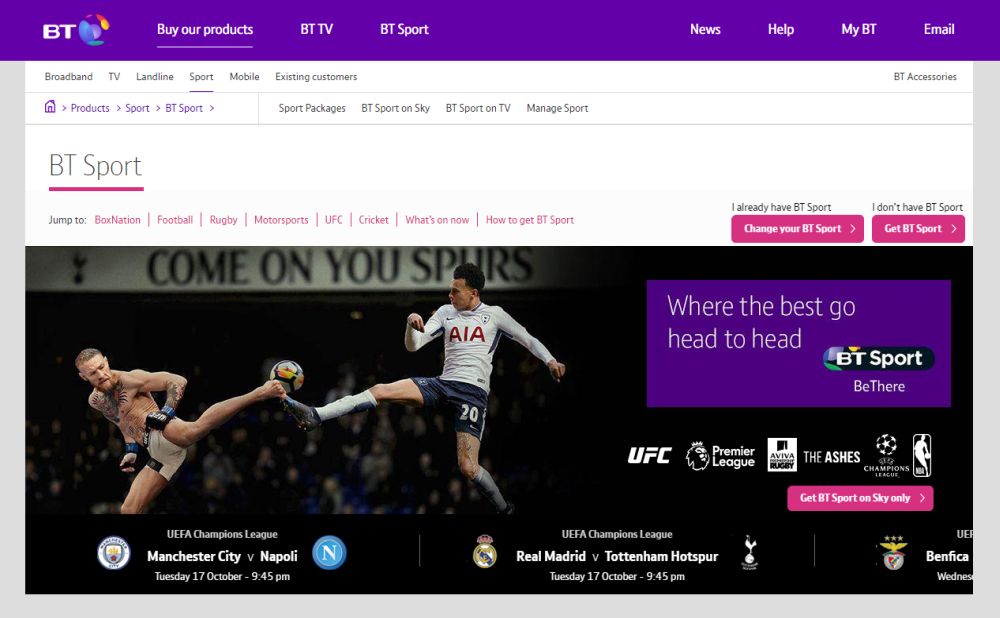 BT Sport is a collection of sports channels based in the UK that provide live coverage of rugby, cricket, tennis, UFC, and football (soccer) games and events. BT Sport 1, BT Sport 2, and BT Sport 3 attract the bulk of the audience, though smaller channels like BT Sport/ESPN offer a selection of American sports and 4K Ultra HD delivers high-definition content when available.
To access buffer-free BT Sport streams outside the UK, use one of these VPNs:
NordVPN – Best for BT Sport – NordVPN offers hundreds of connections to UK IP addresses, making it trivial to unblock BT Sport abroad. Military-grade encryption, zero logs.
Surfshark – Capable of bypassing virtually any type of website block, be it government censorship or proxy bans.
ExpressVPN – A strong choice for anyone who refuses to watch the match in anything less than 4K, due to incredible network speeds.
PureVPN – Offers robust VPN functionality plus myriad cybersecurity extras.
IPVanish – Commonly used to unblock content libraries on streaming devices like the Firestick.
VyprVPN – A foolproof choice when accessing sports streams from heavily censored countries.
BT Sport is available on Sky TV in the UK and Ireland, but you can also watch it by subscribing to BT TV. The BT Sport mobile app and the official website even let you stream content online. The catch with these methods is you need to be in the UK to access any of the streams. If you're traveling abroad and have to watch BT Sport from another country, you can always fire up your VPN, switch servers to spoof your location, and let the games begin!
30-days money back guarantee
Evaluating the Best VPN for BT Sport Channels
Finding the right VPN for watching BT Sport abroad means locating a careful balance between speed, privacy, and ease of use. Not all VPNs put the right emphasis on the features you need, which can create a choppy or unreliable viewing experience. We've provided a few recommended VPNs below, each one evaluated with the following criteria. Read through the list, check out the VPNs, and you'll be guaranteed a smooth, reliable, and secure service that will let you watch BT Sport from anywhere around the world.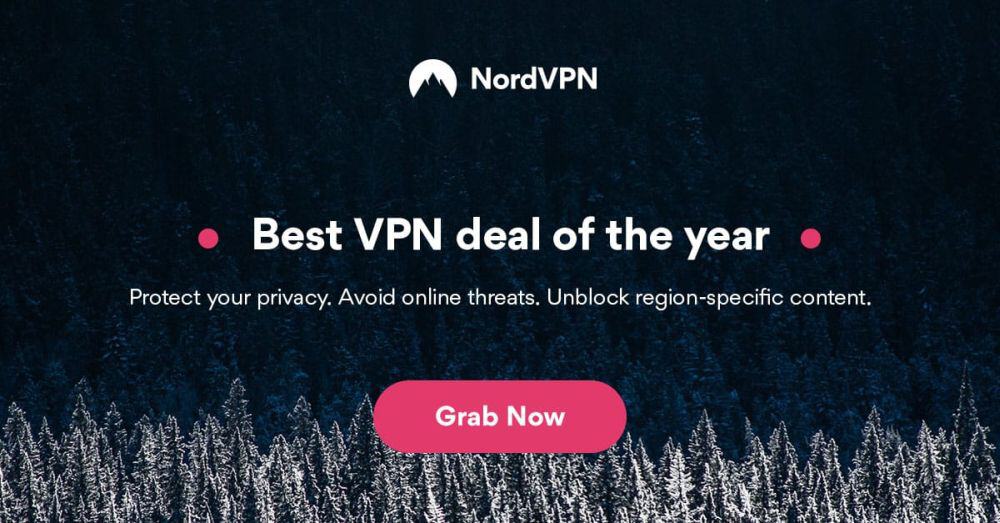 NordVPN has a stellar reputation in the online privacy community. The service delivers some of the best anonymity features in the business, along with incredibly fast speeds and an absolutely massive network of servers. This makes NordVPN our top choice for sports streams and region-free Netflix access, but you'll also be able to break through censorship blocks in places like China and Turkey.
NordVPN's network is constantly growing. At the time of writing it includes 5,600+ servers in 60 different countries, over two dozen of which are located in the UK. You'll have access to this entire network with unlimited bandwidth as well as no restrictions on P2P or torrent traffic. On the privacy side of things, NordVPN has a strict zero-logging policy that covers everything from traffic to time stamps, bandwidth logs, and even IP addresses. Then there's kill switch and DNS leak protection features, both of which are designed to keep you hidden even if you lose connection to the network!
More of NordVPN's best features include specialized servers offer features such as faster P2P downloads, double encryption, onion routing, and DDoS protection; reliable streaming Netflix streams, even when other VPNs are blocked; lightweight apps for Windows, Mac, Linux, Android, iOS, and more; 650+ servers located in the UK and Ireland.
Read our full NordVPN review.
Read our full NordVPN review.
Pros
SPECIAL OFFER: 2-yr plan (68% off - link below)
Fast and stable connections
256-bit AES encryption with perfect forward secrecy
"Double" data protection
Great customer service via chat.
Cons
They can take 30 days to process refunds.

Surfshark is an excellent choice for spoofing an IP address from the UK. Not only do they dedicate a significant portion of their network (3200+ servers in 65 countries in total) to the UK, they also offer static IP and multi-hop connections within that country. This is extremely useful for beating all sorts of VPN blacklists and ISP restrictions, but there's more.
Each connection is locked down with the 256-AES-GCM encryption cipher, which offers the same level of protection as used by America's NSA. Additionally, any server can be obfuscated courtesy of Surfshark's Camouflage method. Combined with built-in smart DNS, and you can unblock basically any streaming site–including Netflix–all without fiddling with advanced settings (as these are all automatic).
Surfshark never limits your bandwidth or speed, and even allows you to protect as many devices with one subscription as you like. Rest easy knowing they never keep logs, either.
Pros
Break through harsh censorship to securely access social media and foreign news sites
Torrent safely on any server, no guesswork required
Accepts all major credit cards, Apple, Google, and Amazon Pay, PayPal, and even Bitcoin
Absolutely no logging of connection data, IP addresses, bandwidth used, or traffic
Responsive customer support available 24/7.
Cons
Overall, not much to complain about
Young VPN still has plenty of room to grow in terms of advanced functionality.
Read our full Surfshark review.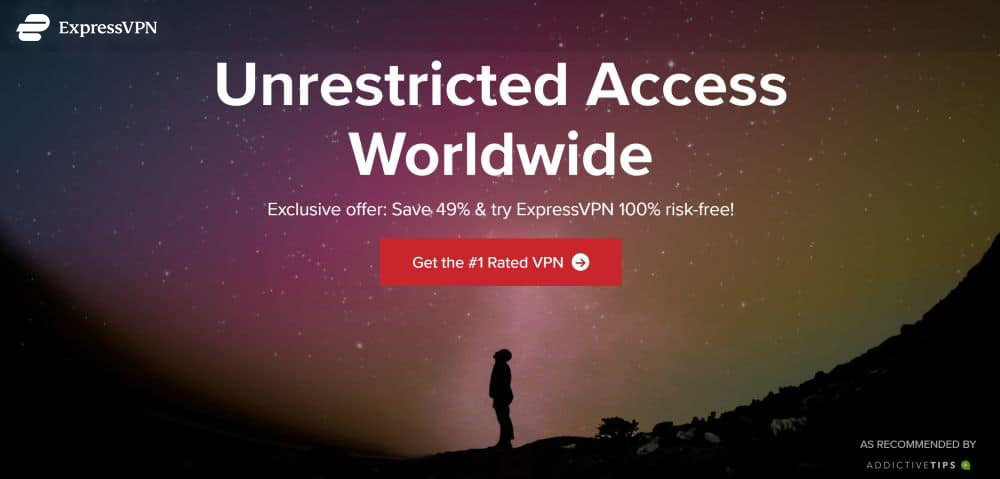 ExpressVPN knows there's one thing VPN users want more than anything: fast downloads. Whether you're streaming live sports or just surfing the web, speed can make or break your online experience. ExpressVPN tackles this by providing a network of over 3,000 servers in 94 different countries, most of which deliver incredibly fast connections to users around the world. If you have a Windows, Mac, or Android device running ExpressVPN's custom software, you can even test speed and latency from within the app. When you combine that with unlimited server switches and unlimited bandwidth, you've got the perfect foundation for a stream-friendly VPN.
Privacy is also high on ExpressVPN's list of features. It all starts with a fantastic zero-logging policy that covers traffic, DNS requests, and IP addresses. 256-bit encryption locks down all information that leaves your device, keeping even the most persistent third parties from taking a look at your data. You also gain the benefit of both DNS leak protection and an automatic kill switch to keep your identity hidden at all times.
More highlights from ExpressVPN include anonymity features that allow open internet access even in censorship-heavy countries like China and Turkey; easy-to-use software for Windows, Mac, Linux, Android, and iOS devices, no restrictions on bandwidth, P2P network downloads or torrent traffic; servers in over half a dozen locations throughout the UK and Ireland; consistent and reliable access to Netflix streams
Read our full ExpressVPN review.
Pros
Unblocks US Netflix, BBC iPlayer, Hulu and Amazon Prime
Fast serves with minimal speed loss
OpenVPN, IPSec & IKEv2 Encryption
No personal information logs kept
Live chat support available.
Cons
High cost for month-to-month users.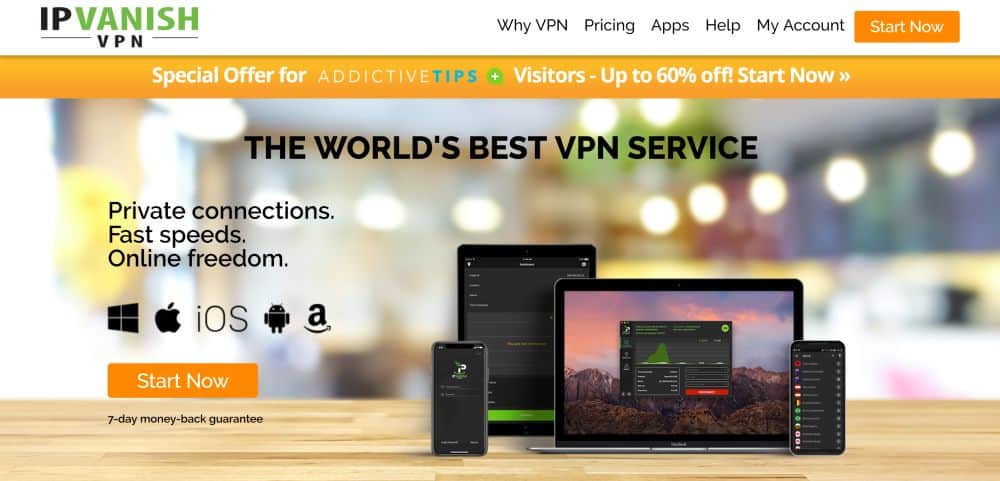 IPVanish is the go-to VPN for anyone who wants to remain hidden online. The service deploys 256-bit AES encryption and secures everything with a strong zero-logging policy on all traffic. Desktop users can take advantage of kill switch and DNS leak protection features to help ensure no personal details ever leave your device. You'll also share a staggering 40,000 IP addresses with other IPVanish users for an added layer of anonymity.
A network of over 1300 servers in 60 different countries powers the IPVanish experience, offering one of the largest selections of nodes in the VPN marketplace. You'll always find a fast, lag-free server with a low population, even in the UK. IPVanish's privacy features also help defeat ISP throttling so you can skip buffering delays and watch 4K and HD sports without interruption.
IPVanish features at a glance include lightweight apps and software for Windows, Mac, Linux, iOS, and Android devices; secure servers with fast connection speeds for incredible HD video streams; the ability to download movies and TV shows through BitTorrent with full anonymity; ver 60 dedicated servers in half a dozen locations throughout Ireland and the UK
Read our full IPVanish review.
PureVPN doesn't just want to be the best VPN, it wants to be the best all-in-one web security provider around. The company does this by offering a wide variety of services that go above and beyond the usual VPN offerings. Yes, you'll get 256-bit AES encryption, kill switch and DNS leak protection features, and a zero-logging policy on all traffic, but you'll also gain access to a built-in ad-blocker, web filtering options, malware protection, and even anti-virus scanners. All you have to do is sign up, grab PureVPN's custom apps, and start taking advantage of the entire suite of features!
On the network side of things, PureVPN has over 2,000 servers in 141 countries, including 180+ in Ireland and the UK. They also own and operate this entire network themselves, which keeps third parties out of the picture and gives you a greater amount of online privacy.
In short, PureVPN's best features include added online security features include anti-virus protection, web filters, ad blocking, and anti-phishing measures; custom-built apps for Windows, Mac, Linux, Android, iOS, and even Chromebooks; no restriction on torrent or P2P traffic and completely unlimited bandwidth; unlimited server switching and five simultaneous connections.
Read our full PureVPN review.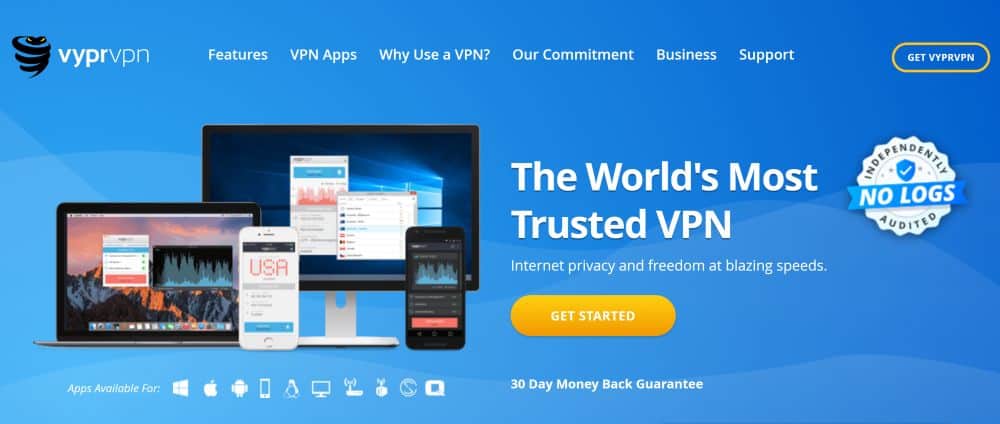 Privacy is what VyprVPN does best. The service's best feature is Chameleon, an exclusive technology that helps defeat deep packet inspection efforts used by ISPs and government agencies to throttle speeds or spy on user activity. Chameleon takes the metadata attached to encrypted packets and wraps another layer of encryption around it, obfuscating your identity and the data's destination. This creates an incredible amount of privacy, allowing VyprVPN users to defeat censorship blocks and browse geo-restricted content with full anonymity.
VyprVPN's second big feature is the fact that they own and operate their entire network of servers–over 700 in 70 different countries, with locations in both the UK and Ireland. This helps VyprVPN keep out nosy third parties and deliver a higher level of privacy than most competitors. No one ever accesses their server hardware or software, so your data stays safe. You also get to take advantage of a zero-logging policy against traffic, 256-bit AES encryption, and both kill switch and DNS leak protection features.
VyprVPN's best features at a glance include anonymous and private web browsing and video streaming anywhere in the world; excellent custom apps for Windows, Mac, Linux, Android, and iOS smartphones; unlimited bandwidth and no restrictions on P2P traffic or torrent downloads; the unique Chameleon protocol to help defeat ISP throttling and censorship blocks.
Read our full VyprVPN review.
How to Watch BT Sport Channels with a VPN
Region-locked content is frustrating, especially for sports fans. If you're looking forward to an upcoming game but won't be able to catch it on BT Sport due to traveling, a VPN can help you out. VPNs encrypt traffic to hide it from prying eyes, making it nearly impossible for anyone to see what you're downloading. They also provide worldwide networks of servers with IP addresses from dozens of different countries. All you have to do is pick a server located in the UK or Ireland, launch the BT Sport app or website, and start streaming.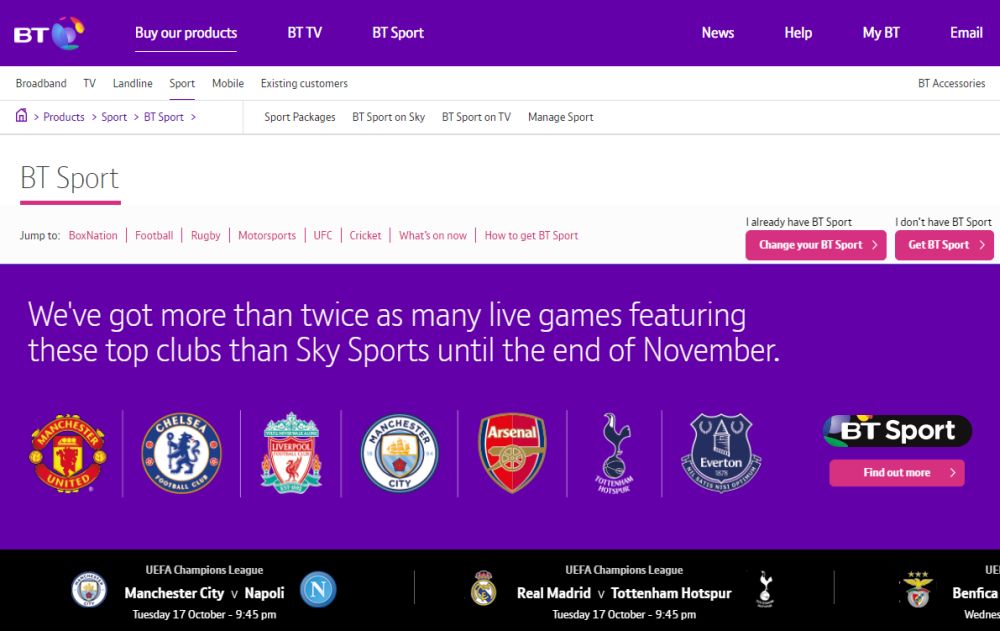 How to watch BT Sport with a VPN:
Make sure your BT Sport subscription is still active.
Sign up with a VPN and download the software to your device.
Launch the VPN and sign in with your credentials.
Open the VPN's server browser and select a node located in the UK.
Wait for the connection to establish.
Launch the BT Sport website and log in.
Select your stream and enjoy!
The above steps work well with the BT Sport app on mobile devices, as well. Simply download your VPN's Android or iOS software and run it in the background before you launch BT Sport.
Alternatives to BT Sport
BT Sport and its network of channels isn't the only way to watch live sports online. There are hundreds of channels that cover different events from different venues around the world, everything from the NFL to baseball, UFC to tennis. With free media center software like Kodi, you can install a wealth of add-ons that provide access to these streams from the convenience of your own home. Follow the guides below to get Kodi set up and ready to roll with all the best sports add-ons available!
Watching BT Sports Abroad: Proxy vs VPN
Another common method of bypassing geo restrictions to access videos from other countries is to use a web proxy. Proxies take some of the features provided by a VPN and allow you to switch virtual locations at the push of a button. Your traffic gets routed through the proxy's worldwide network, switching out IP addresses before anything hits the internet. This fools websites into thinking you're located in a new area, allowing you to check out content otherwise unavailable to you.
RELATED READING: VPN vs. Proxy – Which is right for you?
While proxies certainly sound like a nice solution to the region locking problem, they don't carry the same benefits as a VPN, one of which is absolutely necessary for your online privacy. VPNs encrypt traffic in addition to providing a non-local IP address. Encryption is what protects your data from snooping ISPs and hackers, and it also keeps your identity nice and private, no matter what you stream. If you need to access BT Sport streams while outside of the UK, it's best to go with a reliable and low-cost VPN service so your privacy will be guaranteed.
Conclusion
We've covered how unblock and watch BT Sport 1, 2 and 3 anywhere in the world, using a VPN or a number of other methods. By following our guide, you'll be up and running watching the match in just a matter of minutes.
What will you stream with your VPN? Did you have any issues with our step by step instructions? Let us know in the comments below.