We are reader supported and may earn a commission when you buy through links on our site.
Learn more
Is A Knight's Tale on Netflix? How to Watch A Knight's Tale on Netflix US from Anywhere
Every once in a while we remember Heath Ledger, an actor gone too soon, and his great movies. One of those – A Knight's Tale – was only the beginning of a great career for Ledger, long before he won an Oscar for one of his next to last film.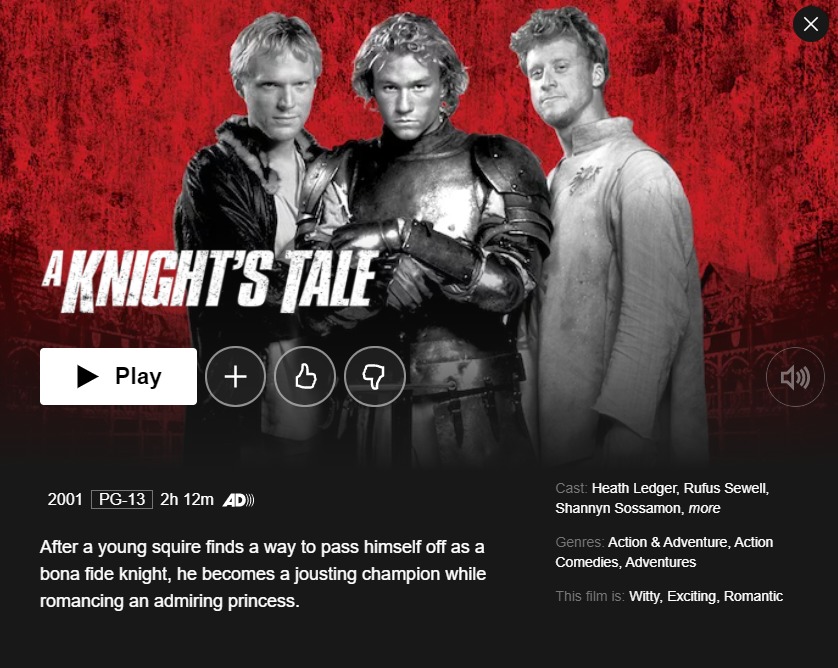 Ledger started acting back in 1995, when he was only 16. Then, in 1999 he took on the main role alongside Julia Styles in 10 Things I Hate About You. In 2000 he played in The Patriot, before taking on the charming role of William Thatcher in A Knight's Tale. Of course, it was later on, in 2008 that he played the iconic Joker in The Dark Knight that got him a posthumous Oscar.
If you're one of Ledger's fans who simply love his late 90's – early 2000s movies, then A Knight's Tale is certainly a film you've seen time and time again. Well, if you ever feel like rewatching it, Netflix has you covered. Well, if you live in the right country, that is.
Is A Knight's Tale on Netflix?
Watching A Knight's Tale on Netflix should be fairly easy to do. The problem here is that Netflix has individual libraries for each country where it's present, which means that not everyone gets the same content. The film is present on Netflix in the United States, or the United Kingdom, but it's sorely missing from countries like Canada, or Japan.
That, however, doesn't mean you can't watch the movie with the help of that Netflix subscription you're already paying for; it just means it's going to be a little bit more difficult.
30-days money back guarantee
How can I watch A Knight's Tale on Netflix US?
If you live in Canada or Japan, for instance, as well as any other country where Netflix does not feature A Knight's Tale, you can enjoy the movie with a little bit of help.
You see, if Netflix has individual libraries for each country where it's present, you're going to have to make sure your IP address matches those from a country you want to appear to be in. With A Knight's Tale being present in the US and the UK, your target it one of these countries.
The easiest way to swap your IP address is with the help of a VPN. These tools are quite powerful and they will route your Internet connection through its own servers, assigning a new IP for your device.
When it comes to such tools, we did some extensive testing and it turns out that NordVPN is one of the best tools on the market. Not only does it feature thousands of servers, but it also encrypts your Internet connection to protect your identity and privacy.
Here's what you need to do to make it work:
First, you need to subscribe to NordVPN. They offer 3 months for free and 68% OFF the 2-year plan!
Then, you have to get the right app and install it. Find a server in the US or UK and connect to it.
When the connection goes through, you have to reload Netflix in your browser, or relaunch the app. Look for A Knight's Tale and start watching the film.
See? It wasn't that complicated!
What if Netflix knows I'm using a VPN?
The bad news is that Netflix introduced VPN detection to its platforms, years ago. Once they detect someone is using a VPN, they block their access and display a notification indicating the presence of the tool.
The good news is that their detection is somewhat patchy and it rarely ever works with premium VPNs. It does not mean that it cannot happen, of course, just that it's less likely to do so.
In order to fix this issue, should you ever find yourself in this predicament, is to contact Customer Support. The team there will help guide you to find a new server to connect to that should work just fine.
In a matter of minutes, you'll overcome this obstacle and start watching A Knight's Tale.
Why not use a free VPN?
We know we've all become accustomed to using free software online, but when it comes to VPNs it's really not advisable to do so. You see, the main role for the VPN is to change your IP address so you can stream whatever content you want to enjoy.
Well, since free VPNs don't really have loads of servers, but they do have lots of users, Internet speeds are not going to be what you're used to. A good VPN will have little to no impact on your network speeds, but that's not the case for these tools that get most of their funding from ads.
Editor's note: NordVPN is our #1 choice for unblocking Netflix. Sign up for the 2-year plan with NordVPN at $3.49 per month, as well as 3 months for FREE. A 30-day money-back guarantee is included on all plans, so you can cancel any time and get your money back.
Then, there's another aspect as many people use VPNs to help increase their online privacy. This important security role is often disregarded by free VPNs. Furthermore, way too often security researchers have discovered that random VPNs from the app stores were carrying malware. The malware dug through the victims' phones for personal information that could be used – social media and email credentials, work data, banking information, and so on. Identity theft, attacks on your employer, or cleaning out your bank account are possible outcomes.
There are also valid VPN tools that will use your computer as a server of sorts for other users. This, in turn, can severely impact your computer's performance.
As you can see, using free VPNs is simply too risky. While we understand that free tools are often more desirable, this is really not an instance when cutting corners is the way to go. Plus, NordVPN, for instance, is even offering discounts, so you should look into it.
Final thoughts
A Knight's Tale will forever be remembered as Ledger's better roles, especially as a young heartthrob back in the early 2000s. If you want to walk down the memory lane, take your Netflix subscription with you and pair it with a VPN.