Is Nightcrawler on Netflix? How to Watch Nightcrawler From Anywhere
In 2014, a new Jake Gyllenhaal movie put the actor in a new light and gave him a new depth. Thankfully, Nightcrawler is available to watch on Netflix, so we were going to go ahead and figure out how you can watch from anywhere in the world.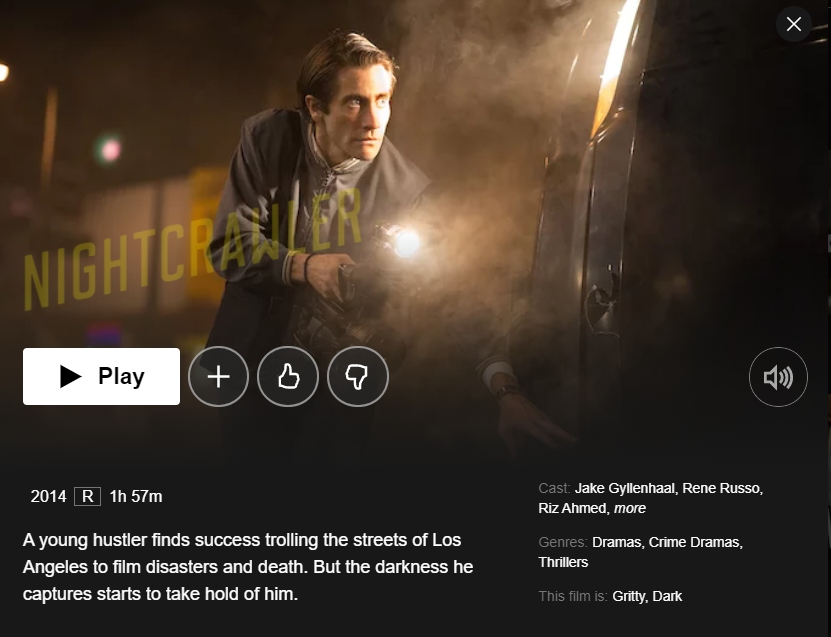 Nightcrawler was directed by Dan Gilroy, and it stars Jake Gyllenhaal in the role of Lou Bloom, a man who's on the hunt to record violent events late at night in Los Angeles in order to sell the footage to a local TV news station. It is not long before he starts tampering with crime scenes and even getting involved.
The film received critical acclaim and was even nominated for an Oscar for Best Original Screenplay. The movie had an $8.5 million budget and has managed to bring in over $50 million at the box office.
Can I find Nightcrawler on Netflix?
Nightcrawler can be enjoyed over on Netflix, but it's only available in several countries, such as the United States and the United Kingdom. We found it was missing in countries like Canada and Japan, so it's clearly not available worldwide. That doesn't mean, however, that you cannot enjoy Nightcrawler with your Netflix subscription. You just need to know how to do that.
30-days money back guarantee
How can I watch Nightcrawler on Netflix from anywhere?
Watching Nightcrawler on Netflix is not going to be too difficult as long as you have three things – an internet connection, a Netflix subscription, and a VPN.
Since you already know that Netflix is available in close to 200 countries, you should also find out that the platform is not offering the same films and movies in each of the countries it is present in. In fact, not only do they offer different movies and shows, but the libraries are also geoblocked, so you cannot enjoy the content that's regularly available in other countries. This becomes increasingly annoying, especially since everyone pays pretty much the same subscription prices.
However, a VPN can change your IP address and make it seem like you are in a different country, which will come in handy in bypassing the blockade entirely.
We recommend using NordVPN because this tool comes with servers in all countries of the world and some really great privacy features.
How to use NordVPN to watch Nightcrawler:
First, you need to subscribe to NordVPN and grab the deal that offers you 3 months for free and 68% OFF the 2-year plan.
Then you're going to need to get the right apps for your device and find a server that's located in the United States.
Once that is established, you'll be able to load the Netflix in your browser or reload the app on your device.
Search for Nightcrawler and go ahead and enjoy the film.
Won't Netflix know that I'm using a VPN?
It's true that Netflix implemented technology that enables it to detect when people are using VPNs on their platform and block their access, but we've never had this issue while using NordVPN.
Furthermore, the technology Netflix has doesn't always work, and it's mostly ineffective against premium apps. If it does happen, however, all you have to do is to contact Customer Support. They'll be happy to help you figure out which server to use in order to bypass the problem entirely.
Should I use a VPN that's free instead?
Saving money is something that we all need and want to do, but when it comes to cutting corners like using a free VPN, you're simply putting yourself at risk. As mentioned, free VPNs come with a series of risks that you will certainly want to avoid taking. For instance, security researchers have discovered quite a few so-called VPNs that were actually carrying malware.
The malware then collected personal information such as your login details for email and social media accounts, credentials from banking accounts, and data about employers. This can eventually lead to identity theft, phishing campaigns against friends and family, data breaches of employers, and they can even clean out your bank account.
Editor's note: NordVPN is our #1 choice for unblocking Netflix. Sign up for the 2-year plan with NordVPN at $3.49 per month, as well as 3 months for FREE. A 30-day money-back guarantee is included on all plans, so you can cancel any time and get your money back.
Even free VPNs that work as they should and do not have any malicious code will be ineffective in accessing Netflix. In fact, free tools are usually the first to get blacklisted by the streaming platform. Furthermore, they are also not ideal for streaming because they have a few servers and loads of users, which usually means that your internet speeds will be subpar.
Certainly, they won't be ideal for streaming a movie like Nightcrawler. You should also be careful because there are other tools out there that will promise you free access to the platforms, but they will actually use your own device as a sort of server for other people, which will heavily impact the performance of your device.
Unfortunately, using free tools is simply not the best way to go about things when it comes to VPNs. Paying a subscription for a trusted tool will save you a lot of headaches.
Final thoughts
We do hope we've managed to make your life easier, especially if you want to watch Nightcrawler and other Netflix films that are not available locally for you.