We are reader supported and may earn a commission when you buy through links on our site.
Learn more
Is Spotlight on Netflix? How to Watch Spotlight from Anywhere
One of the best movies of 2015, Spotlight, can be watched over on Netflix. The film is exceptional, and it is even one that earned a Best Picture Oscar.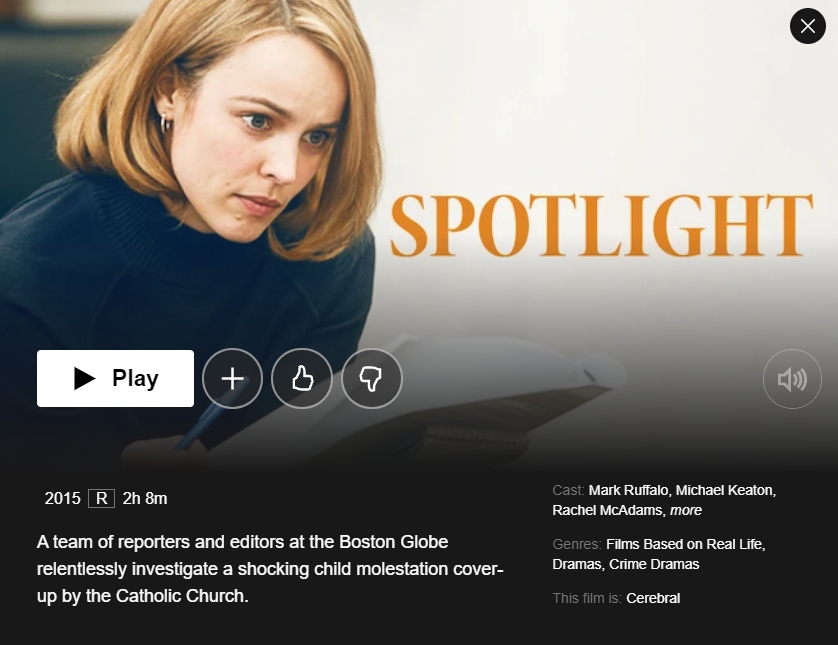 Spotlight is a biographical drama film that follows the Spotlight team, which is the oldest continuously operating newspaper for investigative journalism units in the United States. The Boston Globe's team investigated numerous cases over the years, including the one they are focusing on in the movie – which is the child sex abuse in the Boston area by numerous Roman Catholic priests.
The movie features a cast that includes Mark Ruffalo, Michael Keaton, Rachel McAdams, Stanley Tucci, John Slattery, Liev Schreiber, and many others. It won numerous awards, including six nominations at the Oscars, where they managed to bring in the Academy Award for Best Picture and Best Original Screenplay.
Is Spotlight on Netflix?
Spotlight is indeed present on Netflix, but it's not available everywhere. As you already know, Netflix has different libraries for each country it is available in. Not only are various movies available in various countries, but each library is geo-blocked in order to prevent people from watching movies they aren't technically supposed to. Spotlight, for instance, is available in the United States, but it's missing from markets like the United Kingdom, Canada, or Australia.
30-days money back guarantee
How can I watch Spotlight on Netflix US?
While it's perfectly true that Spotlight is available on Netflix in the United States, it's also true that you can watch it from any country in the world. The way you will do this is with the help of a VPN, which can help change your IP address in just a few moments.
VPNs have the power to route your internet connections through their private servers and assign a new IP address to your account. They also use encryption to protect the connection and your privacy, so they have a double use.
A recommendation when it comes to VPNs is to go for NordVPN, as it is a tool that has thousands of servers all over the world and works flawlessly more often than not. It also enables you to access content from all over the world.
Here's how you can subscribe to NordVPN:
First, you'll need to visit the NordVPN website and set up an account. They offer 3 months for free and close to 70% OFF the 2-year plan, so you should grab the deal!
You then need the right apps for your device and to find a server located in the United States for you to connect to.
Once the connection is established, you can load Netflix in your browser or relaunch the app.
You can simply go ahead and stream Spotlight anytime you want to watch the film.
Won't Netflix know I'm using a VPN?
Some years ago, Netflix introduced a technology that enables it to detect when people were using VPNs by blacklisting various IPs they determined to come from such tools. The reality is that quite often, those IPs came from free VPNs rather than premium ones like NordVPN. It is not impossible for Netflix to block even tools like NordVPN, but it is less likely that they do so.
If you do face any issues with your app, you can access the NordVPN support team, and they will help you figure out what server to use to bypass the whole situation. They are around 24/7, so it doesn't matter where you live.
Can't I use a free VPN instead?
Every search online reveals that there are numerous free VPNs marketed everywhere, and a search on your app store may reveal even more names. However, free VPNs are not something we ever advise you to use because they come with plenty of risks that you shouldn't take. One of these risks is security because free VPNs were often discovered to actually be home to various malware, which can have a deep impact not only on the victims but also their family, friends, and employers.
Data stolen by the malware could be used to hack into your email address or social media accounts – or even your banking account. So, they can dry up everything you have in there. Your friends could be phished by the cybercriminals, as they pose as you. Identity theft is another risk, and so is your employer suffering a data breach.
Editor's note: NordVPN is our #1 choice for unblocking Netflix. Sign up for the 2-year plan with NordVPN at $3.49 per month, as well as 3 months for FREE. A 30-day money-back guarantee is included on all plans, so you can cancel any time and get your money back.
There are also real VPNs that are free to use, but they're also not ideal. Aside from guessing which ones will actually work for you and not against you, free VPNs often have few servers at their disposal. Free servers and many users usually result in very poor internet speed that won't even be able to stream the movie for you. Furthermore, as we already mentioned, they are also the first to get blacklisted, so you may not even be able to use them at all.
VPNs may come for free, but some of them make use of your own devices as a sort of server for other users. This will impact your computer's performance, so again, that's not ideal.
We know that paying for a VPN is not something you may want to add to your monthly list, but it's something that you should definitely do, given how many things are at risk here and how many things you could gain by using such a tool.
Final thoughts
Spotlight is an amazing movie, and it deserves to be watched and rewatched time and time again, as it tells a story that needs to be heard. We hope we've helped get you to find the right VPN for your experience and showed you how to watch anything you want on Netflix.