We are reader supported and may earn a commission when you buy through links on our site.
Learn more
Is Django Unchained on Netflix? How to Watch Django Unchained from Anywhere
When it comes to impressive directors, Quentin Tarantino comes to mind quite easily, and Django Unchained was one of the films that will always remain in history as one of his best works. Thankfully, those who want to watch it for the first time or re-watch it for the millionth time, you have the possibility to go straight for Netflix.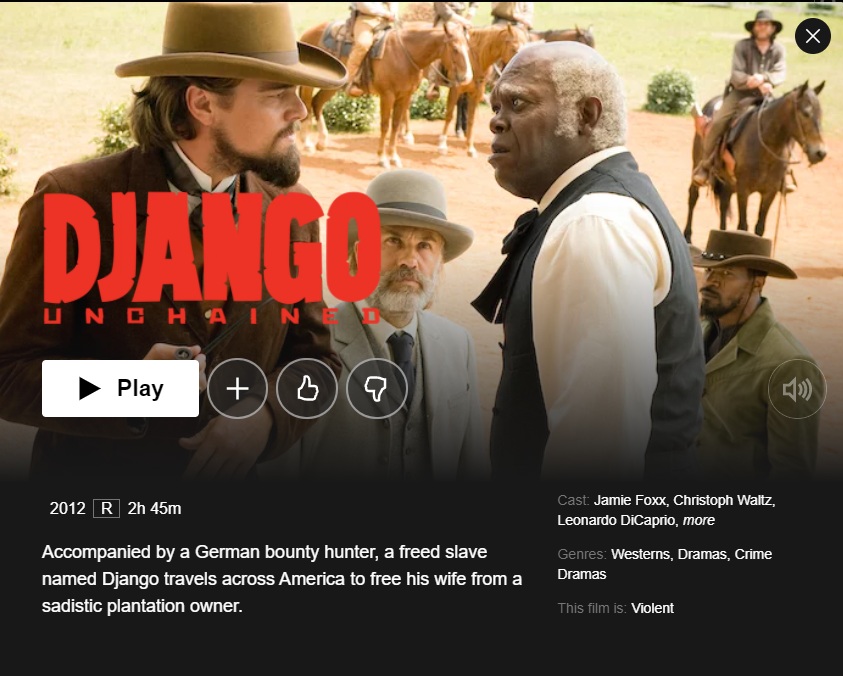 Django Unchained was released in 2012, and it's a revisionist western under the direction of Quentin Tarantino. The film features an impressive cast that includes Jamie Foxx in the main role, alongside Leonardo DiCaprio, Samuel L. Jackson, Kerry Washington, and many more.
The story is set in 1858. A former slave, Django becomes a bounty hunter, which is how things get extremely interesting, extremely fast. With a budget of only a hundred million, this two-and-a-half-hour film managed to bring in over 425 million at the Box Office.
Can I Watch Django Unchained on Netflix?
Watching Django Unchained on Netflix is something that's going to be extremely easy to do as you can find the film in multiple markets. Of course, much like any other film that's not a Netflix original, Django Unchained is not available everywhere across the globe where Netflix is operating. We did manage to find the film present on Netflix in the United States, the United Kingdom, and even Canada.
30-days money back guarantee
Can I Watch Django Unchained from other countries?
Netflix has libraries in pretty much any country it is available in, and that library is geoblocked so it cannot be accessed from other countries. Of course, this is all tied to the licensing deals they managed to buy and the areas they are allowed to stream this content in. Nonetheless, it doesn't make it any less annoying considering the fact that all Netflix subscribers, regardless of the country they live in, pay pretty much the same subscription prices and get libraries that do not feature everything they wish they would.
However, a VPN will help you watch any content you want from any country in the world. It will route your Internet connection through their own servers and assign an IP address to your device, which will trick the site into thinking you are in that specific location.
We enjoyed NordVPN as it is a tool that managed to get the best scores during our reviews. It also has thousands of servers you can enjoy and will also protect your privacy and identity while powered up.
Here's how you can use NordVPN to watch Django Unchained anywhere:
You need to start by subscribing to NordVPN and setting up your account. Our readers get 68% OFF for the 2-year plan at $3,49/month and 3 months for free!
Then, you need the apps on your devices and to find a server that's located in the United States, United Kingdom, or Canada to watch. We are sure are there are others that have the film, but these three options should suffice.
When the connection is established, you can load Netflix in your browser or relaunch the app on your device. Look for Django Unchained and you'll find the film now.
See? It wasn't very difficult at all!
Doesn't Netflix Know When You Are Using a VPN?
One of the things Netflix did a few years back is to implement technology that helped it detect when people were using VPNs. That technology, however, is pretty much related to blocking IP addresses that they figure out come from such apps. This technology however, doesn't always work with premium tools, which is something you may want to think about.
We haven't had such issues with NordVPN what we can say that even if you do face such problems, you can contact the NordVPN support team and they'll help you find a different server that works with the Netflix location you're looking to access. They are available 24/7, so you'll easily find someone to talk to no matter where you live.
Can't I Use a Free VPN Instead?
We completely understand the attraction that free software has on everyone, but this time we are going to advise against taking such a step. Free VPNs, while quite attractive, are actually dangerous to use.
Security researchers have discovered that cybercriminals often use VPNs offered for free as a ruse to get people to install these tricky apps. Those apps can steal information from people's devices, including login details, credentials to your bank account, and so on. This can lead to identity theft, data breaches for your employer, your accounts getting hacked, and so on. It's certainly not something you want to risk.
Even if the apps are okay from a security standpoint, there are still things that will deter you from getting them. One of these problems is that free VPNs may sound attractive, but they usually have few servers at their disposal but loads of customers. When servers are overcrowded, your Internet speeds may drop considerably, so even if you get over the Netflix blockades, you'll barely be able to stream the content.
Editor's note: NordVPN is our #1 choice for unblocking Netflix. Sign up for the 2-year plan with NordVPN at $3.49 per month, as well as 3 months for FREE. A 30-day money-back guarantee is included on all plans, so you can cancel any time and get your money back.
Another type of apps we advise you to avoid are VPNs that use your own device as a server of sorts for other users. This will put a strain on your device, and its performance will drop considerably. Furthermore, if not properly set up, the apps can run in the background and will impact your device even when you aren't using the app itself.
Using VPNs to watch content on Netflix from other countries is something that should be fairly easy to do, and also something that will give you more freedom. As long as you have an Internet connection and an active Netflix subscription, you'll be able to watch anything you want if you have a good VPN.
Final Thoughts
However many times we watch Django Unchained, it seems like we always find something new to admire whether it's something Jamie Foxx does or the way Leonardo DiCaprio performs his role. Either way, we are happy to know that it's possible to watch the movie on Netflix so more people get to enjoy it.