We are reader supported and may earn a commission when you buy through links on our site.
Learn more
UFC 229: Khabib vs McGregor How to Watch Online
For UFC 229, Irish fighter Conor McGregor is making a triumphant return to the cage as he takes on the currently undefeated Khabib NurmagomedovZ. McGregor previously took on Mayweather in the highly publicized boxing match that aired in August 2017. While he lost that bout, but he's not out of the game just yet. Now McGregor has returned to the world of MMA, and he's looking to prove himself once again.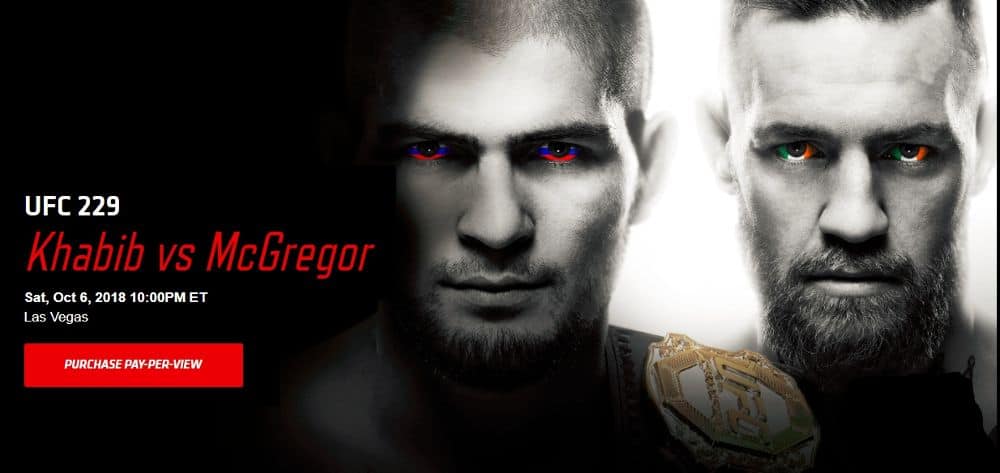 UFC 229 and the Khabib vs McGregor bout is scheduled for October 6, 2018 at 10 p.m. ET (3 a.m. GMT+1). There are about a dozen other fights on the card for the same night, so to make sure you have full access to the blow-by-blow as it happens, it's a good idea to start looking for reliable online streams as soon as possible. Below we'll cover all the details you need to stream UFC 229 Khabib vs McGregor online and by pay per view.
30-days money back guarantee
Story updated: October 5th, 2018, 00:57 GMT
UFC 229 – What You Need to Know
The UFC (Ultimate Fighting Championship) was founded in 1993 as a mixed martial arts tournament pitting different fighting styles against each other. As popularity grew over the next decade, UFC became the largest MMA promotion in the world, drawing in top-ranked fighters who wanted to test their skills for the top prize.
Modern UFC events are massive, drawing crowds of tens of thousands to arenas around the world. Matches are streamed live on the internet, and made available via pay per view, so it's surprisingly easy to watch each match on the device of your choosing.
UFC 229 pits Conor McGregor against Khabib Nurmagomedov in what is sure to be an intense battle of the lightweights. It takes place October 6, 2018 at the T-Mobile Arena in Paradise, Nevada. Early preliminaries will start as early as 7:00 PM ET with the main bouts kicking off at 8:00 PM. The McGregor Khabib main card will begin around 10:00 PM ET.
UFC president Dana White dubbed this match "the biggest in UFC history", so you don't want to miss a single second of it.
Full UFC 229 Fight Card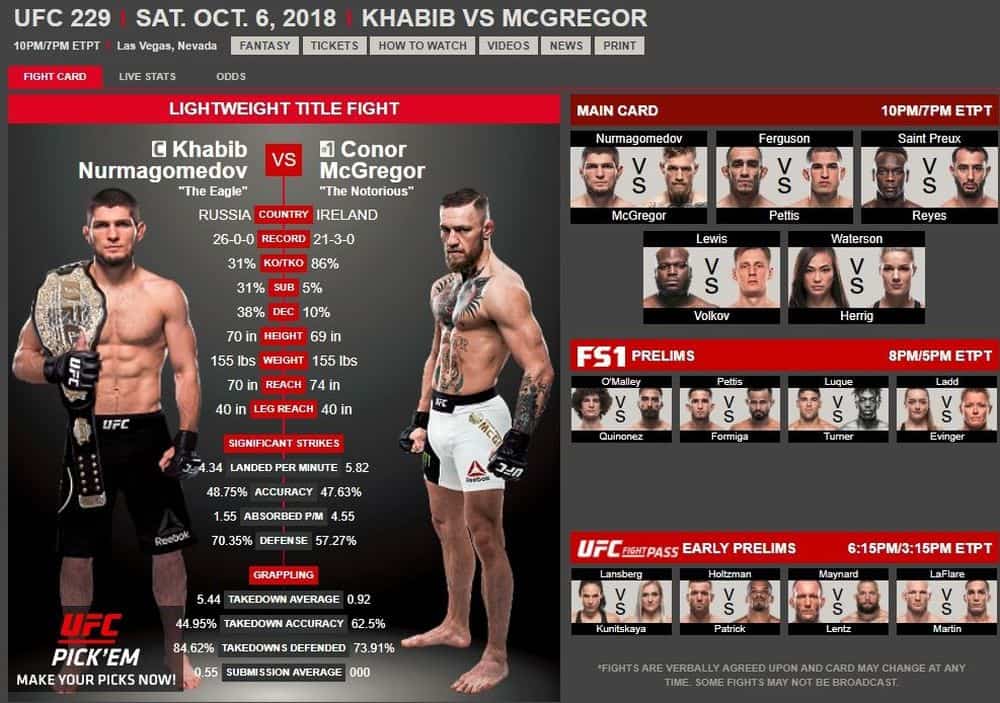 UFC bouts are arranged in fight cards, each pitting four or five pairs of weight-ranked athletes against each other. Some fights air exclusively on Fox Sports 1, while others are shown on UFC's Fight Pass service. The main card is available to all pay per view streamers, complete with selected preliminary bouts and color commentary.
Main Card
Lightweight – Khabib Nurmagomedov vs. Conor McGregor
Lightweight – Tony Ferguson vs. Anthony Pettis
Light Heavyweight – Ovince Saint Preux vs. Dominick Reyes
Heavyweight – Derrick Lewis vs. Alexander Volkov
Women's Strawweight – Michelle Waterson vs. Felice Herrig
Preliminary Card (Fox Sports 1)
Bantamweight – Sean O'Malley vs. José Alberto Quiñónez
Flyweight – Sergio Pettis vs. Jussier Formiga
Welterweight – Vicente Luque vs. Jalin Turner
Women's Bantamweight – Aspen Ladd vs. Tonya Evinger
Preliminary Card (UFC Fight Pass)
Women's Bantamweight – Lina Länsberg vs. Yana Kunitskaya
Lightweight – Scott Holtzman vs. Alan Patrick
Lightweight – Gray Maynard vs. Nik Lentz
Welterweight – Ryan LaFlare vs. Tony Martin
Before You Stream, Get a Good VPN
VPNs have become indispensable tools for modern streamers looking to preserve their online privacy. Cyber criminals, government agencies, and even ISPs themselves have taken to recording user activity, making it nearly impossible to stay safe and secure on the internet. The right VPN can restore those privacies while giving you fast, anonymous, and reliable access to the internet on any device.
Choosing the Right VPN
Can't decide which VPN is best for streaming sports? We've made the process a little easier for you. Below are the most important qualities you need in a VPN to ensure your UFC streams are as smooth and private as possible. The following section contains a number of recommendations to help you skip over the research stage and start enjoying MMA matches from the privacy of your own home.
Good stream speeds – Only the top VPNs provide fast speeds. Anything less and your UFC matches will lose quality.
Network distribution – The more servers a VPN runs, the greater ability you have to customize your experience.
Wide device support – Make sure your VPN runs on smartphones and tablets so you can stay safe everywhere.
Zero-logging policy – Sign up with VPNs that have a strict zero-logging policy, no exceptions. It's the only way to fully cover your tracks online.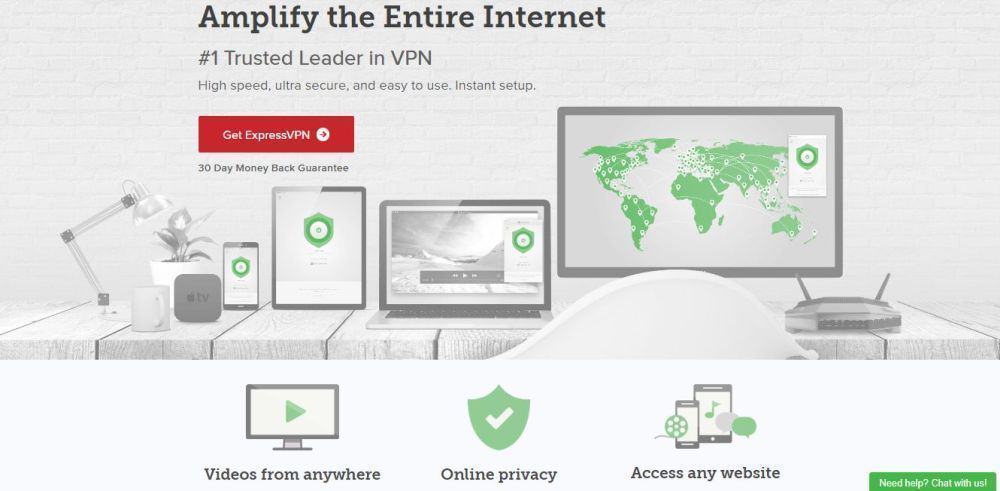 ExpressVPN is one of the most popular services around, and for good reason, too. It's fast, friendly, and easy to use, all thanks to its smart feature set and wide variety of software for multiple platforms, including smartphones and PCs. ExpressVPN is perfect for anyone looking for a reliable VPN to stay safe while streaming UFC.
On offer is a wide range of privacy features to keep you safe online, including unbreakable 256-bit AES encryption, a zero-logging policy on all traffic, and both kill switch and DNS leak protection. ExpressVPN's server network covers over 2,000 locations in 94 different countries, giving you plenty of options for a fast connection no matter where you live or travel to.
ExpressVPN takes care of finding the fastest server to connect you to each time you turn on your device. All you have to do is find a high quality stream, then sit back and enjoy the fight.
Check out our  ExpressVPN review for more info about the company's amazing features!
Best Ways to Watch UFC 229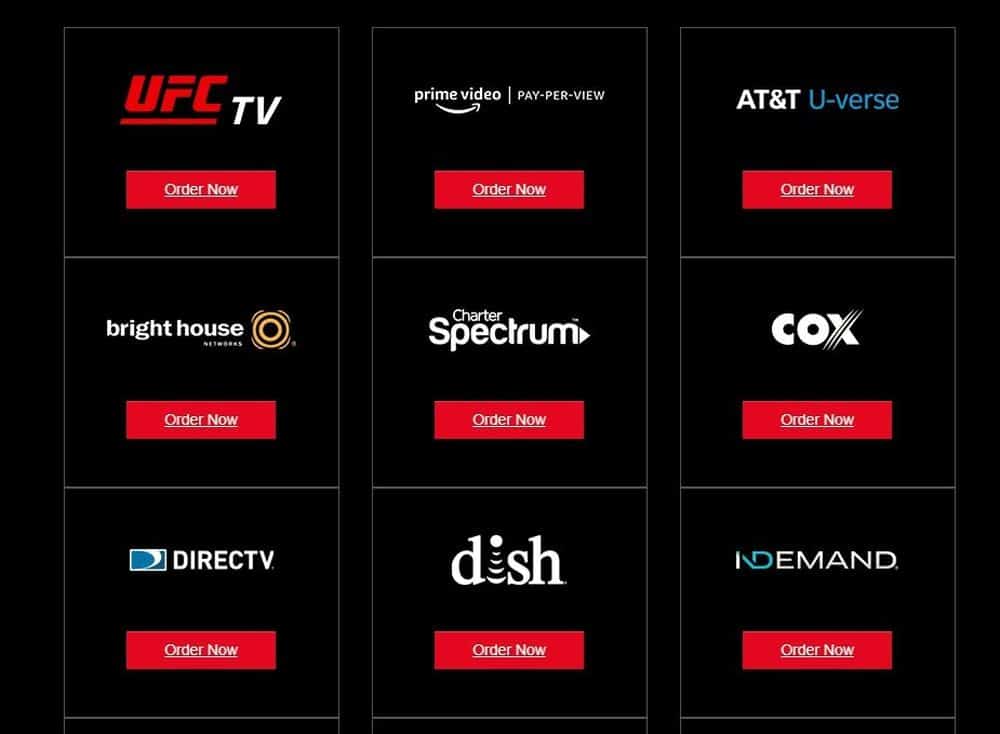 If you can't make it out to Nevada for the big fight, try using one of the solutions below to stream it from your own home. It's fast, affordable, and extremely easy. All you need is the right device and a good connection to the internet.
Watch UFC 229 in the U.S.
Residents of the United States have the most options for streaming the Khabib-McGregor fight, largely due to distribution rights obtained by the UFC. The main event is only accessible through pay per view, and only through a select few providers. The big ones are UFC's own pay per view service, followed by Amazon Prime Video. These services let you buy just the one fight or sign up for six months of pay per view access at a discounted rate.
UFC 229 can also be ordered through your cable or satellite provider. The process will vary depending on who you're signed up with, but as long as you have access to pay per view content, you can go through your TV or cable account, purchase the match, then stream it as it airs. To check availability, see the UFC PPV page.
Preliminary matches air on UFC's Fight Pass service along with Fox Sports 1. The former is available to anyone with a subscription. The latter can be viewed simply by tuning in to the Fox Sports 1 channel once the preliminaries start to air. If you don't have Fox Sports 1, you can quickly sign up for access through a number of TV streaming providers, including the ones below:
DirecTV Now
Hulu with Live TV
PlayStation Vue
Sling TV
YouTube TV
Streaming UFC 229 in Canada
Canadian UFC fans have a lot of options when it comes to live streams, too. Most of the UFC's main services, including pay per view and Fight Pass, are available to Canadian customers at about the same price as in the U.S. Pay per view matches are also shown on Canadian cable and satellite services, meaning you can sign in and buy the match through your TV with ease.
United Kingdom UFC Streams
UFC rights in the UK have passed to the popular BT Sport channel. This means all the preliminaries will be shown on BT Sport 2, followed by the main card later in the night. UFC Fight Pass is another good option for streaming the entirety of the preliminaries.
UFC 229 in Ireland
McGregor himself is Irish, so there's a lot of buzz surrounding the fight in his home country. Similar to streams in the UK, BT Sport will be carrying all of the prelims as well as the main card fights. UFC Fight Pass isn't available in Ireland, however, so make sure you either have BT Sport 2 primed or have a VPN ready.
Australian UFC Streams
UFC access in Australia is pretty reliable, largely thanks to the Main Event website. This service requires a Foxtel or Optus TV cable account in good standing. Once that requirement is met, you can order the UFC fight via the app, online, or through your television remote.
Other Regions
UFC works hard to make its content available to as many people as possible. International content laws often make this difficult, though, which is why it's not always easy to catch the latest fight in your home country.
In places like Germany, France, and Italy, UFC delivers access to the live pay per view event through its own UFC PPV service. Prices vary depending on the region but are usually on-par with what other countries pay.
Outside of these areas access to UFC can be spotty and unreliable. Your best bet is to use one of the recommended VPNs listed above, switch your virtual IP address to the U.S. or Canada, then enjoy. If you're not sure how to do that, follow our easy guide below.
Other Options for Watching UFC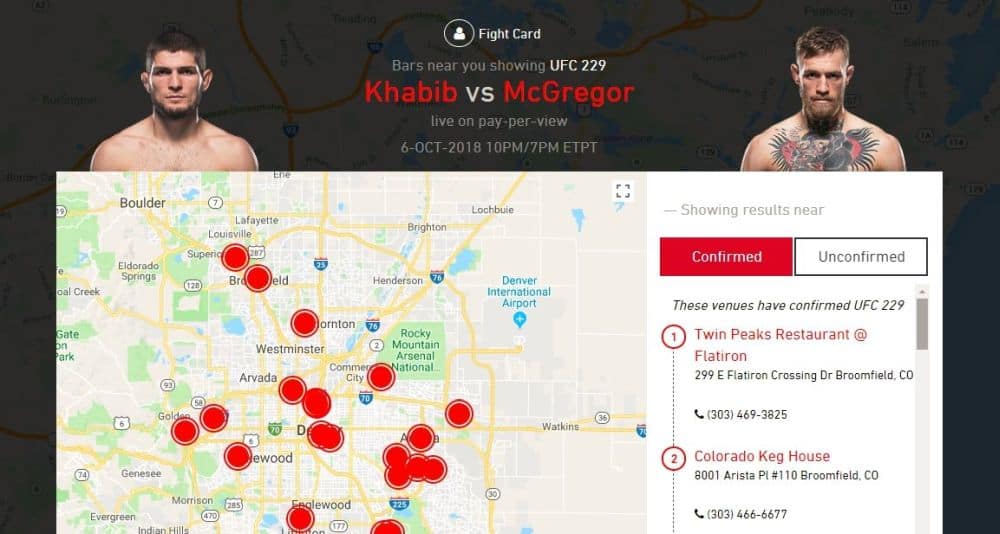 Not keen on streaming the fight online? Don't want to invest in a pay per view solution for a single bout? Don't worry, there are a couple of other options at your disposal.
Watch UFC 229 at a Bar
Public licenses for streaming pay per view UFC fights are purchased by thousands of bars and restaurants across the world, especially in the countries listed above. UFC provides a map that lets you search for showings of each upcoming fight, including 229. Check out the official bar browser offered by UFC.com, switch to your region, then call some friends up and see where you can go once the bout begins.
Use Fight Pass to Watch UFC 229
UFC Fight Pass is an official subscription-based service that lets users sign up for regular access to UFC events along with a wealth of on-demand entertainment. Fight Pass is available for Apple TV, iPhone, Android, Xbox, Roku, Amazon Fire TV, and many other platforms, and it streams to a variety of countries, including the U.S., Brazil, Australia, Canada, New Zealand, and Italy.
In addition to easy streaming access to a wide range of devices, Fight Pass also offers exclusive preliminary fights for every big UFC event. If the main card and standard preliminaries aren't enough, getting access to almost half a dozen new and earlier fights should do the trick. See the listing above for the Fight Pass bouts offered for UFC 229.
Fight Pass subscribers get access to pay per view events at a reduced rate, as well. Sign up for a free 7 day trial by visiting the website linked above. UFC also occasionally offers bulk subscription deals that give you Fight Pass access along with a PPV event at a discount.
The Kodi software environment also offers a few methods of streaming UFC fights on the night they air. It's not as reliable as pay per view or the other methods mentioned above, but it works in a pinch. See more about UFC on Kodi by viewing our other articles.
How to Use a VPN to Watch UFC 229
VPNs are incredibly useful tools that protect your online privacy, keep your identity secure, and lock down data that leaves your device. They're also useful for changing your virtual location to bypass censorship walls or geo-restricted content. If you encounter the dreaded Netflix proxy error, for example, a VPN can help you step around it with ease.
It's not uncommon to encounter region locking errors when trying to view UFC. Even if you have a legitimate pay per view account, you might find your access blocked when the night of the fight rolls around. For this reason, it's an extremely good idea to have a VPN on hand, just in case this happens.
If a stream ends up being blocked, simply go to your PC and fire up the VPN. Once it's active and in the background, run the app and go to the server browser and choose a server located in the country of your choosing. The United States is best for UFC streams, so go ahead and choose one there.
You'll now want to verify your IP address to make sure everything is working. With your VPN connected to a U.S. server, open a web browser and go to ipleak.net. Wait for the page to load and it will run an IP address lookup. Look at the box beneath where it says "Your IP address". If it shows United States, you're ready to watch UFC.
Reload the UFC stream on your PC. You should gain instant access to the content without any delay. This process isn't 100% fool proof, however, as sometimes UFC manages to block certain VPNs from utilizing certain streams. If this happens, try switching servers or VPN providers, reload, and try again.
Conclusion
UFC events are some of the biggest regular sports gatherings, drawing crowds of tens of thousands along with hundreds of thousands of remote viewers tuning into the live stream. With the tips and tricks above, you can be one of those viewers!
Can McGregor make his shot at redemption? Who are you pulling for on the other fight cards? Having any trouble using our recommendations? Let us know in the comments below!