We are reader supported and may earn a commission when you buy through links on our site.
Learn more
Death Streams Not Working: Best Alternatives to Kodi's Death Streams Addon
The late 2017 DMCA (Digital Millennium Copyright Act) takedowns hit the Kodi community pretty hard. A number of popular repositories and add-ons disappeared overnight, including SMASH, SuperRepo, Ares, and Colossus. Other developers announced an end to their add-ons shortly after this in an attempt to avoid legal scrutiny. The end result is a wide variety of streaming resources vanishing from the web, forcing Kodi users to scramble for replacements.
Death Streams, which itself is a forked version of SALTS, is one of the add-ons that took a hard hit. The software is still available and sometimes works without too much hassle, but most users report dead source links and movies that simply won't play. Fortunately, there are some alive-and-well alternatives to Death Streams you can install to keep the content alive.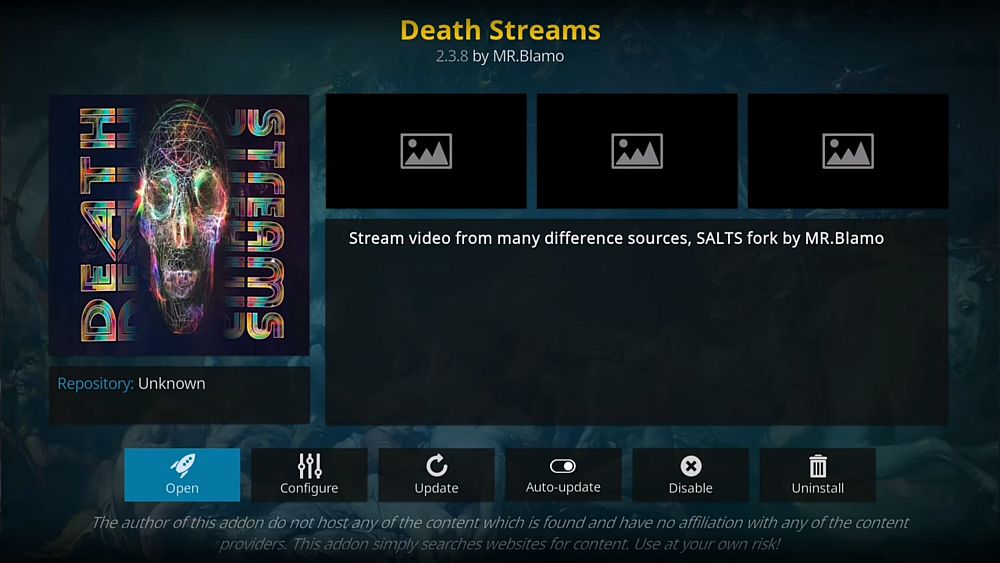 30-days money back guarantee
Always Use a VPN to Stay Safe and Anonymous
The internet age has opened up a world of content for everyone to enjoy. An unfortunate side effect of that is hackers, government agencies, and ISPs leveraging the open nature of the digital realm to spy on users and even sell their private information. Kodi streamers are under special scrutiny, too, as companies attempt to spot pirated content and put a stop to copyright infringement before it begins.
You don't have to give up your privacy to use Kodi. With a good VPN running in the background, you can surf, stream, and download anything you like in complete privacy. VPNs, or virtual private networks, encrypt each packet of data as it leaves your device, making it impossible for third parties to read or trace back to you. This brings a wealth of features to your daily internet usage, including anonymous Kodi streams, safe public Wi-Fi connections, and the ability to break through censorship and geo-restriction barriers.
Choosing a VPN is no easy task. We compared popular services and ranked them on their advertised features, everything from speed to encryption strength to privacy policies. At the end one VPN stood out above the rest, which is why we're recommending it to all Kodi users.
The Best VPN for Kodi – IPVanish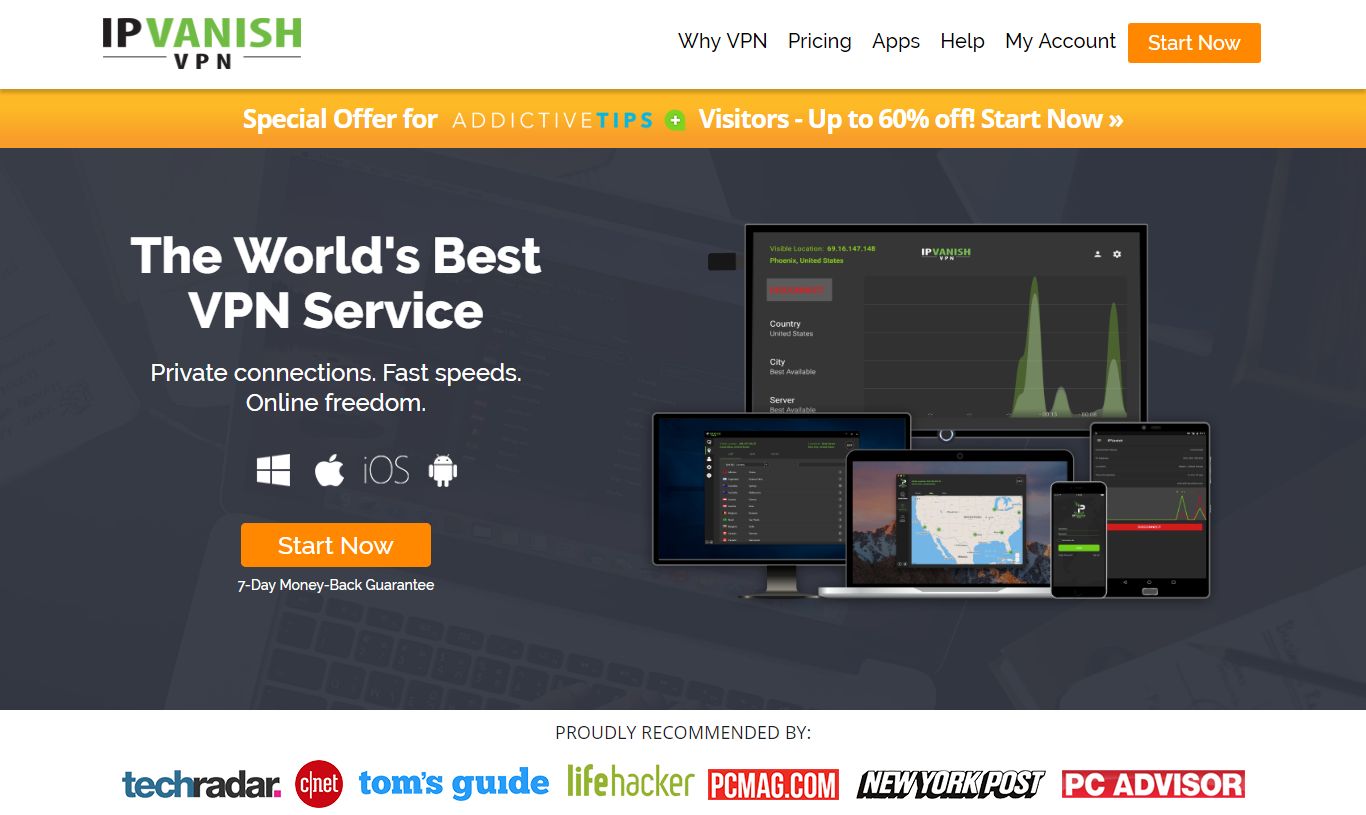 IPVanish does what few VPNs manage to do: balance speed with privacy. In general, the more security features a VPN offers, the slower your connection. That isn't the case with IPVanish. The service runs a large network of over 850 servers in 60 different countries, enough to ensure lightning fast connections no matter where you live. Alongside this are incredible security features such as 256-bit AES encryption, built-in DNS leak protection, an automatic kill switch, and a zero-logging policy on all traffic. When combined with unlimited bandwidth and restriction-free access to torrents and P2P traffic, you've got the perfect setup for private Kodi streams.
*** IPVanish offers a 7-day money back guarantee which means you have a week to test it risk-free. Please note that Addictive Tips readers can save a massive 60% here on the IPVanish annual plan, taking the monthly price down to only $4.87/mo.
Is Death Streams Really Down?
Death Streams itself hasn't been officially discontinued. It's part of the Looking Glass Repository and can be installed, accessed, and configured just like any other add-on. The key difference is that Death Streams relies on URL Resolver to gather all of its links. URL Resolver died when the Colossus repository went down, and without it Death Streams can't do a lot of streaming. If you have a copy of URL Resolver you may still be able to watch movies and TV shows using the add-on. If not, it's best to search for an alternative.
Before Looking for Alternatives, Uninstall Death Streams
The first thing on everyone's mind when an add-on goes down is to start looking for a new one. There's a small step in between that needs some attention, however, and failing to do it could put your device at risk. Follow the guides below to scrub Kodi of Death Streams so you can move forward with the best alternatives as quickly as possible.
Step 1 – Disable Automatic Updates
Like most software, Kodi likes to search for and install many of its updates automatically. This ensures everything stays up to date without worrying about manual checks every single day. In the case of these DMCA shutdowns, however, it's possible that rogue elements can take over the former homes of add-on repositories, replacing the content with malware and viruses. If automatic updates are turned on, they can even deliver the bad code to your system in the background, which we don't have to tell you is a bad thing.
To keep yourself and your device safe, start by disabling Kodi's automatic updates feature. Follow the steps below to do just that.
Open Kodi and go to the main menu.
Click the gear icon then go to System settings.
Click the gear label at the bottom left until it says Expert.
Select Add-ons from the same menu.
Click Updates and change the text to Notify, but don't install updates.
Save the changes and exit the settings menu.
Step 2 – Uninstall the Add-on
Since Death Streams isn't really working, you might as well remove it from your system. It's a good practice to clear out broken or unwanted add-ons as soon as possible, just to keep Kodi tidy and fast. The steps below will walk you through the uninstall process from beginning to end.
Select Add-ons from Kodi's main menu.
Click My Add-ons, then choose Video add-ons.
Scroll down to the Death Streams entry and click on it.
Choose Uninstall at the bottom of the next window.
Confirm the uninstall and Kodi will remove the add-on.
Step 3 – Avoid Fakes
In the wake of DMCA shutdowns and dead repositories, a lot of fake files have started showing up on the internet. These will have identical names and designs as abandoned add-ons, only instead of good code they'll be stuffed full of malware. As a general rule, if an add-on is dead only attempt to reinstall it from a reliable repository if the creator has resumed work on the project.
Replace Death Streams with Official Kodi Add-ons
Kodi's add-on community is roughly divided into two groups: official and unofficial. It's easy to find official add-ons, as they're included in a Kodi-made repository built into every Kodi download. They offer a good variety of free and high-quality content and are always completely legal to use. You also don't have to worry about DMCA shutdowns, which is great for future proofing your streaming library. Below are some of our favorite official Kodi add-ons that can help replace some of the sources provided by Death Streams.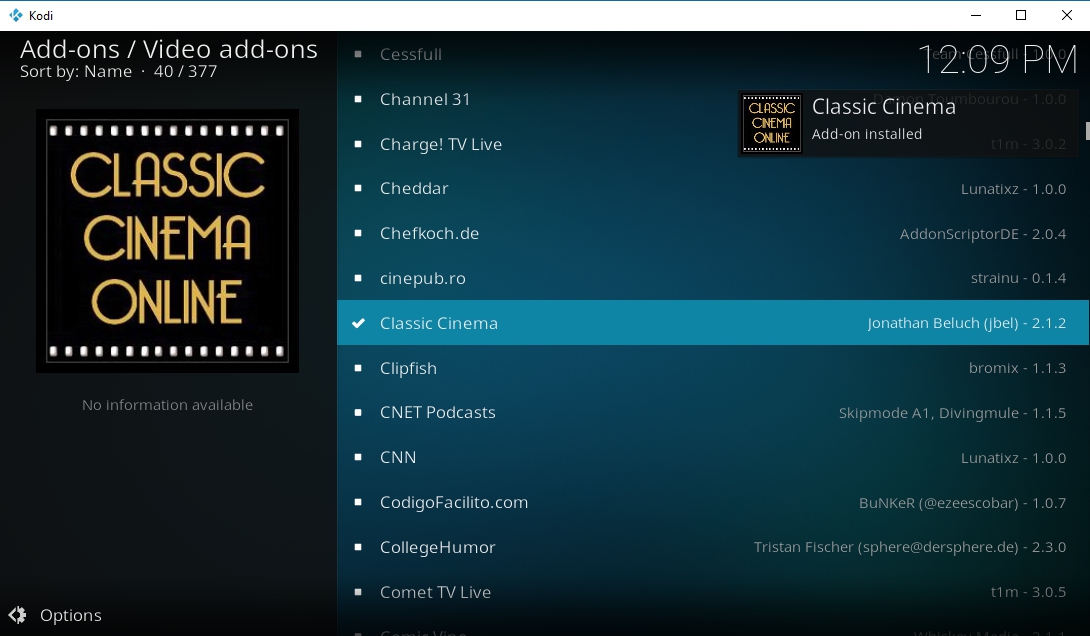 Use Classic Cinema Online for Movie Streams
There's some surprisingly strong content found in the overlooked official Kodi add-on Classic Cinema Online. The resource pulls together free films from several online archives, including Google Video and archive.org. Most of this content is available from the Classic Cinema website, but the Kodi add-on provides a streamlined interface that works on a wide variety of devices. Simply browse the categories, look for interesting movies, then let the streams begin.
Installing Classic Cinema is a quick and painless process. Follow the steps below and you'll be buried eyes deep in classic movies in a matter of seconds.
Start at Kodi's main menu, then choose Add-ons from the nav bar.
Click the open box icon and select Install from repository.
Open the Kodi Add-on repository.
Enter the Video add-ons folder.
Scroll down and select Classic Cinema.
Click the Install button.
After a moment you can access the add-on from the main menu.
What to Watch with Classic Cinema Online
When most people think about "old movies", grainy black-and-white films with cheesy acting come to mind. Classic Cinema Online aims to change that by providing an incredible selection of the world's best films at your fingertips. Classic serials and hits from the 30s, 40s, 50s and beyond, it's all there. You'll find everything from John Wayne movies to Abbott and Costello and Casablanca!
Classic Cinema's categories are split into three major groups, each further subdivided into genres:
Movie Billboards – Hits from over 100 years of film releases, complete with animation, comedies, family films, westerns, and more.
Serials – Serialized storytelling released in film form long before the advent of television. Check out a 1944 version of Captain America, classic Dick Tracy, and others.
Silent films – Before "talkies" were all the rage, silent film stars wowed audiences with physical comedy and telegraphed drama interspersed with word cards. You can relive some of the best films of the early 19th century, all from your Kodi interface.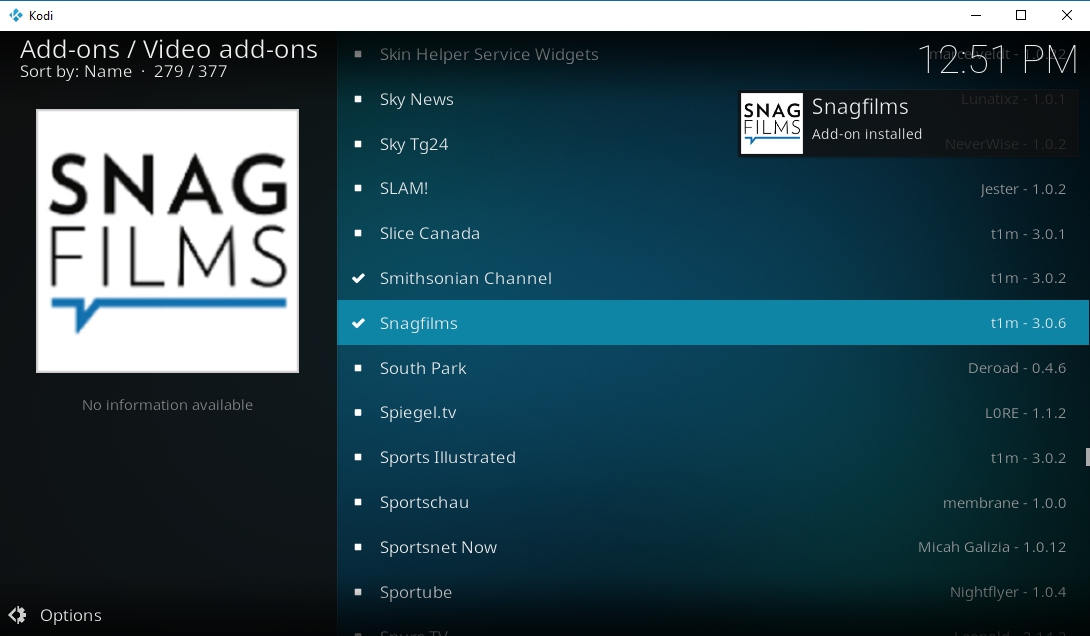 Get Snagfilms for Movies and TV Shows
One of the reasons Death Streams was great is because it held a variety of content. Replicating that with official add-ons is difficult, especially if you keep things legal. Snagfilms comes close, though, with its selection of movies, TV shows, foreign films, and classics, all in crisp quality and free to stream.
You can install Snagfilms directly from Kodi's official add-on repository. Follow the steps below and you'll be set.
Start Kodi, then press the Escape key until you're at the main menu.
Go to Add-ons, then click the open box icon.
Choose Install from repository, then browse to Kodi Add-on repository.
Select the Video add-ons folder and locate Snagfilms.
Click the Install button and wait for the process to complete.
Moments later you'll be able to access Snagfilms from the main add-ons menu.
What to Watch with Snagfilms
Ready for an overload of free (and legal) content? Snagfilms is an excellent resource for loads of good quality TV shows and movies. One minute you'll be streaming an animated Alice in Wonderland film, the next you'll be wiping away tears from a foreign film you never knew existed.
TV shows are sectioned into their own folder and, honestly, aren't nearly as interesting as the movies. You'll find nearly 100 series to check out, though, which is nothing to sniff your nose at. Films are the main feature in Snagfilms, of course, and they're split into over 30 categories. You can start your day with some arts and culture documentaries, move on to Bollywood releases or biographies, then dive into some crime films, fantasy, horror, sci-fi, even shorts and sports releases.
Even though Snagfilms doesn't have the blockbuster releases you might be used to from unofficial sources like Death Streams, you'll still find a lot of great content. Spend some time browsing the categories, we're sure you'll find something worth watching!
TV Shows with USTVnow
Death Streams had a lot of popular TV shows, a feat that's practically impossible to match with legal official add-ons. USTVnow comes close, though, with its array of live broadcasts and video recording features. The service was built as a way for travelers to keep up with their favorite channels while traveling outside of the U.S. Sign up for a free account with USTVnow, install the Kodi add-on, then stream everything from ABC to NBC, CBS to Fox. Go the premium account route and you can even save shows and watch a handful of cable channels, too!
To learn more about USTVnow or to get started with the add-on, check out our complete guide Install the USTVnow Kodi Add-on and USTVnow Plus.
Use Unofficial Add-ons to Replace Death Streams
Unofficial add-ons access more types of content than you can imagine. They can be sketchy, unreliable, or even illegal, but you can't argue with the fact that they get the job done. If official add-ons just aren't cutting it, check out some of the best unofficial Death Streams alternatives below.
Before you begin, you'll need to toggle one of Kodi's internal settings to allow it to manage add-on installations. It's safe to do, despite the warning message that pops up, and it only takes a couple of seconds:
From the Kodi main menu click on the gear icon to enter the System menu.
Go to System Settings followed by Add-ons
Toggle the slider next to the Unknown sources option.
Accept the warning message.
Note: Unofficial Kodi add-ons can source to changing content from a variety of locations, some of which may not be legal in your area. Addictive Tips does not condone or encourage any violation of copyright restrictions. Please consider the law, victims, and risks of piracy before accessing copyrighted material without permission.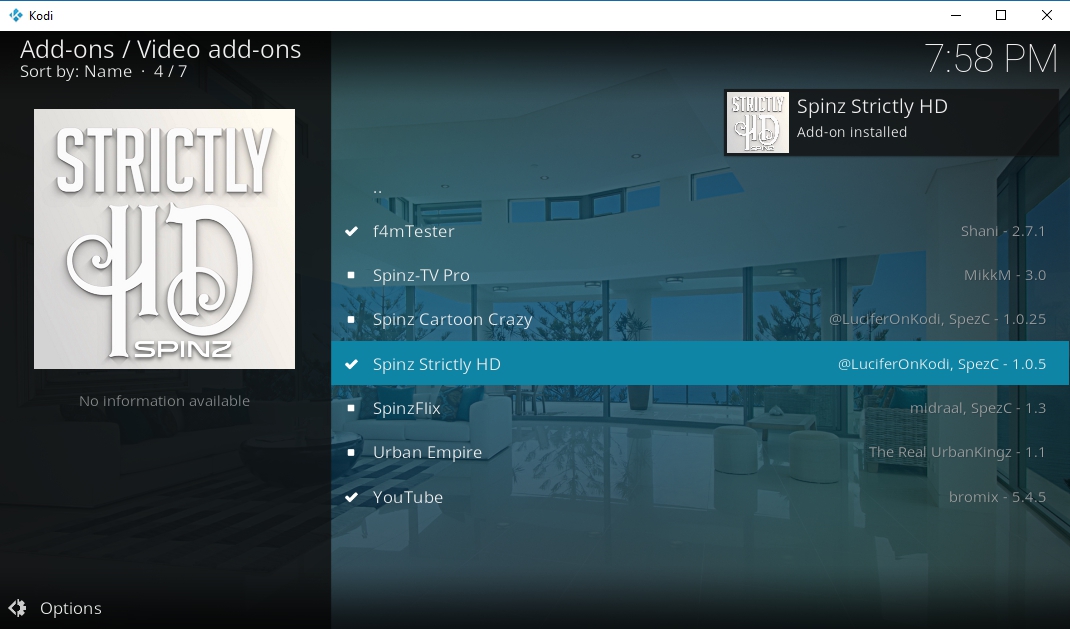 High-Quality Movies with Spinz Strictly HD
When you've got a fancy new TV or a sweet PC monitor, you naturally want to take full advantage of it. Many of Kodi's unofficial add-ons source content that's standard definition (SD) at best, which means blurry images and low-quality pictures. Strictly HD goes in the opposite direction and provides free new movie releases in glorious 1080p. No fuss, no confusing interface, just HD films for you to binge watch!
How to Install Spinz Strictly HD
Strictly HD is available through the SpinzTV repository, just follow the steps below and you'll be bathing in HD movies.
Open your web browser and visit the SpinzTV repository page.
Download the zip file named repository.SpinzTV-#.#.#.zip
Save the file somewhere easy to access.
Open Kodi and select Add-ons from the main menu.
Click the open box icon.
Choose Install from Zip File
Navigate to the repository.SpinzTV file and install it.
Go back to the open box menu and choose Install from repository.
Select SpinzTV, then enter the Video add-ons folder.
Choose Spinz Strictly HD and install it.
When installation completes you can access the add-on from the main menu.
How to Use Strictly HD
True to its name, Strictly HD focuses on one thing: 1080p movies. Lower-quality releases never make the cut, nor do things like TV shows or old movies that never got an HD release. Strictly HD lines up its categories by genre and popularity. Just run the add-on, see what's new and exciting, then click to start the stream. Some of the popular recent HD releases include Spider-Man: Homecoming, Thor: Ragnarok, Valerian, and Wonder Woman.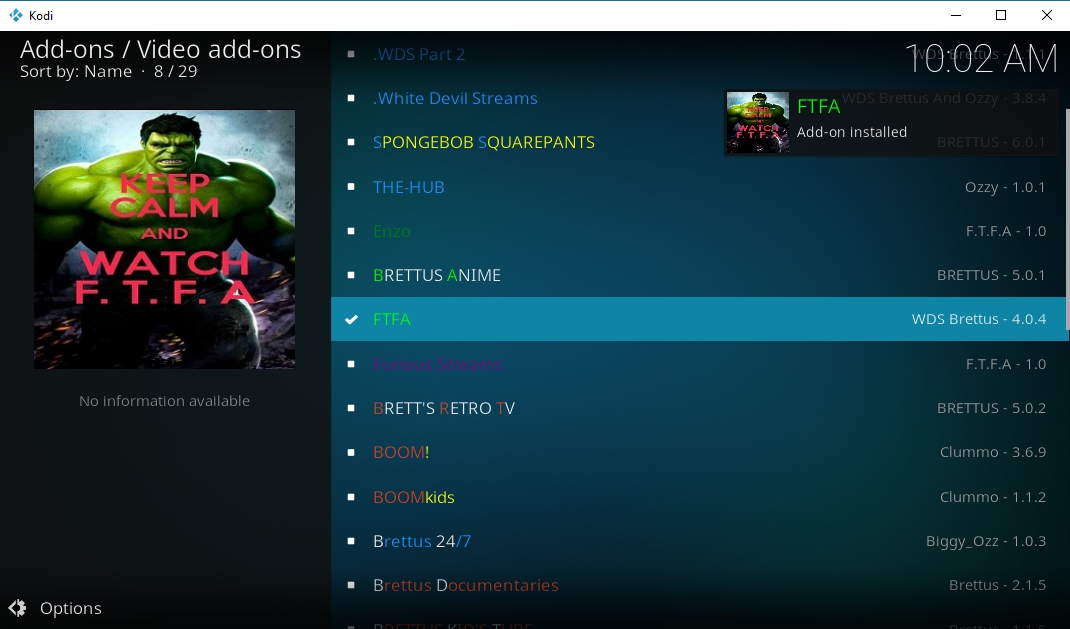 IPTV and Streaming TV Channels with FTFA
FTFA has been gaining popularity since the shutdown of so many popular Kodi add-ons. And for good reason, too, as the extension grabs a staggering variety of content from broadcast channels in the U.S. and UK and makes it incredibly easy to watch. Stream movies and TV shows, watch documentaries and sports, or just kick back and see what's on the tube!
How to Install FTFA
FTFA is available through the Brettus Repository. You'll need to install that first, then access the add-on and grab a free PIN through an external website. It's a little more involved than some Kodi add-ons, but it's worth the extra effort.
Open Kodi and click on the gear icon.
Go to File Manager > Add Source.
Add the following URL into the text box: https://toptutorialsrepo.co.uk/kodi/Repos/
Enter an easy to remember name, such as .toptuts
Click OK. Kodi will automatically add the repo to your sources list.
Go back to the main menu and select Add-ons.
Click the box icon at the top of the menu.
Choose Install from Zip File, then select the repo you named above.
Scroll down and find the file named repository.Brettusrepo-#.#.zip
Install the repo, then go back to the open box menu.
Choose Install from Repository.
Select the entry named Brettus Builds Repository.
Navigate to Video add-ons.
Look for FTFA and install it.
Launch the FTFA add-on. A window will open asking for a PIN.
Click OK and a website will load in your web browser.
Click the blue GENERATE button to receive a PIN.
Copy the PIN, then paste it into the Kodi window.
After a moment the FTFN add-on will validate and content links will appear.
What's on FTFA?
TV channels–lots and lots of TV channels! FTFA relies on internet broadcasting to deliver its free content streams. Nearly everything is split into source categories, not genres or video styles, which can feel a little random at first. For example, one of the top IPTV selections is a live server located in the UK. Opening this shows a menu of Sky Sports, BT Sport, Sky Movies, UK History, and over 200 more channels, all ready to go. The other UK and U.S. links will have similar features, though the number and actual content will vary depending on the day.
In addition to the somewhat random server channels, FTFA also offers streamlined content sources for a more predictable viewing experience:
PPV Live – Pay per view shows streamed from around the world.
Movies 2017 – New movie releases from 2017.
Full TV Series 2017 – New shows archived for easy binge watching.
Kids Area – Cartoons and family content for the little ones.
Fishing – For those days when you just can't make it to the lake.
Conclusion
Replacing an add-on as full-featured as Death Streams isn't easy. Hopefully the official and unofficial sources below can help keep your movies and TV shows rolling in at a steady pace! If you know any other alternatives to Death Streams you think we should check out, sound off in the comments section below!