We are reader supported and may earn a commission when you buy through links on our site.
Learn more
Elysium Not Working: Best Alternatives to Elysium for Kodi
One of the latest Kodi repositories to go offline is the hugely popular Noobs and Nerds Repository. Noobs and Nerds had been around a while and was home to some of Kodi's most popular unofficial addons. Some addons have found new homes elsewhere, but for others, the loss of their repository has meant the end for them too. Those Kodi users who have discovered that the Elysium Kodi addon is not working at the moment have probably already guessed that it falls into the latter category.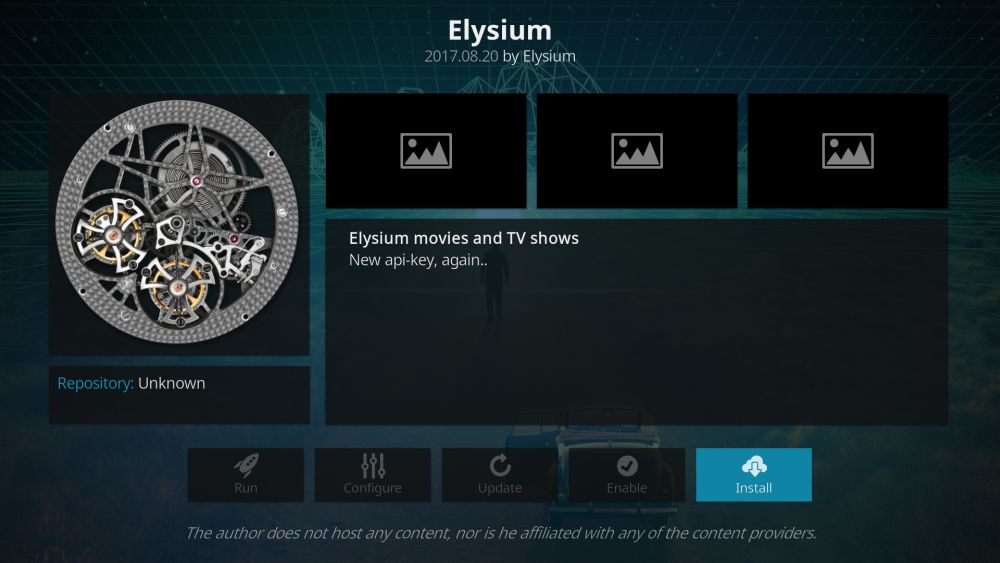 Elysium was one of Kodi's more popular all-in-one addons. Built as an updated version of the popular Zen addon, which is itself now also offline, Elysium offered a wide range of content principally focused on Movies and TV shows. It will be missed by many regular Kodi users. But as is always the case, when Kodi addon goes offline, there are always no shortage of alternatives ready to step up and fill the void they have left. This is the case with Elysium too and in this article, we will outline our pick of the best alternatives to the Elysium Kodi addon.
30-days money back guarantee
Always use a VPN when streaming content on Kodi
If you are planning to stream content using an unofficial Kodi addon such as the ones we have recommended here as alternatives to the Elysium addon, we strongly advise you to connect to a VPN first. This is because some Kodi users have found themselves in receipt of legal threats by copyright holders for streaming content on unofficial addons. It is claimed that such addons offer access to content in breach of copyright content. This is the reason why the Noobs and Nerds repository has gone offline and taken Elysium with it.
Some Kodi users have received legal letters or even faced further legal sanctions just for using addons like these. But a VPN offers you some protection by encrypting all of your online data and helping to hide your real IP Address while streaming on Kodi. This means your online activity is kept private and safe from prying eyes. A VPN is an essential online tool for Kodi users these days, but which VPN provider should you be using?
The Best VPN for Kodi – IPVanish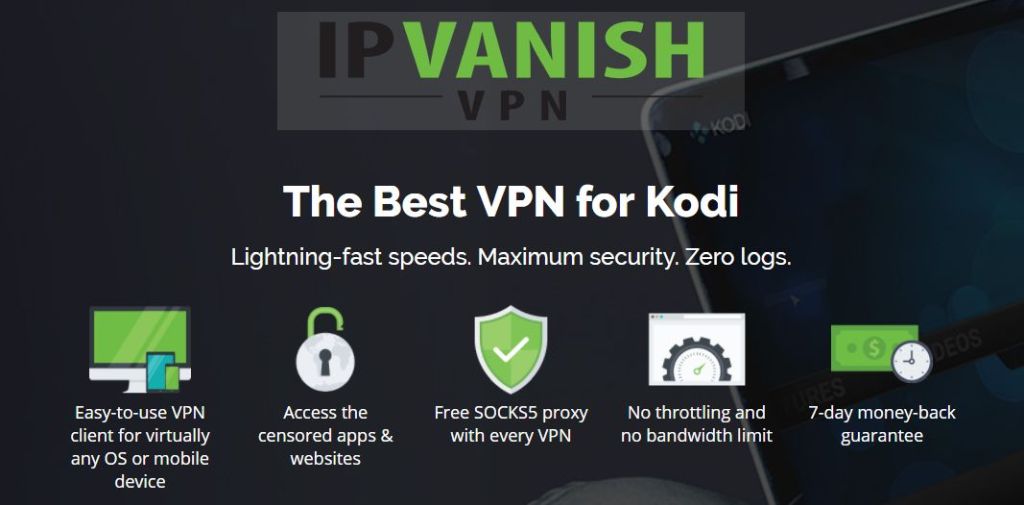 IPVanish offers fast and consistent connection speeds which are perfect for streaming content on Kodi. It combines these speeds with super-strong encryption and top-level privacy protections too, which include a no user logs guarantee that you can trust. IPVanish offers its users a choice of more than 850 servers in 60 countries around the world. And they also have no restrictions on either file types or data amounts you can use. Given that some addons use file types such as bittorrent and streaming can be very data intensive, this is essential. IPVanish offer dedicated apps for almost every device you might want to run Kodi on too, including the Amazon Firestick. SAdd all this up and it is clear that IPVanish is the best VPN for Kodi users right now.
IPVanish offers a 7-day money back guarantee which means you have a week to test it risk-free. Please note that Addictive Tips readers can save a massive 60% here on the IPVanish annual plan, taking the monthly price down to only $4.87/mo.
What to do about Elysium?
If you have already downloaded the Elysium Kodi addon onto your system, you may wonder what we are talking about. Your addon will most likely still be functional and it will remain that way for some time yet. There is no need to delete the Elysium addon, or indeed do anything if you already have it. However, in the mid to long-term future, this addon will begin to fail. It will no longer be updated as its repository is offline, so more and more links will be broken and bugs in the software will begin to multiply. There will come a time that Elysium will be unusable. But that may not be for some time yet, so feel free to continue to enjoy it.
The same is not true for Elysium's repository, Noobs and Nerds. Offline repositories can be a security risk, especially if they have been taken down as a result of legal action, which is the case with Noobs and Nerds. Fortunately removing the Noobs and Nerds Repository from Kodi is a simple process. All you need to do is follow this short guide:
On the Kodi home screen, go to Add-ons > My Addons > Add-on repository
This brings up a list of your repositories. Find the Noobs and Nerds Repository on your list and click on its name.
On the following page click on Uninstall which can be found in the menu at the bottom of the screen.
A popup window will open asking you to confirm you want to delete the Noobs and Nerds Repository. Click on Yes and this will completely remove the repository from your system.
Best alternatives to the Elysium Kodi addon
If you haven't already downloaded and installed the Elysium addon, the removal of the Noobs and Nerds Repository means that you will no longer be able to do so. But don't fret, as there are plenty of excellent all-in-one Kodi addons out there which offer great alternatives. Here is our rundown of the very best of them.
Official Kodi addons
The main reason that the Elysium Kodi addon has gone down is because of legal action taken against its repository for breach of copyright law. They are not the first unofficial Kodi repository to face such action and the chances are they won't be the last. If you are fed up of constantly having to switch between addons as they go offline, then the best bet for you is to turn to the official Kodi repository and use an official and 100% legal addon. These addons are all approved by the Kodi developers, the XBMC Foundation, and are fully legal. They usually offer high-quality content and there is little risk of them going offline, but the downside is that they rarely offer the range of content that some unofficial addons have available without there being a subscription price to pay. Nevertheless, if you want to find a legitimate and official addon to replace Elysium, here are a few you might want to give a try to.
Snagfilms addon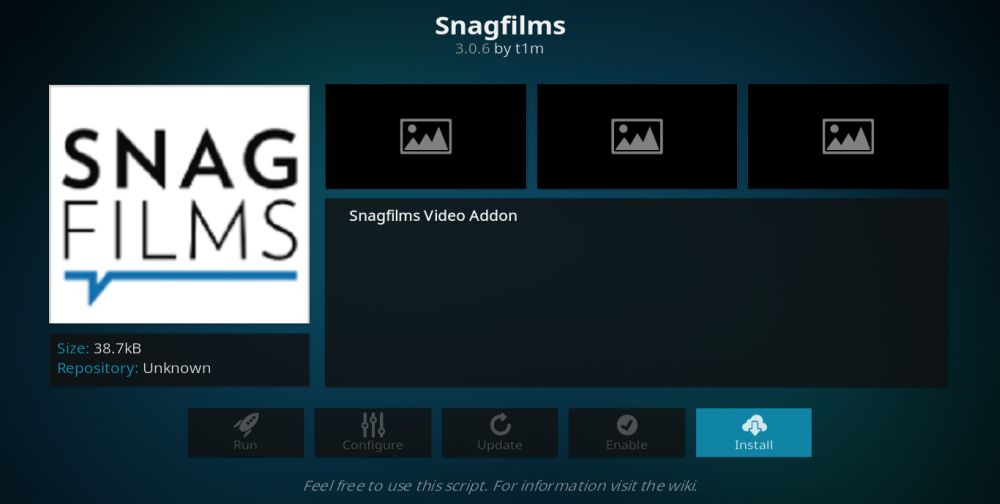 The Snagfilms Kodi addon is quite a rare thing, in that it is an all-in-one addon which holds official status and can be downloaded from the Kodi Repository. This completely legal addon has a variety of movies, TV shows, foreign films, and classic content available to stream online for nothing. While its selection of content doesn't rival that which was available on Elysium, there is still plenty to choose from, with the added bonus that their streams all work well and there are no issues with copyright to worry about.
How to install the Snagfilms Kodi addon
The Snagfilms addon is available to download from the official Kodi repository. To do this, all you need to do is follow this simple guide:
Open Kodi, and on the main menu click on Addons.
Next, click on the Addon Browser icon which resembles an open box.
Choose Install from repository, then select the Kodi Addon repository.
Click on Video addons then scroll down the list until you locate Snagfilms.
Click Install and wait for the process to complete.
Snagfilms should now be listed in your Addon menu and be ready to enjoy.
Classic Cinema Online addon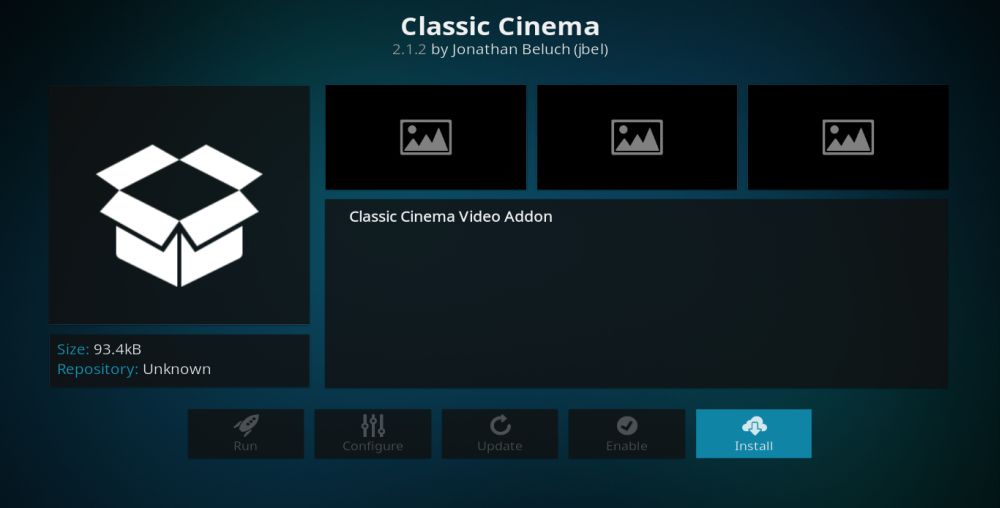 This addon sources content primarily from the Classic Cinema website which itself pulls together content from several online archives, including Google Video and archive.org. As the name suggests, Classic Cinema Online is populated mainly with vintage movies which are no longer copyrighted. But despite that, there is a wide variety of content available across almost every conceivable genre. It is certainly not a place to head for new movie releases, but there is still a lot available for movie fans to enjoy with this addon.
How to install the Classic Cinema Online Kodi addon
The Classic Cinema Online addon is, like Snagfilms, available to download from official Kodi repository. Take a look at the instructions above to get started installing this great addon!
USTV Now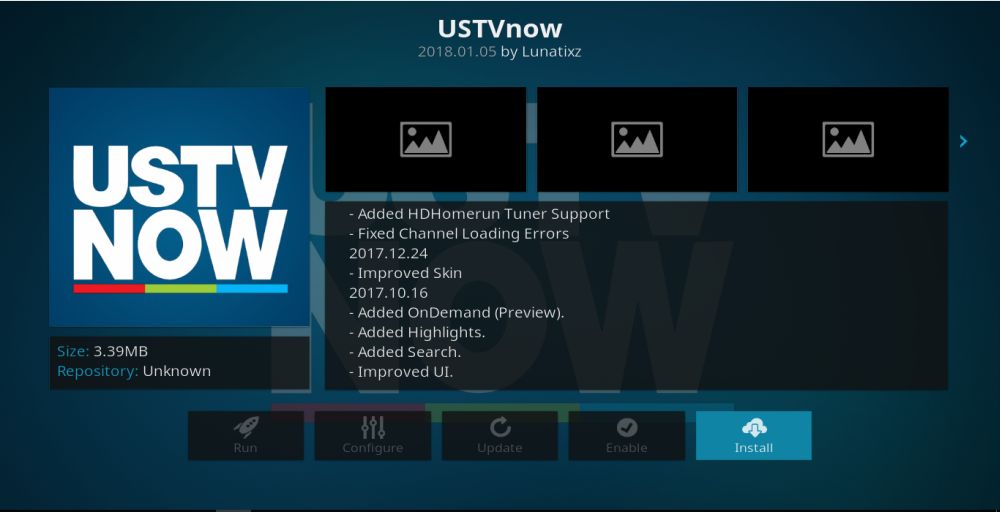 If you are looking for TV shows rather than movies, then another official addon worth taking a look at is the USTV Now addon. This addon takes advantage of the fact that a number of US TV Channels make their content available online for free. It offers both live streams and on-demand content and while there is perhaps a lack of premium content, there is certainly no shortage of popular TV shows available to enjoy. You can use this addon to enjoy content from such channels as ABC, NBC, Fox, and CBS. It's all free, but if you want to pay out, there is a premium service which has even more content available, at a price.
To find out more about the US TV Now Kodi addons, take a look at our complete guide on how to Install the USTVnow Kodi Add-on and USTVnow Plus.
Unofficial Kodi addons
The unofficial addons we have recommended here have plenty to offer. But we have to be honest, they do not compare to the breadth and depth of content that was available on Elysium. The fact is that no official Kodi addon will ever be able to match that and most wouldn't dream of trying. So, if you want to get close to a like-for-like replacement for the Elysium addon, you really have no choice but to opt for an unofficial addon.
Unofficial Kodi addons often have their drawbacks. They can be slow, unreliable, packed with broken links, and perhaps most importantly, illegal. But not all fit into this stereotype and some unofficial Kodi addons are quite simply a joy to watch. If you haven't already done so, you will need to toggle one of Kodi's internal settings before you are able to download unofficial Kodi addons onto your Kodi system. Don't worry. This is a simple process which can be done as follows:
On the Kodi home page, enter the Settings menu by clicking on the icon which resembles a gear wheel in the top left of your screen.
Next, click on System Settings followed by Addons
Toggle the slider next to the Unknown sources
Lastly, accept the warning message which will pop up.
Note: Unofficial Kodi add-ons can source content from a variety of locations, some of which may not be legal in your area. Addictive Tips does not condone or encourage any violation of copyright restrictions. Please consider the law, victims, and risks of piracy before accessing copyrighted material without permission.
FTFA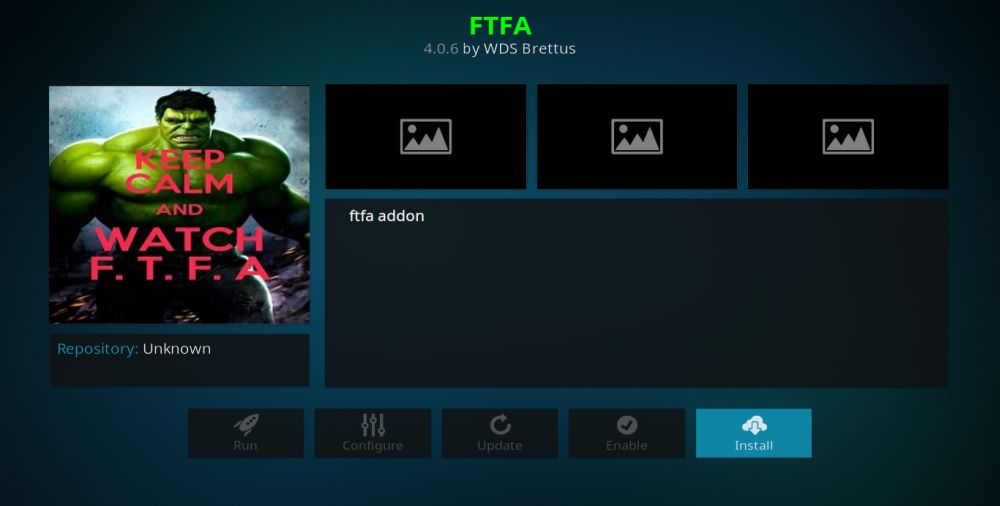 FTFA is one of the new all-in-one addons which has stepped into the gap left by Elysium and other addons like it. FTFA is a big and bold addon which sources a huge amount of American and British TV channels and makes it available to enjoy in a simple and well-thought-out addon. With FTFA, you can stream movies and TV shows, watch documentaries and sports, and much more besides. It is already proving popular with a great many Kodi users, and it is easy to see why.
How to install the FTFA Kodi addon
The FTFA addon is currently available through the Brettus Repository. It is easy to download, although you will need to open up an external website to get a PIN number before being able to open it. This is a simple process however, but here is our easy-to-follow guide to help you through it:
Open the Kodi home screen and click on the settings icon.
Select File Manager > Add source and click where it says <None>
Type in the following URL exactly:

https://toptutorialsrepo.co.uk/kodi/Repos/

Give it a name such as Top Tutorials and then click OK.
Go back to your home screen and click on Addons > Addon Browser > Install from Zip File.
Click on Top Tutorials, then on repository.Brettusrepo-x.x.x.zip. Wait for a moment, then you will see a notification appear in the top right of the screen once the source is installed.
Go back to the Addon Browser menu and click on Install from repository
Click on Brettus Builds Repository > Video add-ons and scroll down to FTFA 
Click on it and then click Install.
Wait for a moment, and you'll see another notification that the add-on has been installed.
Open the addon and a pop-up window will tell you you need to generate a PIN Number. Click OK to open up a new window which will link to the website to do this.
Click on the blue Generate button to receive your PIN Number. Copy it and then paste it into the Kodi window.
The FTFA addon will take a few seconds to validate this PIN Number after which the addon will open as usual.
Man Cave Flix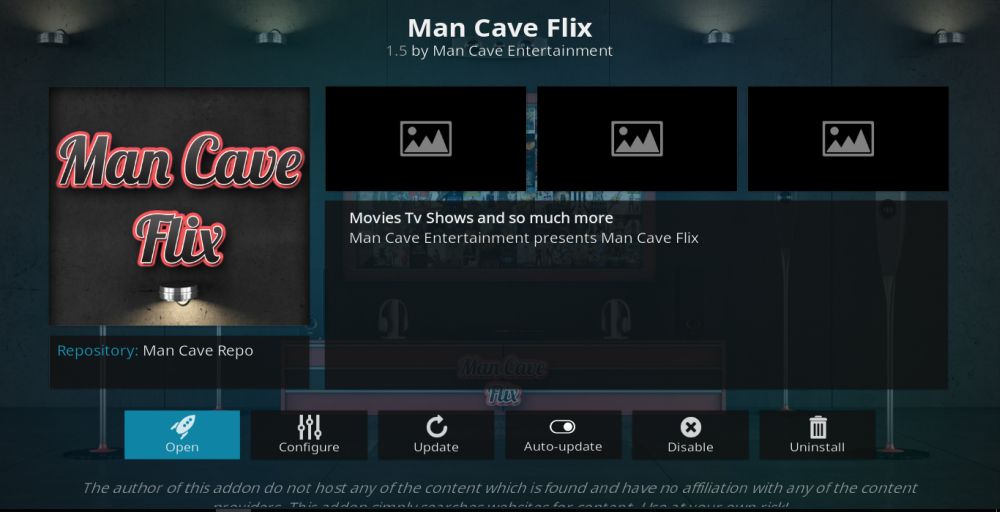 The new Man Cave Flix is an addon which follows Elysium's lead in focusing primarily on Movies and TV Shows. As the name suggests, this addon is being marketed to a mostly male audience, but this is a little misleading as there are dedicated sections for women and children within it and it links to plenty of content which everyone can enjoy. It is a nicely designed and easy to use addon which makes finding and streaming content as simple as any Kodi user could hope for. The Man Cave Flix Kodi addon doesn't quite hit the heights of Elysium yet, but it does get pretty close.
How to install Mac Cave Flix Kodi addon
The Man Cave Flix addon follows the recent trend among new Kodi addons of being available from its own Repository. However, the process to download and install it remains as simple and straightforward as ever:
Open the Kodi home screen and click on the settings icon.
Select File Manager > Add source and click where it says <None>
Type in the following URL exactly:

https://kodi.mancavekodi.com

Give it a name such as Man Cave and then click OK.
Go back to your home screen and click on Addons > Addon Browser > Install from Zip File.
Click on Man Cave, then on repository.Mancave-x.x.x.zip. Wait for a moment, then you will see a notification appear in the top right of the screen once the source is installed.
Go back to the Addon Browser menu and click on Install from repository
Click on Mancave Repository > Video add-ons and click on the Man Cave Flix link.
Click Install, then wait for a moment, and you'll see another notification that the add-on has been installed.
Elementum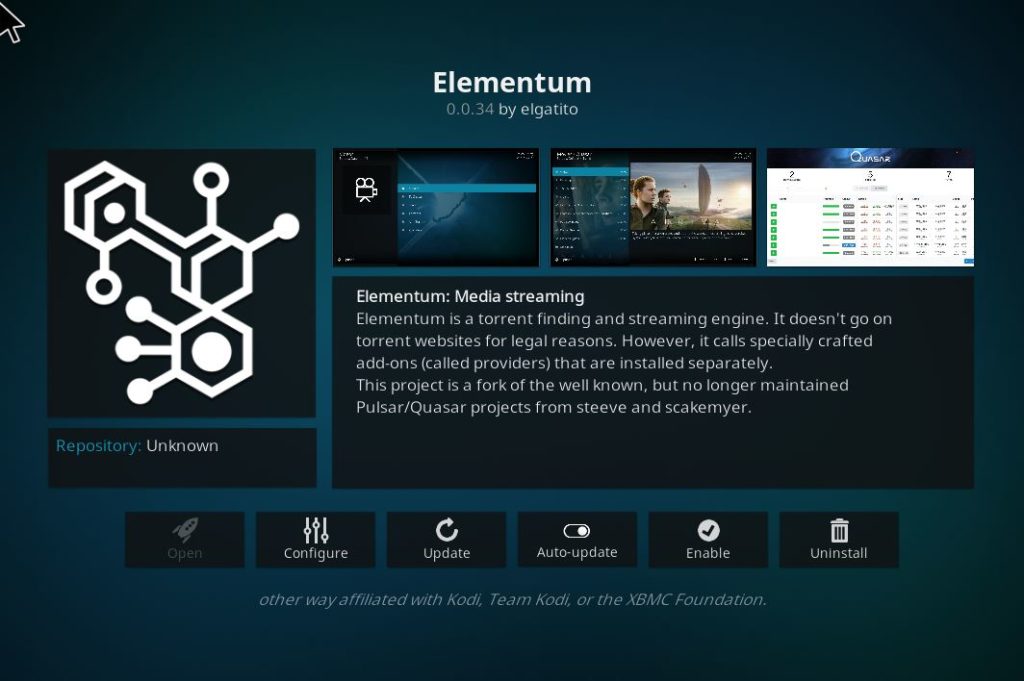 The Elementum Kodi addon is an addon which can rival Elysium for the amount of content that it has available, but which makes it available in a very different way. Elementum is a fork of the hugely popular Quasar Kodi addon and like its predecessor, it uses BitTorrent links to source almost all of its content. It scrapes these links from a number of different Torrent sites around the web and the result is that Elementum offers links to almost any movie and TV show you can think of. It requires a little bit of setting up, but once that is done, Elementum really could be the Elysium alternative of your dreams.
How to install the Elementum Kodi addon
Elementum is not an addon which you download in the usual way. Instead of using a repository, this addon is only available to download as a Zip File. The process for downloading it is actually even easier than using a repository, but the setting up of this addon is rather more complicated.
To find out how to download and install the Elementum Kodi addon, we therefore recommend you head over to our official review for full details.
Conclusion
The demise of Elysium is one which is mourned by many Kodi users. But in the current climate, the loss of popular addons is something that they just have to get used to. The flipside is that there are always plenty of alternative addons out there to be enjoyed. We have outlined our pick here, so why not share your thoughts on them with us. And if you have any other addons you think Elysium users might like to try too, why not share them with us using the comment box below.