We are reader supported and may earn a commission when you buy through links on our site.
Learn more
Use the Kodi Web Interface to Access Files from Any Device
The Kodi Web Interface is an underutilized tool that allows you to remotely access and stream your local content library from any web-connected device. Sounds complicated, but it's actually a breeze with the right instructions. We guide you through the process below, so stay tuned!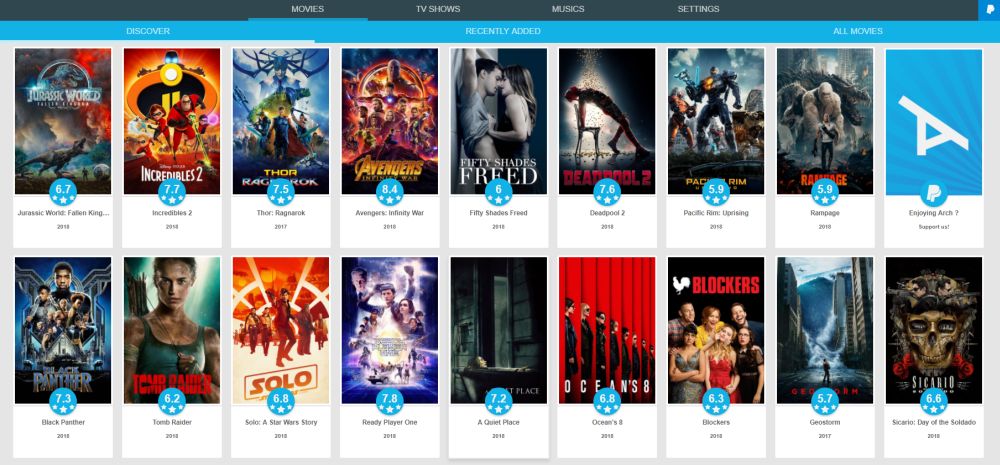 Kodi is a powerful piece of software. Not only is it fast, free, and completely open source, but it comes with the extensibility to allow for third party add-ons that open up a wide world of content at your fingertips. You can install it on just about any device you own and stream countless hours of free content, all with just a few clicks.
One of the often-overlooked features of Kodi is the ability to use the built-in web interface to access files from any device. If you have Kodi installed on one device with a bunch of content in its library, you can quickly and easily watch it from any other web-enabled device simply by opening up a browser window and starting the stream.
Below we discuss the ins and outs of how to use the Kodi web interface to access files from any device, complete with step by step instructions on setting everything up.
30-days money back guarantee
Keep Kodi Private with a Good VPN
Kodi is a magnificent piece of software that's fast, free, and easy to use. Because it doesn't come with any content by default it's also completely legal. You can use it to organize and stream your personal video collection, or hop onto the internet and grab a few add-ons for tons of free streaming resources. Either way, Kodi is the perfect media center no matter which device you use.
Whenever you go online, you broadcast your IP address to the world. This can be used to identify you on the network, track your activity, or even find your real location. If you're using Kodi, you run the extra risk of attracting attention from ISPs and copyright trolls, even if you stick to legitimate content. Without a good VPN in place, you could sacrifice your online privacy or even find your connection to the web artificially slowed down.
Virtual private networks create a safe tunnel between you and the internet by encrypting every packet of data that leaves your device. No one can tell who you are or what you're watching, letting you stream all the movies and TV show you like. Below is our recommended VPN to use with Kodi. It's fast, affordable, and extremely secure, providing all the best features that help keep you safe online.
NordVPN – Best VPN to Hide Kodi Traffic and Bypass Geoblocks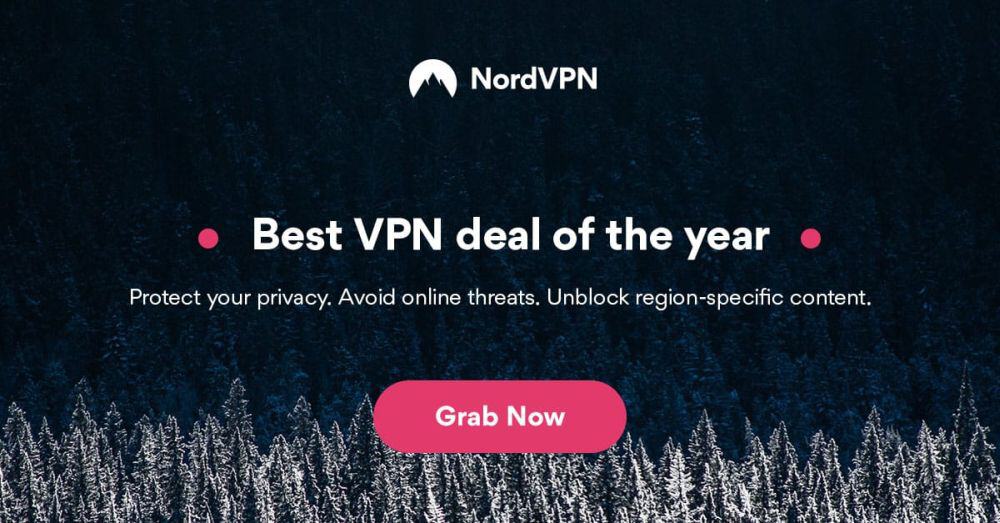 NordVPN is the killer app for Kodi-equipped streaming machines. It solves the single biggest issue facing Kodi: overzealous ISPs throttling your traffic to unusable speeds. The reasons are complex, but copyright trolls maintain that all Kodi users are guilty of privacy, and put pressure on ISPs to tamp down on an otherwise legal service.
So, if you think this is unfair–NordVPN agrees, and gives you the tools needed to unleash the full potential of Kodi. The key is 256-bit AES encryption, which is the same cipher used by the NSA to guard their own internal servers. That is to say, it's completely impenetrable, and utterly effective at blocking ISP tracking and throttling. Thus, you can enjoy buffer-free streams in unlimited quantities–especially considering NordVPN never places limits on bandwidth, speed, or traffic type themselves.
Moreover, NordVPN opens up an entire world of geoblocked content via their absolutely massive network. Connect to over 5,800 servers in 59 countries and spoof into a new country to enjoy local content. Even tricky sites like Netflix can't keep NordVPN out thanks to SmartPlay smart DNS functionality. And don't worry–NordVPN isn't keeping tabs on what you do, so there will never be logs or records of your activity laying around which could be hacked or subpoenaed to use against you.
Read our full NordVPN review.
Pros
Very affordable plans
Fast and stable connections
Torrenting is explicitly permitted
No logs and encrypted connections for total privacy
Great customer service via chat.
Cons
Some servers can be slow and unreliable
Sometimes slow in procesing refunds (but always do).
Use the Kodi Web Interface to Access Files from Any Device
Ready to turbocharge your Kodi experience? With a library of videos and a few minutes of your afternoon, you can set things up to stream all of your content from one device to another. Just follow the steps below to start using the free Kodi web interface.
Step 1 – Prepare Your Hardware
In order to use the Kodi web interface to access files from other devices, you'll need to get a few things in place. First, have Kodi installed on any device containing files you want to access from the web interface. If you have a Fire TV, Android TV box, or smartphone with media on it, go ahead and install Kodi so it's ready to roll.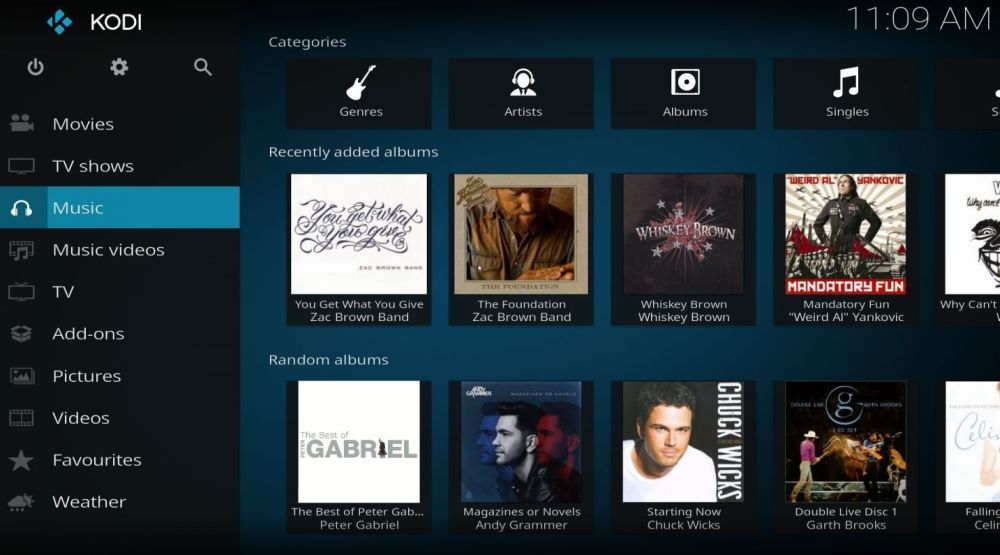 If you need a hand getting Kodi installed on your devices, here are a few guides:
Once Kodi is installed, you'll need to let it scan your device and add items to its internal library. If you don't do this, you'll still be able to access Kodi remotely, but you won't actually be able to access files on these devices.
Adding new library items is easy, though if you have a large collection it can take some time to scan. Start by opening Kodi on the host device and going to the home menu. Click the category of content you're adding on the left. If you have movie files, click Movies, for example.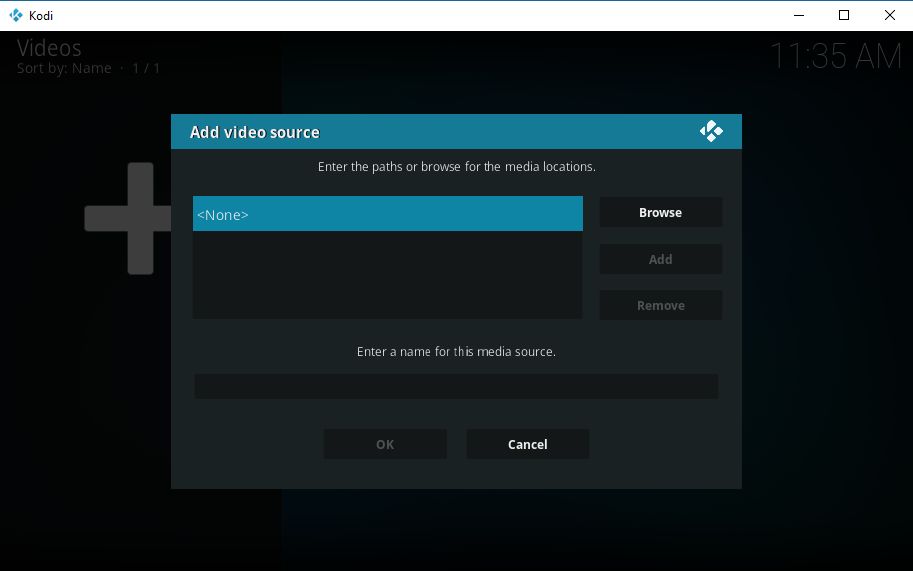 In the next screen you'll see an option to add videos to this section. Click it to open a small window then select browse. Navigate to the folder with your media and add it as a source. Kodi will add the directory in the source window. Give it a name in the box at the bottom, then click OK. Kodi will confirm that you want to add the media to your library. Choose Yes to proceed with the scan (or click No to go back and change folders).
Kodi will take a few moments to scan and organize your library. This could take several minutes if you have a huge collection, but most people won't have to wait that long. Repeat the above process for any other types of media you want to add, including pictures, TV shows, and music. Once it's done you'll be able to access all of your content from the appropriate category on Kodi's main menu.
Step 2 – Set Up Kodi's Web Interface
Kodi can be controlled from any device that has a compatible web browser. Kodi does not need to be installed on this device to use the interface. It also doesn't matter where your version of Kodi is hosted, as long as you follow the steps below to properly enable the web interface, you'll be good to go.
Open Kodi on the device you want to browse content on and click the gear icon to enter the settings menu.
Click the Service Settings icon.
Set the options level in the lower left to Standard.
Highlight the Control menu item and look over the items on the right.
Toggle the Allow remote control via HTTP option to the right to switch it on.
Note the port listed below. It's usually 8080, and there's generally no need to change it.
Set a unique username and password in the next two sections.
Leave the other settings alone and return to Kodi's main menu.
Step 3 – Obtain Your Device's IP Address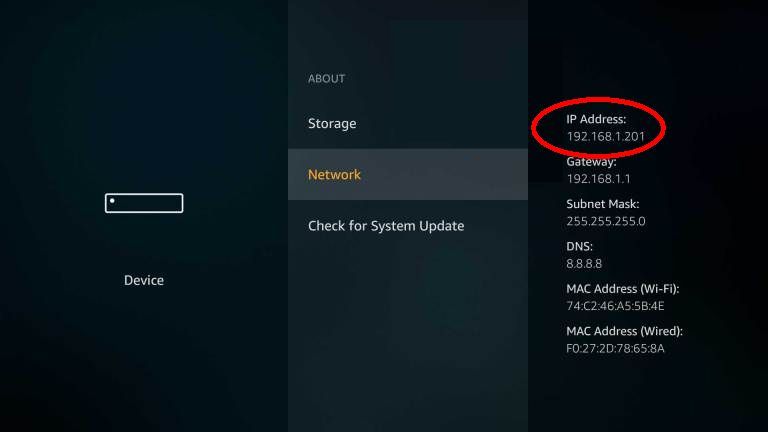 To access your files remotely via Kodi, you'll need to locate the unique IP address assigned to your device. This is a simple matter of navigating the host device's options to find out where the IP is displayed. Below are some of the most common devices and the location of their IP address screen.
Amazon Fire TV – Settings > Device > About
Apple TV – Settings > General > About
Android – Settings > Wireless Controls > Wi-Fi Settings. Tap the network you're connected to and a dialog will open. The IP address will be listed at the bottom.
Windows 10 – Settings > Network & Internet > Wi-Fi (or Ethernet). Select the connection icon and scroll to Properties to locate the IP address.
Mac OS X – Click the Apple icon, click System Preferences > Network > Airport Or Ethernet
iPhone and iPad – Settings > Wi-Fi Networks. Find the active connection and tap the blue arrow. The IP will be listed at the top of the next screen.
Step 4 – Access the Kodi Web Interface
All of the pieces are in place, now it's time to launch the web interface. Go to the device you want to watch content from and open a web browser. In the URL box type in the IP address of the host Kodi device, followed by a colon and the port number listed in the Kodi web interface setup screen.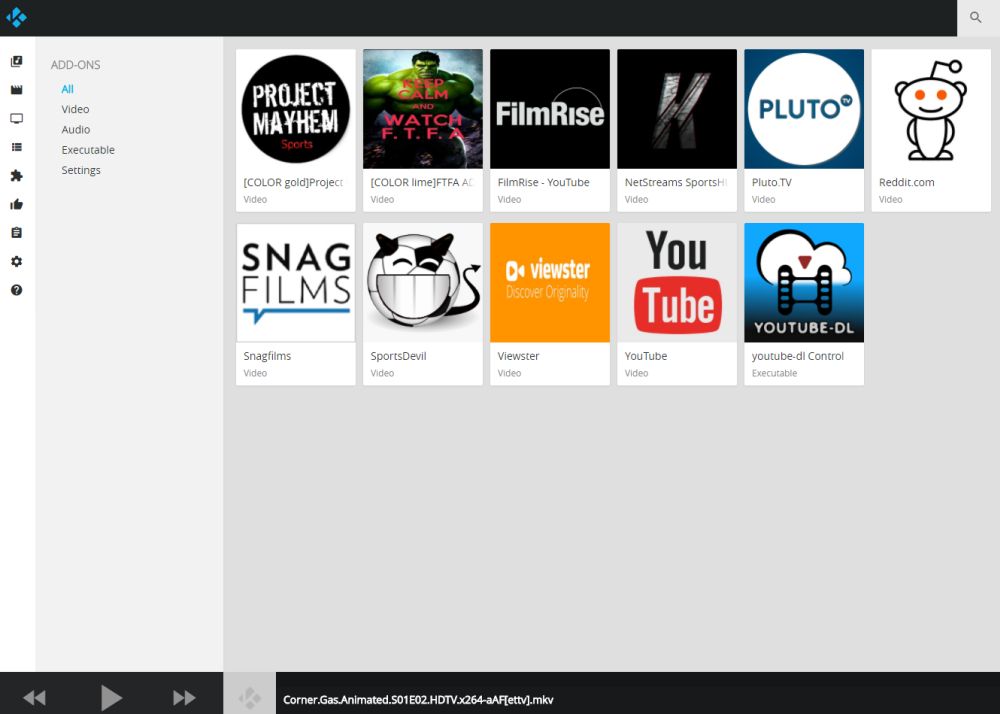 If, for example, your IP address is 192.168.1.155, and if you left Kodi's port at the default 8080, you would enter this into the browser URL box:
Press enter after entering this URL and the web interface will automatically load. Sign in using the username and password you set in the previous steps. Now you're ready to access your files from anywhere!
Using the Chorus2 Kodi Web Interface
Kodi's web interface is slightly different from the software's main setup. The basic items are all there, but some of the options have been rearranged to make it easier to stream content from one device to another. Once you've completed the steps above, check out the tips below to make the most out of the default Kodi web interface called Chorus2.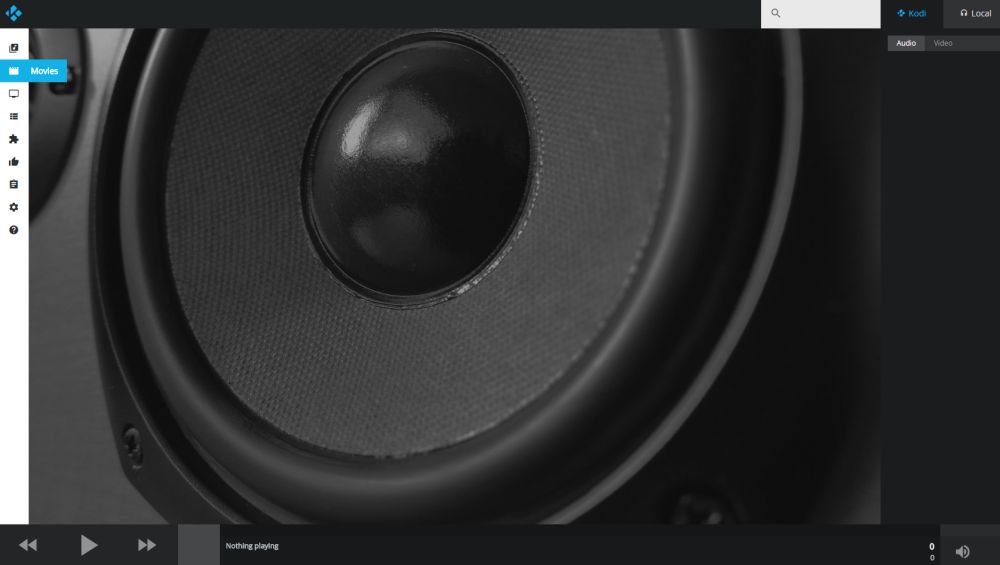 Menu Bar
On the left side of the browser interface you'll find a familiar menu bar. These icons represent the main categories found in Kodi. Music, movies, TV shows, add-ons, and others are all here, just like on your local install. Click one to view the content in Kodi's library directly in your browser.
Directories of library content will show up in the center. So, if you open the movies category, you'll see all the videos located in the Kodi library you're remotely connected to. Double click an item to start playing it.
The browser menu item will be an incredibly useful option for many users. This lets you directly access files added to the Kodi library on the host device's storage. You can sift through your folders or look at your add-ons one by one and play them just like with any other category.
Add-ons
Kodi's web interface lets you do more than just play videos stored on your local devices. You can remotely access your add-ons and stream live content from them just as easily as if you were sitting in front of Kodi itself. Best of all, Kodi handles all the sync issues in the background, so all you have to do is click and start watching.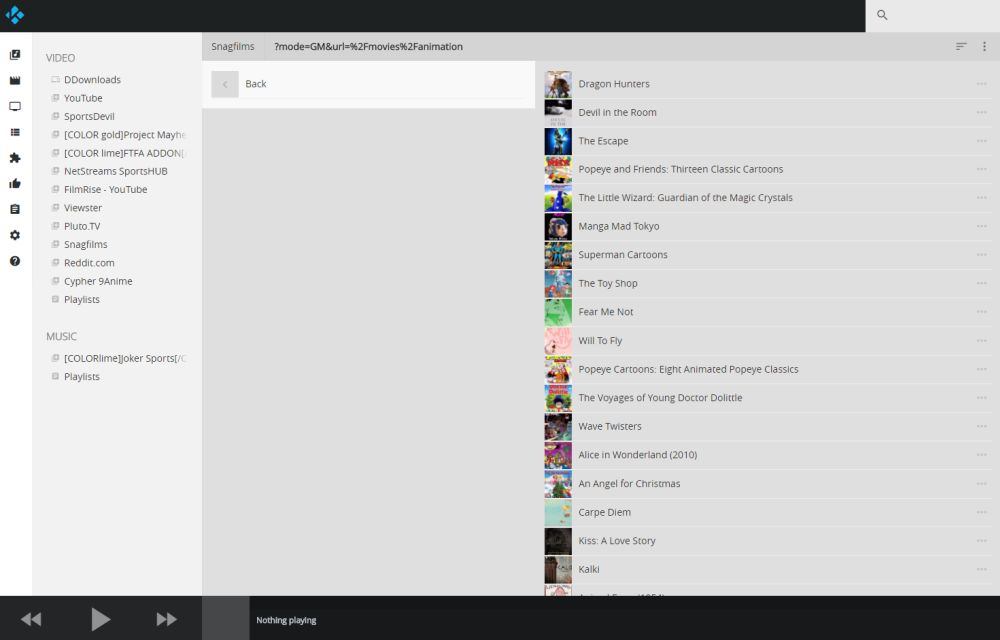 To use add-ons from the web interface, simply choose the add-ons icon from the menu bar. It's the one that looks like a jigsaw puzzle piece. Next, pick the add-on you want to activate, then wait for Kodi to access it and present the streaming content options. That's it!
Is the Kodi Web Interface Safe?
A lot of users are immediately concerned about streaming their files across a web interface. After all, Kodi disables this feature by default, so maybe it's not such a good idea to use it? Fortunately, Kodi provides good core protection against threats by offering a username/password gate before a single byte of information is transferred.
By setting strong account information on your Kodi installation, you can prevent unauthorized access from other sources. As long as you don't share the login data with anyone, your files and your data will be safe.
Get Full Access to Your Files by Using Arch
The Chorus2 web interface is sleek and easy to use, but it doesn't offer quite the same features that its companion Arch does. Arch is a content-centric application, stripping out most of the customization and navigation options in favor of fast and direct access to movies. It also lets you comb through all data on your Kodi device without having to set things up beforehand.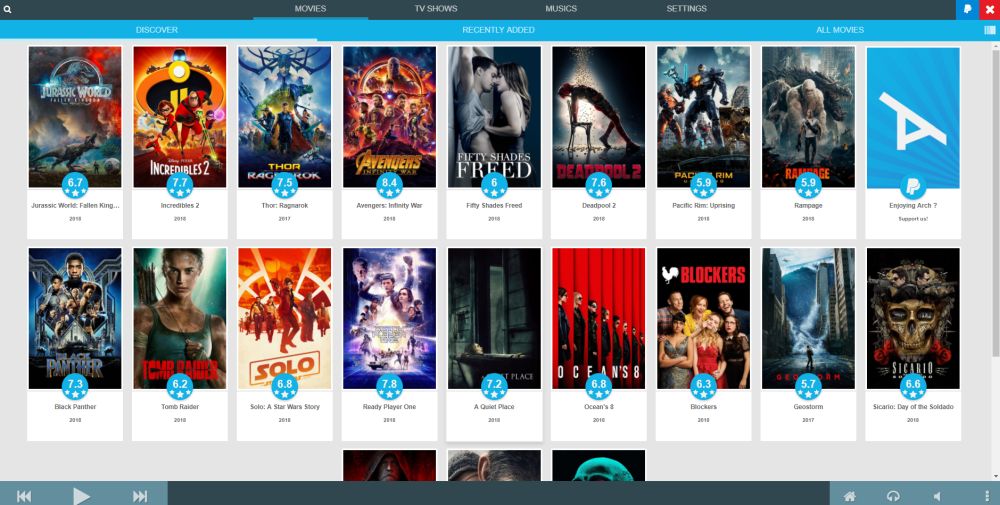 How to Add the Arch Web Interface to Kodi
Arch doesn't come pre-installed like Chorus2. You can quickly install it directly from Kodi, though, and it will only take a few seconds. Follow the steps below to install Arch.
Open Kodi and click the gear icon to enter the settings menu.
Click the Service Settings icon.
Set the options level in the lower left to Standard.
Highlight the Control menu item.
Select the Web interface option on the right center.
In the window that pops open, choose the Get More button.
Select Arch from the list of new interfaces and install it.
Wait for the download to complete. It may take a few moments.
Kodi will automatically select Arch as the new default interface.
Launch the web interface and enjoy the new layout!
Why Arch is Better than Chorus2
Arch isn't as full-featured as Chorus2, but it does offer one extra that a lot of Kodi users will love: access to your files. With Arch you can use the Discover option to comb through your Kodi device's content and play any movie or music file you want. There's no need to manually add anything to the library or pick through individual folders to find one show. Simply hit Discover and you'll see what's available.
On the downside, Arch does lack direct, organizaed access to your other installed add-ons, which can be frustrating for some Kodi users. Instead, it aggregates all of the add-ons and lumps their videos into a single screen. They're still there and accessible, but you can't tell where they're coming from. It's a minor frustration for some, but most Kodi users will appreciate the focus on content accessibility.
Other Web Interface Themes
Apart from Arch and Chorus2, Kodi offers access to a few other simple web interface designs you can easily download and choose from. Each is designed with a slightly different audience in mind, but they're all free to use and come with their own set of pros and cons. To install the interface themes below, follow the instructions in the section above and choose the appropriate theme when the right window opens up.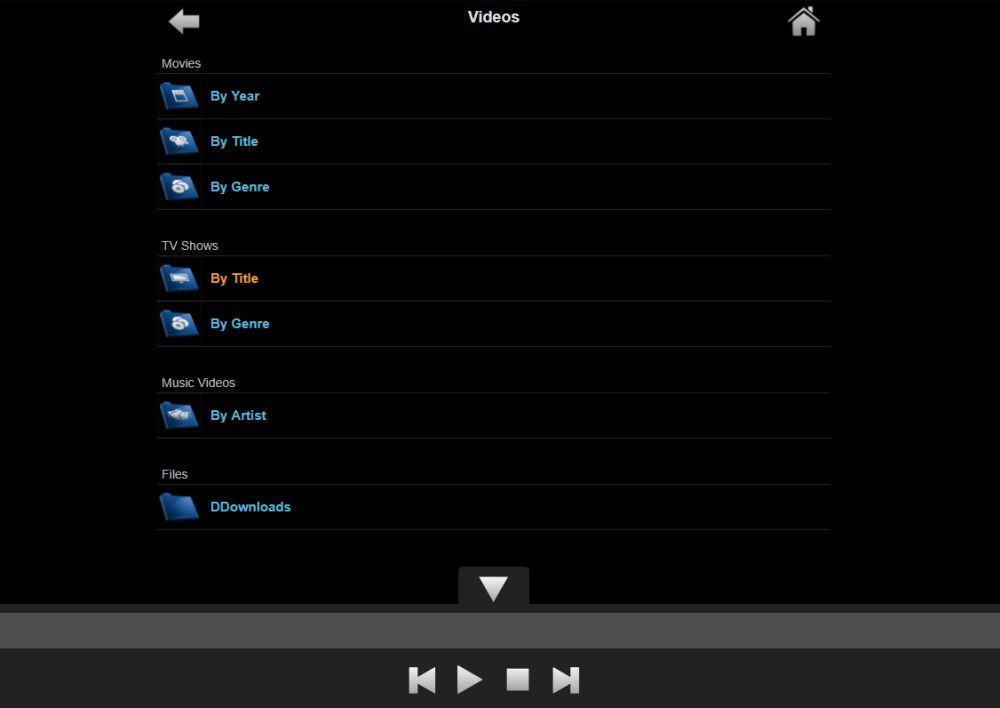 Hax is the most straightforward web interface you can imagine. It was designed for mobile devices before anything, featuring a flat, one-column layout with large icons and easy to view navigation screens. There's also a built-in soft remote feature for more precise controls. Everything is straightforward and easy to find, but the catch is you won't see very many extras. No settings and no add-on access can be found in Hax (for better or for worse, depending on your priorities).
AWXi is sort of a hybrid between Chorus2 and Hax. Its interface is easier to navigate and friendlier to tablets and smartphones, but it doesn't get rid of all the features power users want with their web interface. You'll get full access to videos, TV shows, music, and add-ons with AWXi, along with a helpful selection of settings to customize your experience.
Conclusion
Controlling Kodi with a web interface and accessing your files remotely is an incredibly simple way of streaming content across the internet. You can quickly view movies or TV shows on your TV or PC, listen to music on your smartphone, and so much more. Setup is a breeze, as well, all it takes is a few minutes and a few videos and you're good to go!
Are you a remote streaming nut? Where's the most far-flung location you've accessed your home library from? Did you have any issues with our installation instructions? Let us know in the comments below!