We are reader supported and may earn a commission when you buy through links on our site.
Learn more
How to Install a VPN on LibreELEC (and Configure It)
At first glance, it doesn't seem easy to install a VPN on LibreELEC, especially if you're not already an expert on the platform. Today's plain-language guide will walk you through the process of installing a VPN via Kodi's VPN manager add-on, then configuring it for the fastest, most secure streams in mere minutes.

Using a VPN on LibreELEC is as necessary as it is on any other platform. Unfortunately, the operating system has very limited capabilities in terms of running external software, making this a complicated task. Thanks to a great little Kodi add-on, you can setup a VPN connection right from within Kodi, eliminating the need for external VPN client software. And with all good VPN suppliers using a standard protocol, this method works with all of them.
We'll present the VPN Manager add-on and show you how to install it. And after installation, we'll also show you how to configure it and, even more importantly, how to use it. We won't assume you're an expert, so we'll round out our discussion by explaining what a VPN is, how it works and what it protects. And since you may not be familiar with LibreELEC, we'll also take a brief overview of the service before we look at our VPN installation instructions.
30-days money back guarantee
A VPN Is Your Best Protection While Using Kodi
If your Internet Service provider suspects you might be violating their terms and condition, they can react by sending you copyright infringement notices, throttling down your speed, or worse, interrupting your service. To avoid such annoyances, we strongly suggest you use a VPN whenever you're using Kodi.
Considering the number of VPN providers available, selecting one can be a challenge. There are several important factors to consider. Among them, a fast connection speed will prevent buffering, a no-logging policy will further protect your privacy, no usage restrictions will let you access any content at full speed and software that is available for multiple platforms will let you use the VPN from any device you may own.
NordVPN – Best for Kodi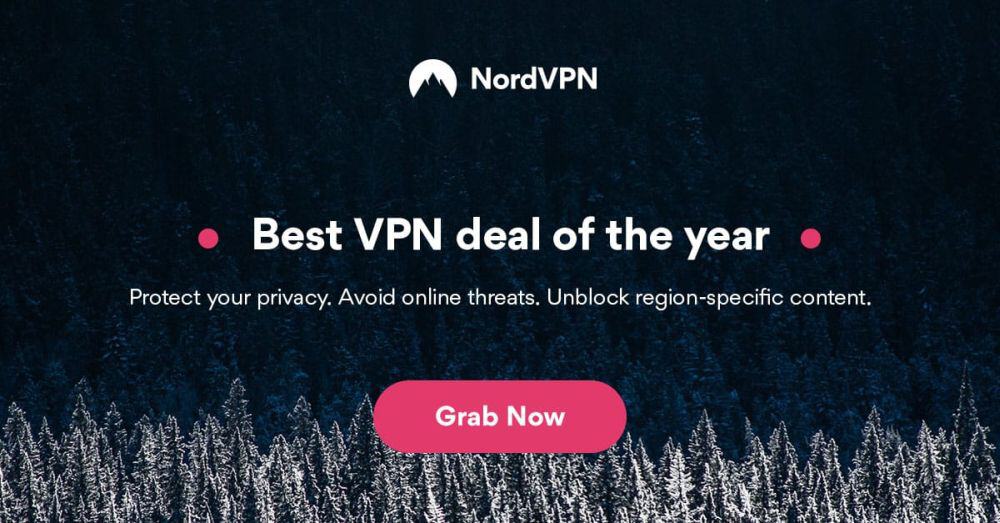 NordVPN is without a doubt the best VPN to enhance your Kodi experience. It solves the single biggest issue with using Kodi, in fact, which stems from the fact that your ISP tracks your traffic and fundamentally disapproves of Kodi. Most ISPs don't care whether you're streaming legal content or not–they'll preemptively throttle your traffic to a crawl. It's not fair, but it happens, and NordVPN is the antidote.
The key to unlimited Kodi usage is NordVPN's unbreakable 256-bit AES encryption, which shrouds your traffic in unintelligible cryptography. Thus, your ISP won't have any idea what you're doing, and won't throttle you back in retaliation. It works extremely well for this use-case and many others, including blocking out government surveillance as well as cyber-attacks that target your IP address.
And speaking of IPs, NordVPN offers tens of thousands courtesy of their massive, 5,800 server-wide network strewn across 59 countries. Thus, you can "spoof" your way past geoblocks to access streams that would normally be unavailable to your Kodi install. It's surprisingly easy to accomplish such a technical feat, just a single click in NordVPN's intuitive user interface make it happen instantaneously. No matter how you use NordVPN on Kodi via LibreElec, rest assured your anonymity is secure with one of the best no-logging policies in the industry.
Read our full NordVPN review.
Pros
SPECIAL OFFER: 2-yr plan (68% off - link below)
GooglePlay users rating: 4.3/5.0
Up to 6 simultaneous connections
Based in Panama
Money back guarantee policy (30-days).
Cons
Very little
Apps can sometime be slow to connect.
LibreELEC Quick Overview
LibreELEC is a fully-functional but minimalistic operating system created for one purpose only: Running Kodi on "limited" hardware. Based on Linux and originally intended specifically for the Raspberry Pi, it has since been ported to other single-board computers. Its name is short for "Libre Embedded Linux Entertainment Center". Libre is French for free. Not free as in "no charge" but free as in "freedom". LibreELEC is based on Linux although it is stripped of anything that is not necessary to run Kodi. The Operating system includes Kodi and it will boot right into it.
LibreELEC started in 2016 as a fork of OpenELEC, a similar operating system, when "creative differences" among the developers caused some of them to quit the project and start their own. Compared to its predecessor, LibreELEC is super easy it is to install on your device. Great care was taken in developing a software installer that hides most of the complexity of the process. Using the LibreELEC USB-SD creator software will allow you to be up and running without any issue in no time.
Advantages of LibreELEC
The main advantage of LibreELEC is that it doesn't bloat the system on which it runs with all sorts of unnecessary modules and software. It has everything needed for Kodi–including Kodi itself–and nothing more. When you boot a device running LibreELEC, Linux starts automatically and, in fact, you can't event exit Kodi and go back to the operating system.
The Problem with Installing a VPN on LibreELEC
So, how does one go about installing a VPN client on LibreELEC? As we saw, the minimalist OS can do nothing but run Kodi. There is no package installer under LibreELEC. There's not even a way one could use a command prompt to enter commands to get and install an external package. And LibreELEC has no user interface anyways besides Kodi's user interface. How then would we be able to configure a VPN and interact with the VPN client? An ideal solution, therefore, would have a VPN client running directly within Kodi.
The Solution – Installing the Zomboided VPN Manager Add-on
The great news is that such a solution exists. And it takes the form of–you might have guessed it–a Kodi add-on. It is called the Zomboided VPN Manager add-on. This add-on is compatible with most VPN suppliers as they pretty much all use standard protocols. From within the add-on, you'll be able to select your VPN server, establish the VPN connection and disconnect it when you're done.
Like many add-ons, installing the VPN Manager add-on is a multi-step process. You first need to install the appropriate repository. Then, from that repository, you can install the actual add-on. And to make things a bit more challenging, The repository must first be manually downloaded as it's not available via a Kodi media source path like most others. But don't worry, our detailed instructions should make this an easy process, albeit perhaps a bit more complicated.
Downloading the Repository and Transferring it to Your Media Player
The first step is to download the Zomboided repository installation file to your media player. For the sake of simplicity, let's assume it is a Raspberry Pi. The process would be the same with any other device running LibreELEC.
But with LibreELEC having no user interface and even less a browser, how can this be done? This is why this is a tad more complex than usual. And you'll need a USB Flash drive to do it.
First, insert the USB Flash Drive into your computer. Then, download the Zomboided Repository installation file from GitHub at by clicking this link.
When you click the link above, you'll be asked to choose a download location. Our advice is to save it directly to the USB Flash drive. That will save you the trouble of copying it afterward.
The rest of the setup will be done from the LibreELEC media player device.
Installing the Zomboided Repository on LibreELEC
The first thing you need to do is to insert the USB Flash drive with the Zomboided Repo installation file into one of the Raspberry Pi's USB port.
Then, from the Kodi home page, you need to go click Add-ons on the left pane and then click the Add-on Browser icon at the top left fo the screen. It is the one that looks like an open box.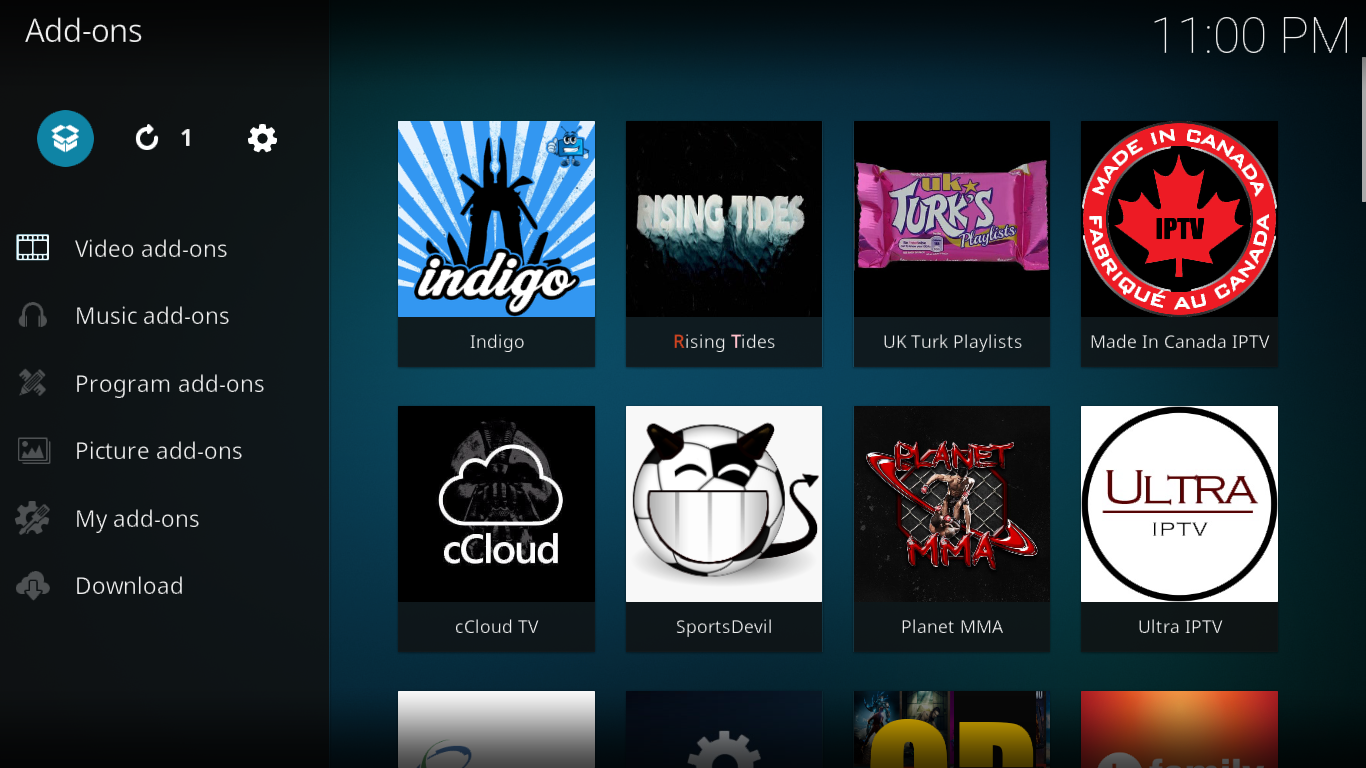 Then, from the Add-on browser screen, click Install from zip file.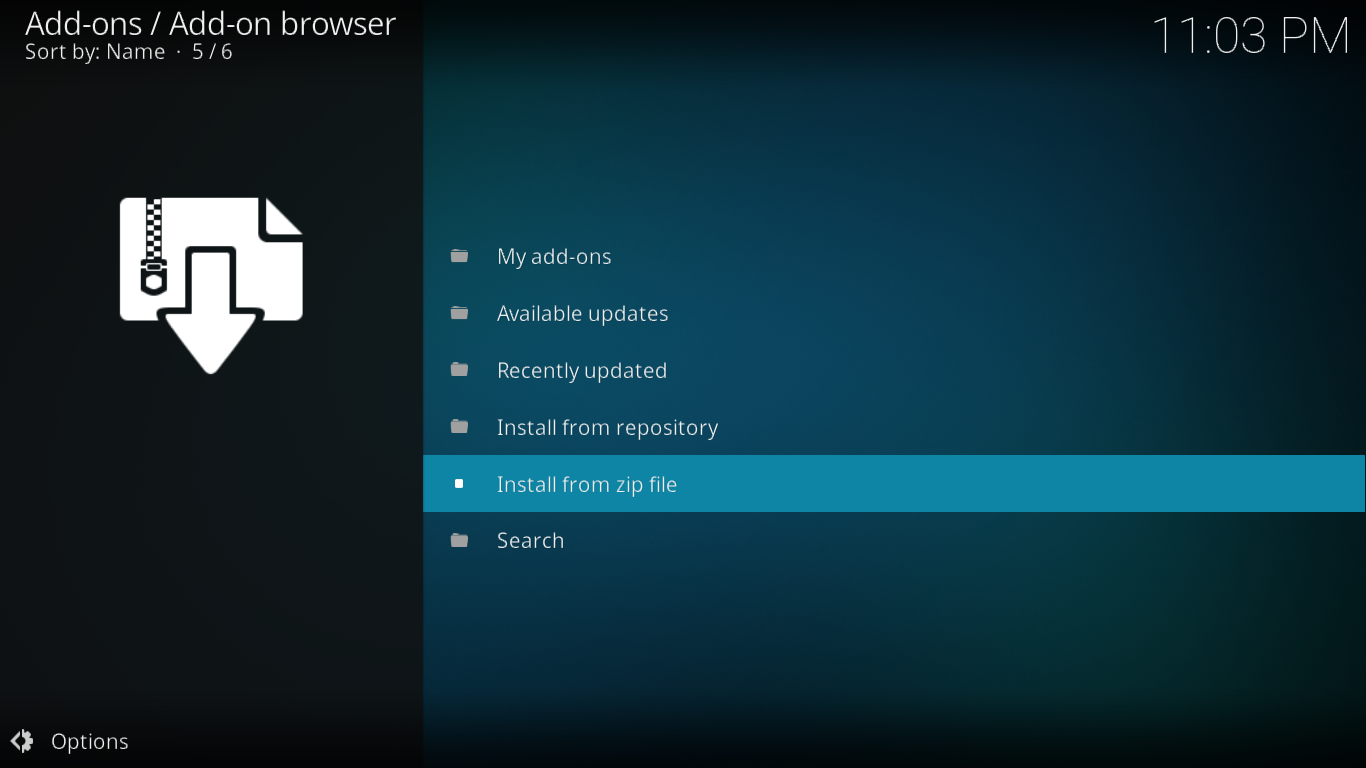 Navigate to the USB Flash drive and click repository.zomboided.plugins-1.0.0.zip to launch the installation of the repository.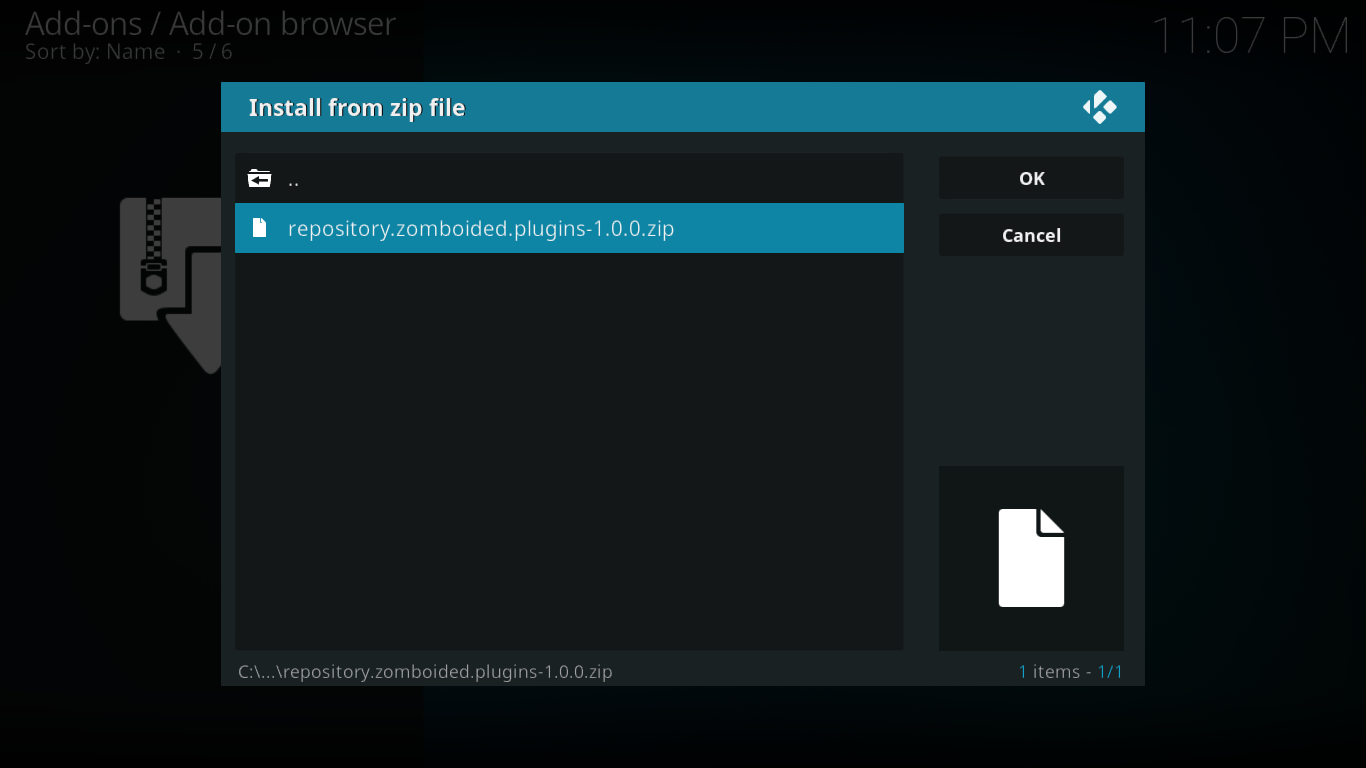 After a few seconds, a message at the top right of the screen confirms the repository installation.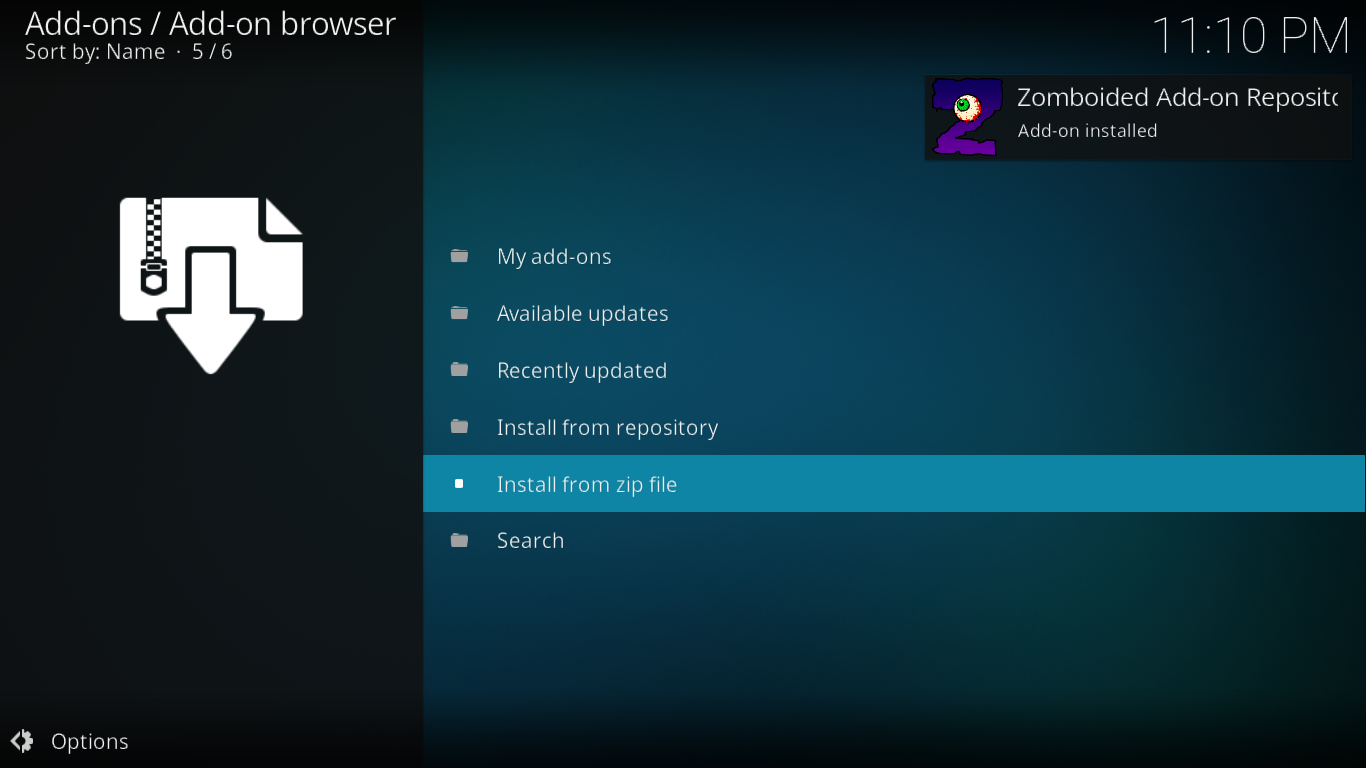 Installing the VPN Manager from its Repository
From this step on, the rest of the installation process is fairly standard. You should still be on the add-on browser page. If you're not, go back to it.
Now click Install from Repository.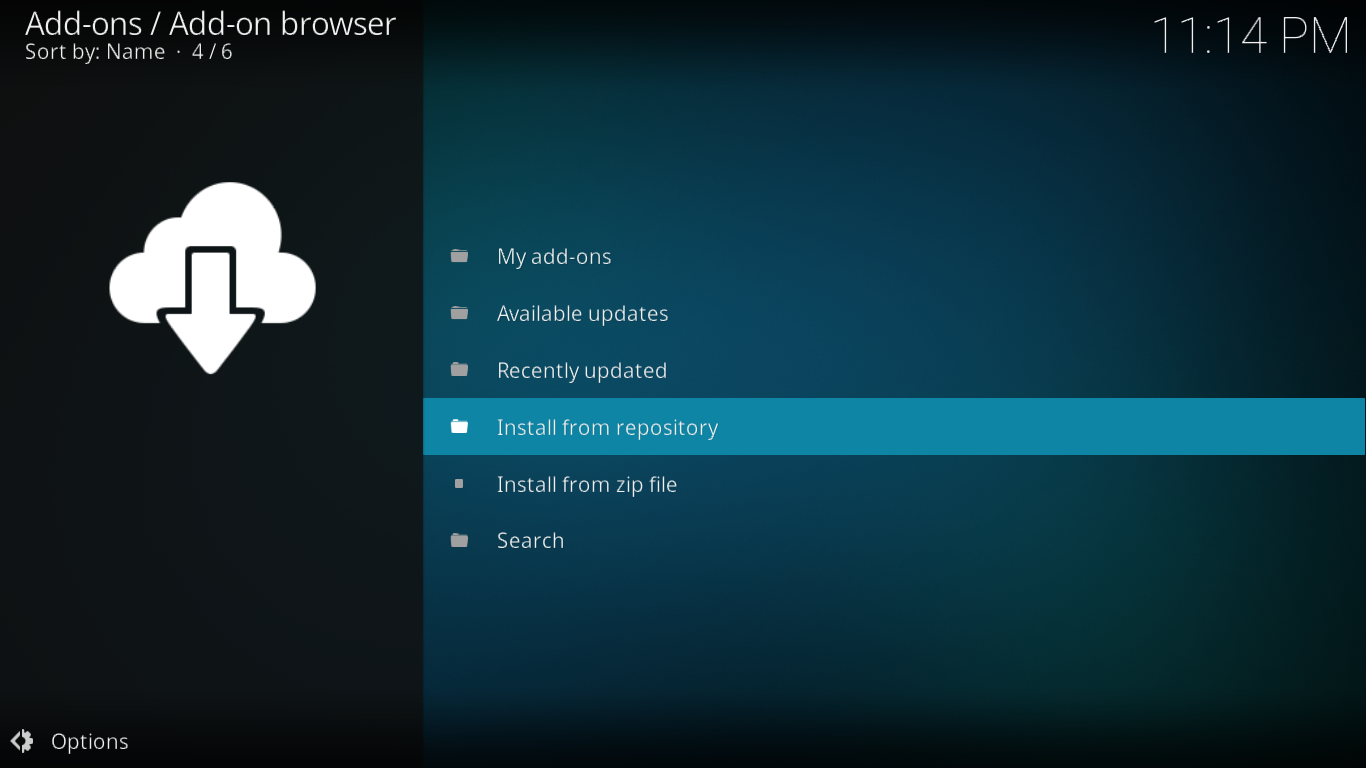 Click on Zomboided Add-on repository. They're in alphabetical order so it should be one of the last on the list.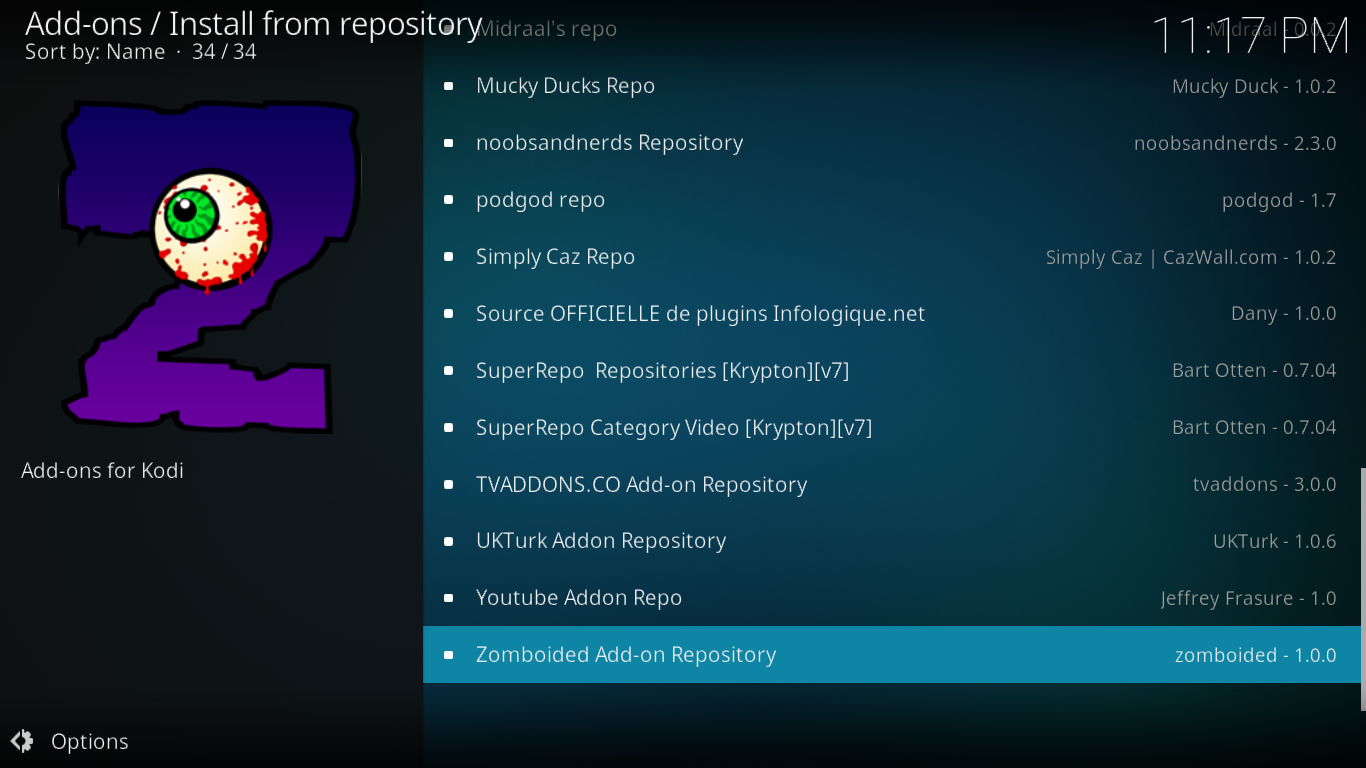 Click Services and then click VPN Manager for OpenVPN.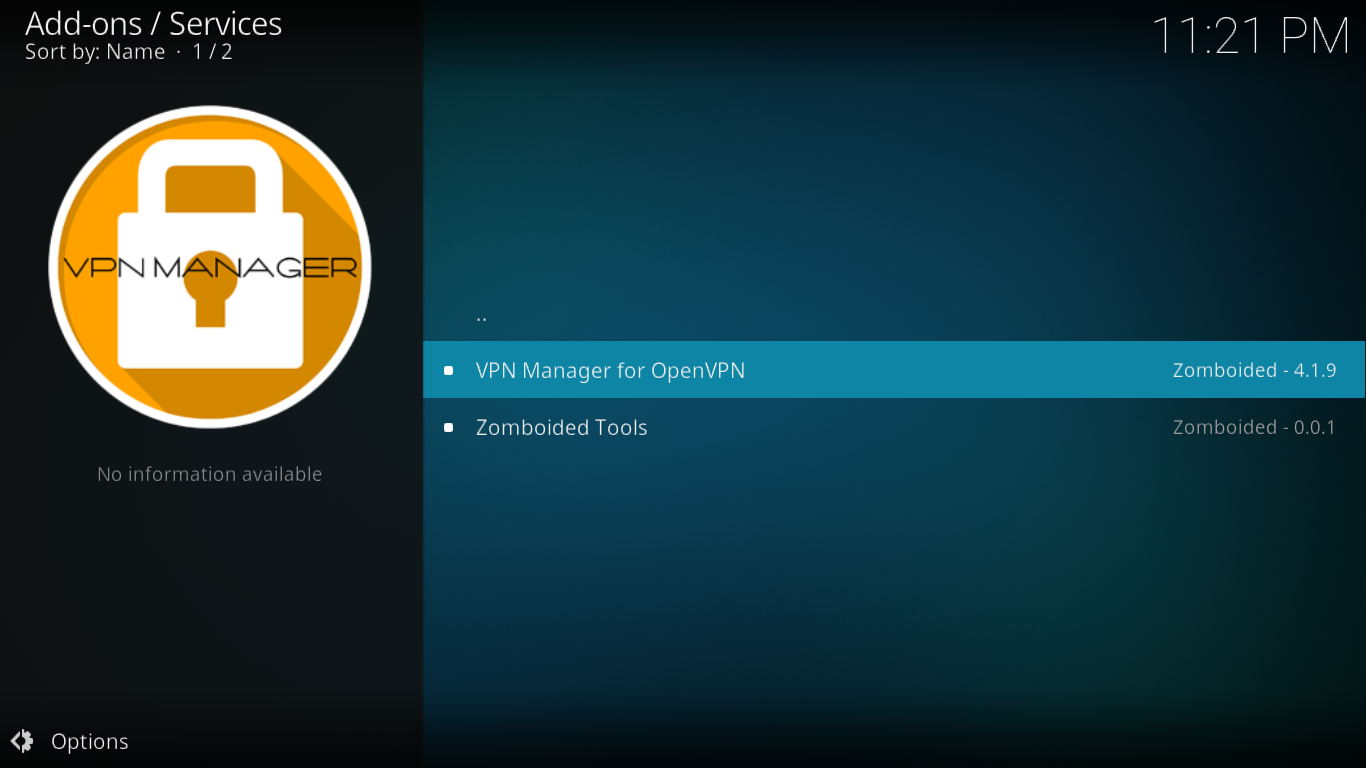 Click Install at the bottom right of the next window.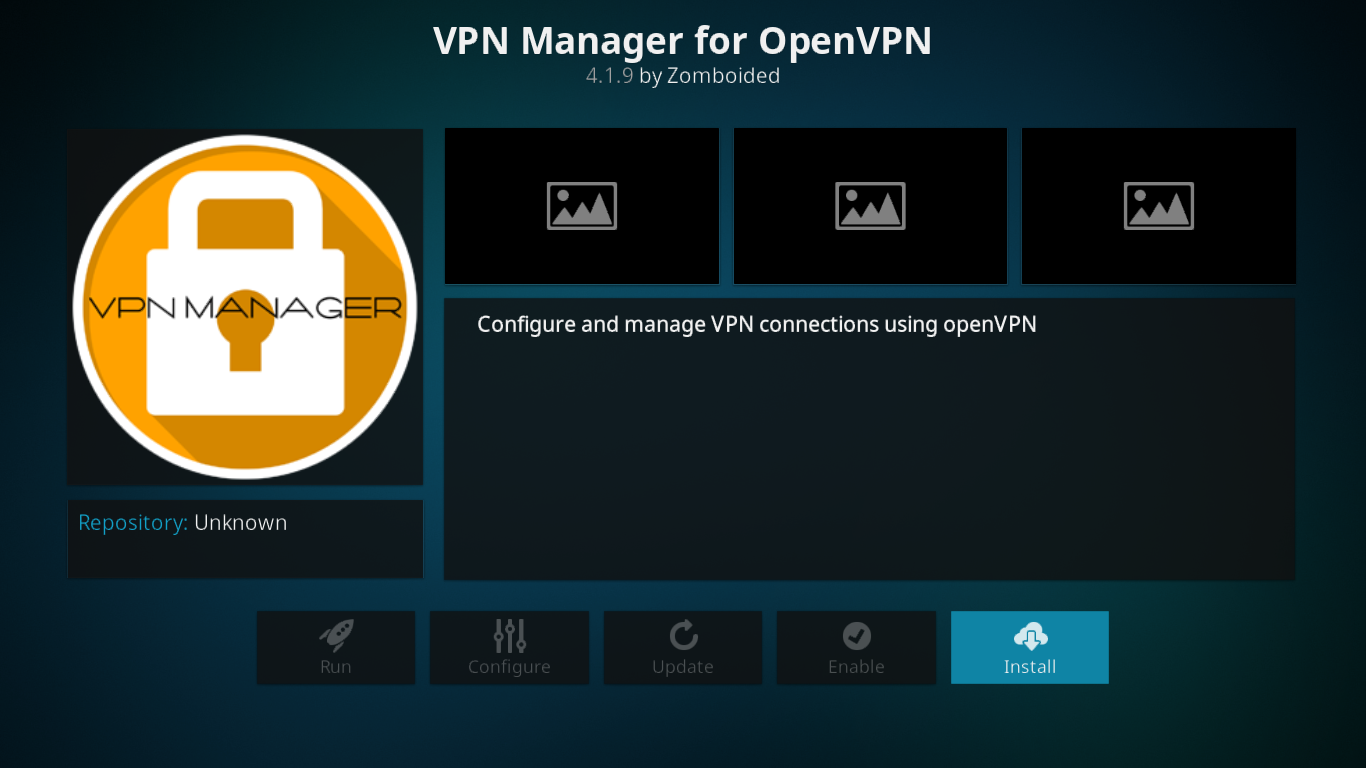 After a very short while, another message at the top right of the screen will confirm the successful installation of the add-on.
Configuring and Using the Zomboided VPN Manager Add-on
You start the VPN Manager add-on by clicking its icon. You'll find it by first clicking Add-ons on the left pane of the Kodi home screen, then Program adds-on. Upon startup, you'll be greeted by the add-on's main menu.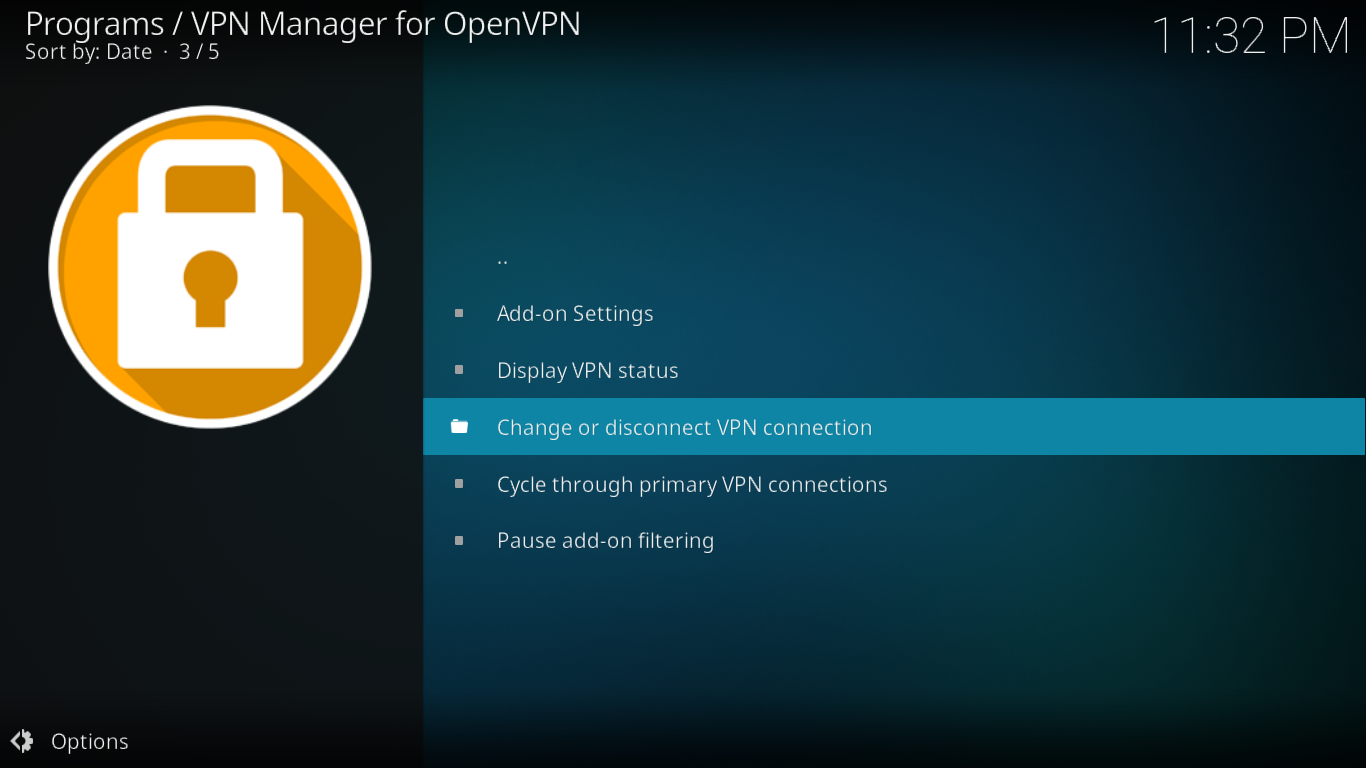 Before you can use the add-on, you must configure it with the proper parameters for your specific VPN provider. Let's see how that is done.
From the main menu, click Add-on Settings.
First, you need to configure your VPN Parameters. After making sure VPN Configuration is selected on the left pane, next to VPN Provider, click the arrows to cycle through the available VPN suppliers until your supplier is displayed.
Next, enter your username and password. You can leave the rest of the parameters set to their default value.
Then, you should click VPN Connections on the left pane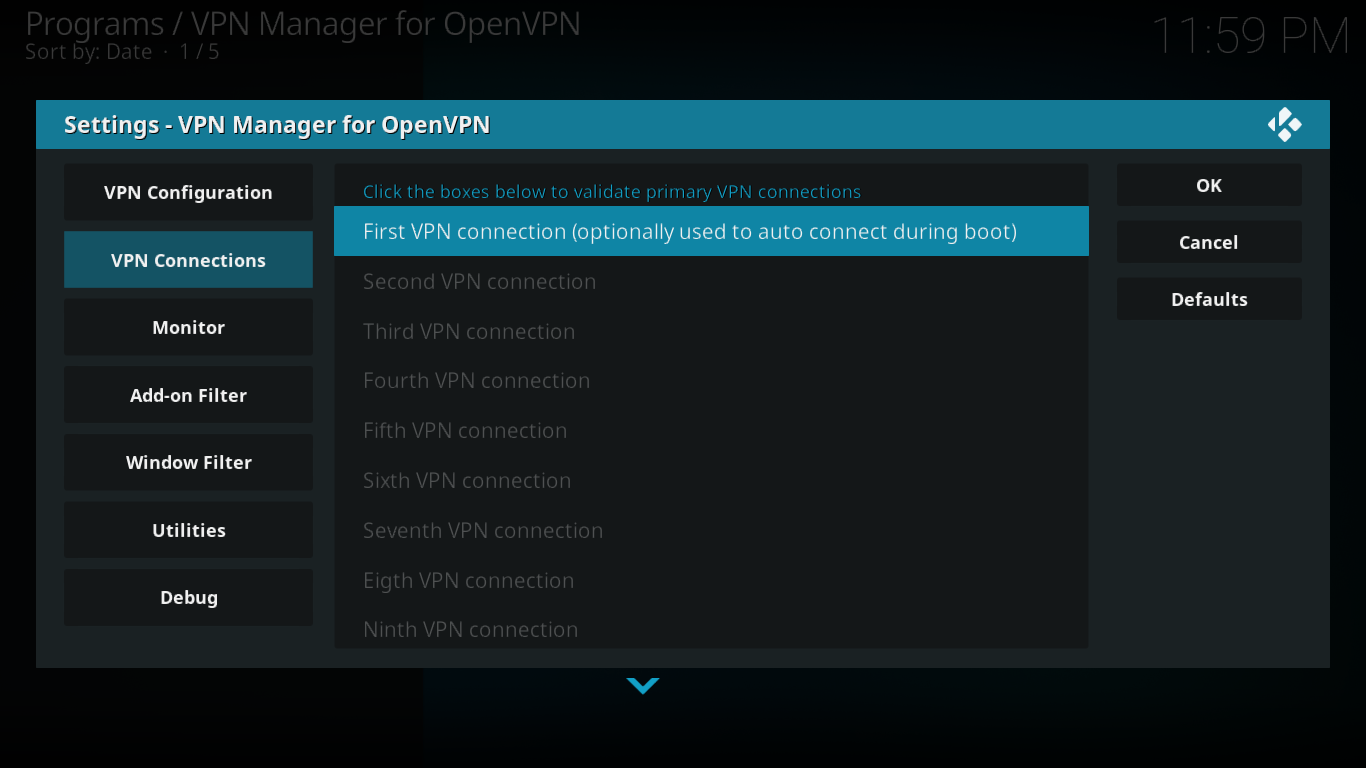 Click First VPN connection and you shall see the add-on start connecting to the VPN. Once the add-on connects, you will see a list of servers to connect to. Select your desired server. You're now connected to the VPN.
If you want you can add connections to other servers. For instance, you could have one to a server in the US, one to a server in the UK, one to a server in Canada and switch from one connection to the other depending on where in the world you want to appear to be located.
And There's Even More…
Another very interesting feature of the VPN Manager add-on is the Add-on filter.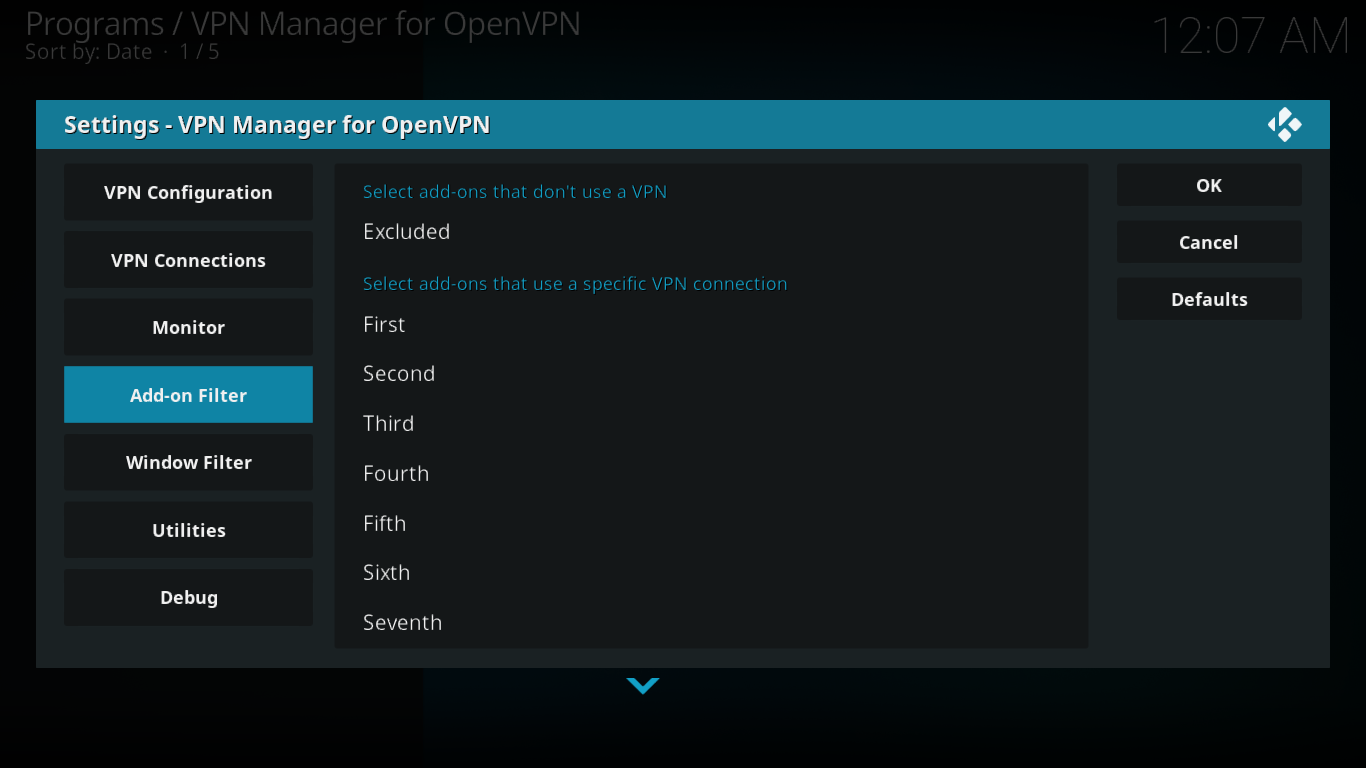 From that screen, you can specify add-ons that don't use a VPN so that the VPN connection automatically drops when you start them. You can also associate specific add-ons with specific VPN connections. That way, if you have one particular add-on that requires a VPN to a particular location, you can automate the connection.
Back to the add-on's main menu, Let's see what other options are available. They won't need much explanation as they're all pretty obvious. Display VPN Status is self-explanatory. So is Change or disconnect VPN connections. Cycle through primary VPN Connections will do just that and Pause add-on filtering is used to temporarily stop the add-on filter we just described.
What Is a VPN?
A VPN, or Virtual Private Network, is a mechanism used to increase the security and privacy of a network connection. It works by encrypting network traffic using advanced methods that preserve security and anonymity. They are used extensively in the corporate world where they secure connections between different locations. They're also used to secure remote access to a compony's network by remote employees. For generic, everyday use, several VPN suppliers have appeared in recent years offering a subscription-based VPN service.
How Do VPNs Work?
A VPN does its magic by building a virtual tunnel between the VPN client (usually running on your computer or device) and the VPN server running somewhere on your VPN provider's network. Any network traffic going through the tunnel is encrypted in a complex manner. We'll spare you all the technical details but, in a nutshell, traffic originating from your computer can only be decrypted by the VPN server and vice-versa.
If someone had the possibility to examine your traffic, (be it your ISP, your government, or local hackers) all they'd see is unknown data going between your computer and the VPN server. They wouldn't be able to tell what that data is or where it's going, beyond the VPN server.
Why Does One Need a VPN?
You know that someone with the possibility to examine your traffic we just mentioned? Well, that someone exists. In fact, several of them exist. Your Internet Service Provider could be one of them, looking at your traffic to ensure you don't violate their terms and conditions. It could also be an ill-intentioned person sitting next to you at the coffee shop while you use your computer to do your online banking. Security and privacy are the main reasons why anyone would want to use a VPN. Don't we all prefer to keep our things to ourselves?
RELATED READING: What to do if you're a victim of identity theft
The other big advantage of a VPN is a side effect of the way they work. Whenever your network traffic goes through a VPN, the website or Internet resource you're connecting to sees the traffic as coming from the VPN server you're using and not from your computer. With many VPN suppliers offering multiple servers in different locations, this could be put to one's advantage to bypass geographical restrictions. Say you're in Spain and want to access a website that only allows access from within the USA. All you have to do is connect to a web server located in the USA and the websites you're trying to access will "think" this is where you are.
Conclusion
If you're a LibreELEC user and you want to use a VPN, there is a solution for you. The Zomboided VPN Manager add-on will work with most VPN suppliers and it works very well. Its installation and configuration might require a couple of extra steps, compared to most other add-ons, but it's a small effort that brings great rewards.
Are you a LibreELEC user? Have you tried installing the Zomboided VPN Manager add-on? Did you encounter any issue? How would you describe your experience? We love to hear from our readers. Please, share your comments below.