We are reader supported and may earn a commission when you buy through links on our site.
Learn more
The Best VPNs for Online Banking and Why Use One
Do you regularly use a VPN for online banking? If not, you should, and today's article will show you why you should. Your personal banking data has never been at greater risk–so check out our top 4 best VPNs for online banking below. We'll also show you some best practices to further secure your online bank account.
The Best VPNs for Online Banking and Why You Should Use Them
Banks used to be an in-person experience. If you wanted to make a deposit or chat with support, you had to find a branch and wait in line. As web technology gained ground and basic securities improved over the years, online banking started to take hold. Mobile devices and browser-based account access quickly became the preferred way to interact with your bank. Now if you want to deposit a paycheck or view your balance, all you have to do is access your online account.
We recommend these VPNs to boost your security while online banking:
NordVPN – Best for Online Banking – NordVPN is trusted all around the world for keeping your online banking sessions completely secure. Powerful encryption, massive network, zero logs.
Surfshark – Obfuscation on every server, split-tunneling, modern tunneling protocols.
ExpressVPN – Blazing fast speeds, split tunneling, and advanced privacy provisions.
IPVanish – A good generalist VPN that doesn't cost much yet offers a ton of value.
VyprVPN – Route your banking session through this provider's entirely self-owned network for total anonymity.
Although banks deploy a number of strong security measures to keep your data safe, they can't protect against every threat. This is where VPNs come into play. Using a VPN while online banking can stop all sorts of attacks, including attempted identity thefts. Read on for some of the best reasons to use a VPN for online banking.
30-days money back guarantee
How VPNs Work
VPNs, or virtual private networks, have been around for decades. Their use skyrocketed in the last few years thanks to increasing concern over basic online security. With governments tracking users, ISPs collecting and selling data, and hackers looking for an easy mark, there's no shortage of dangers on the world wide web. VPNs neatly defeat these problems by including encryption on every packet of data that leaves your device. VPN software wraps information in an unbreakable layer of encryption that prevents anyone from seeing what a packet contains. No matter what sites you visit or what files you download, your activity remains safely obscured.
VPNs also provide virtual location variability. Each time you connect to the internet you're assigned an IP address. This collection of numbers allows data to be routed back to your device, almost like a mailing address for digital content. IP addresses can also be used to identify your location and even trace content back to your ISP account, instantly removing any privacy you thought you might have. With a VPN in place, the only IP address the world sees is the one associated with their servers, allowing you to remain hidden online.
All of these features work to increase security each time you connect to the internet. VPNs are perfect for daily use, but they're especially useful for obscuring sensitive information, things like e-mails, credit card numbers, and of course, online banking details.
Free vs Paid VPNs
Let's get this out of the way right up front: you should never use a free VPN service with an online bank. Never. Free VPNs are notorious for collecting and selling user data, often going so far as to inject ads into browsers and apps. If you connect to one of those sketchy free VPN services you see on mobile marketplaces and the like, it's possible they're gathering all of your information, including bank account info, and passing it out to the highest bidder. After all, you're not paying them, so they have to make money somehow.
Using a trusted, paid VPN service means you're no longer the product, you're a customer. Paid VPNs have every reason to keep your data safe instead of logging it or selling it to third parties. They're also faster than free VPNs and don't impose bandwidth or file type limitations on users. And they're remarkably inexpensive, as well.
Best VPNs for Online Banking
Staying secure while accessing your online account is never a given. Even using a VPN doesn't guarantee your privacy. Choosing a reliable, respected service is vital to ensuring your data stays safe no matter what. We researched the top VPNs on the market to find out which ones provided the best online banking experience. Each one is fast, secure, easy to use, and reliable on every device, including smartphones.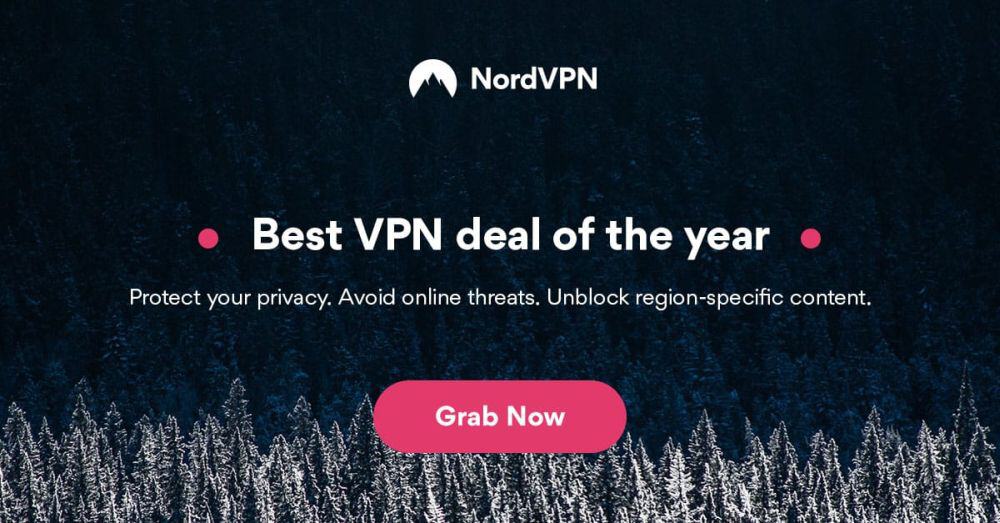 NordVPNhas a lot of killer features, the most impressive of which is a network of just under 5,800 servers in 60+ countries. These nodes give you plenty of connection options around the world, and they also provide unique features like onion over VPN routing, double encryption, and DDoS protection. On the security side of things, NordVPN packs in strong 256-bit AES encryption for all connections, offers kill switch and DNS leak protection, and deploys a thorough zero-logging covering timestamps, traffic, DNS logs, and more. It's the perfect VPN for power users, but it's friendly enough that anyone can take full advantage of it on any device.
Read our full NordVPN review.
Pros
SPECIAL OFFER: 2-yr plan (68% off - link below)
Most VPN servers with different IP addresses
Torrenting is explicitly permitted
"Double" data protection
24/7 Live Chat.
Cons
Very little
They can take 30 days to process refunds.

VPNs like Surfshark are, on their own, a powerful way to enhance the security of your online banking session. After all, provisions like 256-AES-GCM encryption, zero logging policies, and advanced tunneling via OpenVPN, IKEv2/IPSec, and WireGuard make for speedy but secure connections to VPN servers all over the world.
However, hackers, governments, advertisers and other ne'er-do-wells have developed methods to track VPN traffic. This is where Surfshark's more novel features come into play. Most notably, every one of their 800+ servers come equipped with the ability to enable obfuscation, which is sort of like a VPN for your VPN. Thus, your heavily encrypted banking traffic looks to outsiders like normal, uninteresting traffic.
What's more, Surfshark has a Whitelister, which you can use to specify which apps get encryption and which don't (this is especially useful for some banking apps which don't play nice with certain VPN settings). You can even enable specific protections on individual Wi-Fi networks–especially useful for commuters and digital nomads.
Pros
Bypass government censorship with NoBorders mode
Every server is a speciality server
TrustPilot 4.3/5 rating
Logging policy independently audited and verified
24/7 live chat ensures maximum uptime.
Cons
Growing network doesn't have same coverage as more mature VPNs
Apps may be too simplistic for power users.
Read our full Surfshark review.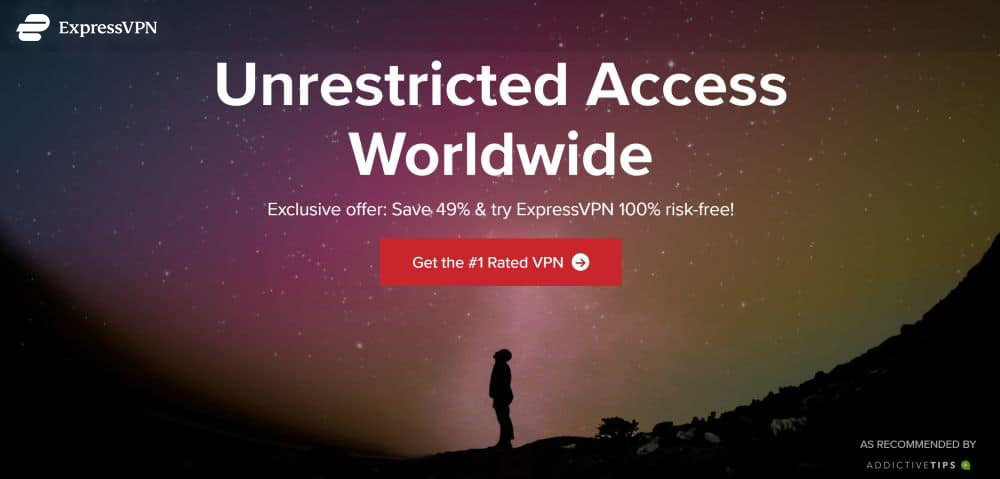 ExpressVPN has a reputation for being both fast and easy to use. Its apps are sleek and lightweight, perfect for keeping your mobile banking app protected while on the go, and you'll always have access to ExpressVPN's server network that spans 3,000 nodes in 140 locations across 94 different countries worldwide. Built-in privacy features include 256-bit AES encryption, a zero-logging policy on all traffic, and both kill switch and DNS leak protection. It's the perfect solution for anyone who wants solid security without having to sacrifice speed.
Read our full ExpressVPN review.
Pros
Unblocks American Netflix, iPlayer, Hulu
Reliable and fast connections
Supports ALL devices
No logs for personal data
Live chat support available.
Cons
Expensive month-to-month plan.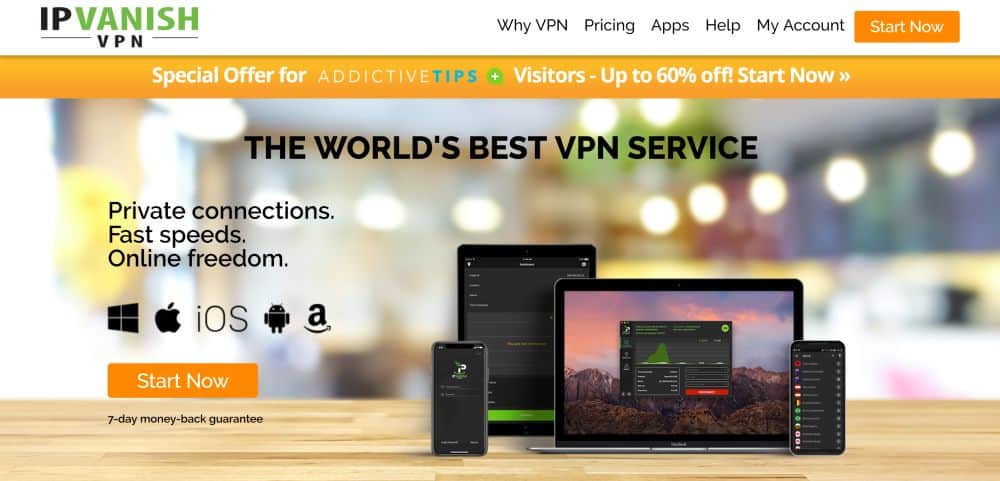 IPVanish delivers the perfect balance of speed and security, making it a great VPN choice for just about everyone. It starts with a network of over 1,300 servers in 75+ different countries, each one fast and lag-free no matter where you live. Your data stays safe with 256-bit AES encryption, DNS leak protection, and an automatic kill switch on all devices, including tablets and smartphones. There's even a zero-logging policy on all traffic to help keep your online activity hidden from third parties.
Read our full IPVanish review.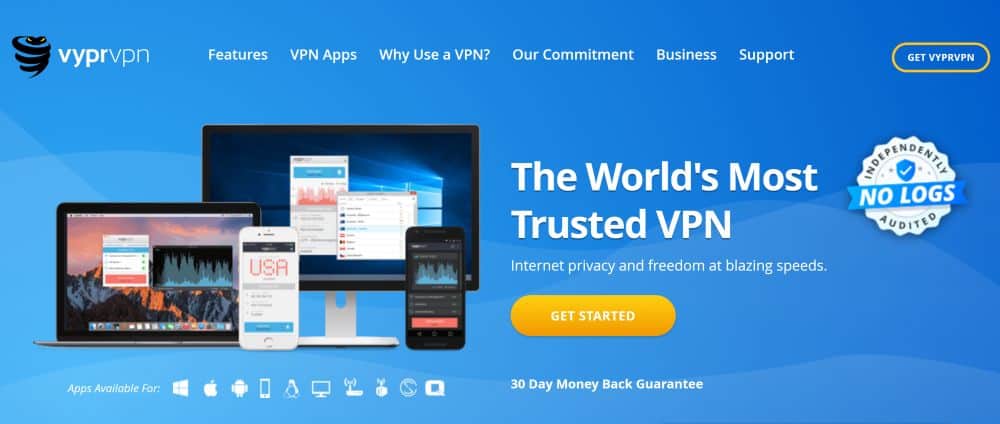 VyprVPN offers over 700 servers in 70+ different countries, a strong network that delivers fast connections around the globe. Vypr backs this up with some incredible security features, to boot, including 256-bit AES encryption, DNS leak protection, an automatic kill switch, and a zero-logging policy on traffic and DNS requests. If extra privacy is in order, try out VyprVPN's exclusive Chameleon protocol. This technology wraps packet metadata in an extra layer of encryption, defeating deep packet inspection and bypassing censorship blocks in places like China and Russia. If security is the only thing on your list, make VyprVPN your first stop.
Read our full VyprVPN review.
Five Reasons to Use a VPN for Online Banking
Not sure why you should bother with a VPN? We've collected some of the best reasons to grab a virtual private network and keep it active while banking online.
1. Your Information Is Always Safe
Banks use HTTPS encryption to send and receive data from online accounts. That's good and all, but it doesn't guarantee privacy, even on your home network. Running a VPN while connected adds a secondary layer of encryption to your transactions, one that can't be broken by your ISP, your bank, or even talented hackers. It's like creating a private tunnel to the internet that only you can use.
2. Your Banking App Can Stay Secure
Do you prefer your online banking on an app? Cell phones are popular targets for hackers and malware, largely because the platform is easier to access than a desktop PC. Banking apps usually encrypt data themselves before it's sent from your phone, but by running a VPN in the background, you can ensure no packets leave unprotected, no matter what.
3. You Can Log in from Public Wi-Fi
Have you ever accessed your bank account from a public hotspot? You shouldn't have, as this is one of the biggest sources of account breaches around. Public Wi-Fi is a hotbed of hacker activity. Most users don't pay attention to the security of their portable devices while at a cafe, hotel, or restaurant. They'll check e-mail and enter credit card details just like they were at home. Without a VPN present, that data is sent unencrypted across the web, allowing anyone with the right software to slurp it up and use it against you.
VPNs and their encryption abilities make it safe to use public Wi-Fi once again. With the apps installed and active on your laptop or smartphone, you can check your online bank account, grab e-mail, or even shop without having to worry about your information being compromised.
4. You Can Access Your Account while Traveling
Banks are usually quite sensitive to account access outside of your home country. Most online services monitor IP addresses that connect throughout the day, matching them with account holder locations in an attempt to catch stolen details and other forms of fraud. This can lead to some problems if you travel out of the country frequently. Even just stepping over the border and accessing your account from a new Wi-Fi network or cell tower can trigger these fraud blockades.
A VPN with servers in your home country can help prevent situations like these. Online banks usually don't check to see if you're using a VPN. If you're traveling and enter a new region, simply switch VPN servers to one located back home. The next time you connect it'll be just like you're sitting on your couch checking your bank balance.
5. Some VPNs Protect against Phishing
Phishing attacks are methods deployed by hackers in an attempt to harvest usernames and account passwords. They work by replacing a requested website with fake forms, often going so far as to create an exact copy of your online bank account's look and feel. Avoiding phishing scams is generally up to the user. Always check the URL before entering details, and make sure the green HTTPS lock icon in your browser is turned on. VPNs often help protect against phishing attacks, too, by providing DNS level scanning to prevent hijacking attacks.
Drawbacks to VPNs and Online Banking
Using VPNs almost always means more features, better access, and a private connection to the web. They're important to use for everyday browsing as well as sensitive activities like online banking. There are a few minor inconveniences you could encounter, though. Below are a few of the common drawbacks along with some quick workarounds.
Out of Country Access
Using a VPN means switching your local IP address for one that could be in another country. If you're in the U.S., for example, but find faster connections to servers in Canada, websites you visit will believe you're in Canada. The same is true for online banks, as well. Logging into your account shares the IP address currently associated with your device, forcing the bank to believe you've traveled out of country. This could trigger a number of fraud flags in the service's security system, as foreign access often means your account was compromised. In the worst case scenario, you may find your bank disallows logins from certain countries altogether.
Even if out of country IP addresses cause a problem with your bank, there's usually an easy solution. You could start by using a VPN with servers in your own country, which should usually be faster than long distance servers, anyway. Failing that, contact your bank and tell them you either use a VPN or travel frequently. Both explanations can allow them to temporarily suspend foreign access fraud protection. Keep in mind that in this case if your account actually does get compromised, you might be more vulnerable.
Banned VPNs
Some banks have started banning VPNs altogether. The practice isn't extremely common, nor does it apply to all VPNs, but users have encountered temporary access blocks when trying to log in. You can quickly remedy this problem by disabling your VPN and connecting again, or call the bank's support line and inform them of the issue.
Other Ways to Secure Your Online Bank Account
VPNs aren't the only way to protect your data online. Use some of the tips below to help keep your online accounts safe and secure.
Change Your Password
You probably haven't changed your online bank account's password in a while, have you? Switching passwords every few months is a great way to prevent fraud before it even happens. Make sure you choose a lengthy password with a mix of numbers, letters, and symbols (if your bank allows them). Don't write it down or paste it in a file or anything, just memorize it and move on.
Install HTTPS Everywhere
HTTPS Everywhere is a browser extension made by the Electronic Frontier Foundation (EFF). It forces websites to use a secure HTTPS connection for every element on the page, ensuring no data entering your device wasn't encrypted beforehand. It's the perfect base-level security extension to add to any browser, especially for online banking.
Use Anti-virus Software
Viruses, malware, and trojans are rampant on the web. VPNs can't protect against these threats, so in order to keep things like keyloggers off your system, you need to keep a good anti-virus software package active. Most operating systems provide a built-in service that forms a great first line of defense. In addition to leaving the scanners on the background, you should also run sweeps from time to time, just in case.
Report Strange Activity
Even if you don't use your online account every day, it's a good idea to check in on occasion to watch spending activity. You might discover a charge you didn't make, which is a sign that someone compromised your account. If your bank offers a mobile app, set it to notify you of any new transactions. If something goes through that you didn't authorize, contact the bank immediately.
Conclusion
VPNs are amazing tools that have transformed the way we access the internet on a daily basis. They restore privacy to the web, they open the door to location variability, and they secure sensitive information so we can check our e-mail or bank balances without fear. In short, using a reliable, paid VPN service can enhance every aspect of your online world.