Change PowerPoint 2010 Presentation Resolution
It seems really bizarre when you are giving presentation having high resolution images or HD embedded videos but the system specification or monitor resolution not supporting it. It may look good on your system having extravagant specifications, but might not on your college/university provided systems (having low specification). So, while giving a presentation, system starts lagging because of high resolution images, animations or HD movies. To make your presentation seamless on other systems as well, you need to change the resolution. Opportunely, PowerPoint provides you with an option to change it as required.
PowerPoint 2010 has multiple resolution options from which you can easily choose one according to the system specifications and projector dimensions. For changing resolution, head over to Slide Show tab and from Monitors group, click drop-down button to view the available resolution options. The list varies from system to system having different monitor setup.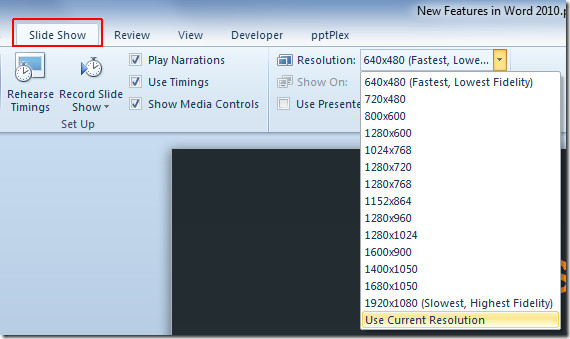 As the lowest resolution provided in list (see screenshot) is 640×480, gives fastest navigation of slides and but lacks fidelity in means of presentation (image, animation, HD videos) quality. The quality and navigation speed are inversely proportional to each other i.e with high resolution, you may experience slow navigation and conversely with low resolution, navigation will improve but with low fidelity.
Lets take a glance at two extremes;
Resolution: 1920×1080 (HDMI setup)
Resolution: 640×480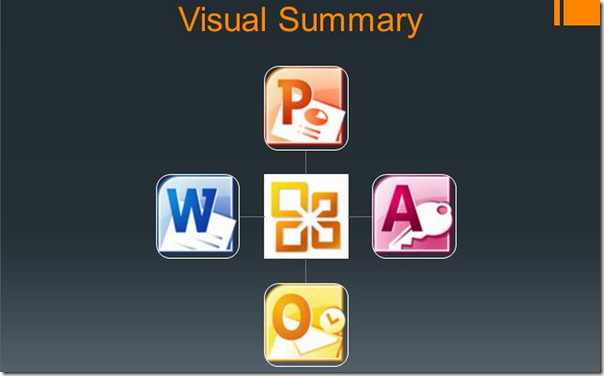 The images in 640×480 resolution gets bigger and bulky along with quality lost can also be noticed, but quality with 1920×1080 resolution remains sharp.
You can also check out previously reviewed guides on How to directly send Word document to PowerPoint 2010 & How to encrypt PowerPoint Presentation with password.