Contacts Sync Brings Two-Way Sync Between Gmail Contacts And Outlook 2010
Back in January, we covered Go Cntact Sync – a desktop application which offers quick synchronization of Google Contacts with Outlook 2007 and Outlook 2010. Contact Sync is another tool that assists Outlook 2010 users in performing synchronization with Gmail contacts. It is a minuscule application which requires nothing except Google account credentials to sync all the contacts with Outlook defined contacts folder.
Two way mode syncing is also available. To begin, enter Gmail account login information, specify Outlook folder followed by sync mode. Now click Synchronize to begin the process.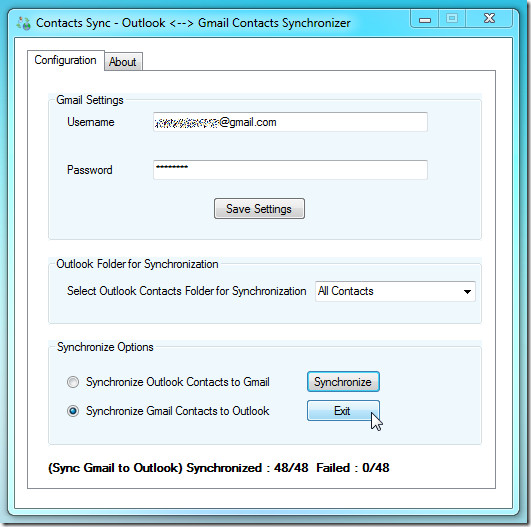 At the bottom, you will see the sync status, however, it is recommended to verify all the newly synced contacts from specified Outlook contacts folder. It works on both Outlook 2007 and Outlook 2010, testing was done with Outlook 2010 running on Windows 7 x64 system.