Excel 2010: Data Input Forms
Excel 2010 provides Data Input Form that helps users fill cells more easily. It enables user to create a Form for entering data, which saves a lot of time by providing a simple interface in which you can enter the data without hassling of scrolling the window and search records for editing. The Data Input Form feature lets you fill all the cells' values of a single record quickly. With this feature, you no longer need to move to the required cell in the spreadsheet manually and enter the data. Furthermore, it lets you move through the entered data using the next and previous buttons. You can easily edit the data, delete a record and create a new record from within the data input form dialog box.
For instance: If we want to add marks obtained by a great number of students, we need to enter a lot of data manually into the respective student record cells. To begin, launch Excel 2010 worksheet in which you want to enter data. For illustration, we will use a simple student record sheet that contains names of students and courses.

Now we want to populate the data sheet that will show the name and marks secured by each student in respective courses, we can do it in old-orthodox way, but if the datasheet grows bigger in size then scrolling down and across the window to find the records would be difficult to get by. For this problem, we need to make a form in which we will be entering marks.
Go to File menu, click Options, and in left pane click Customize Ribbon, In the right pane select All Commands from Choose commands from the drop-down options and look for Form command. Now from left pane, select Home and hit New Group, new group will be added to Home tab, change its name to Form, and then click Add >> button to add Form command to newly created group. Click OK to close Excel Options dialog.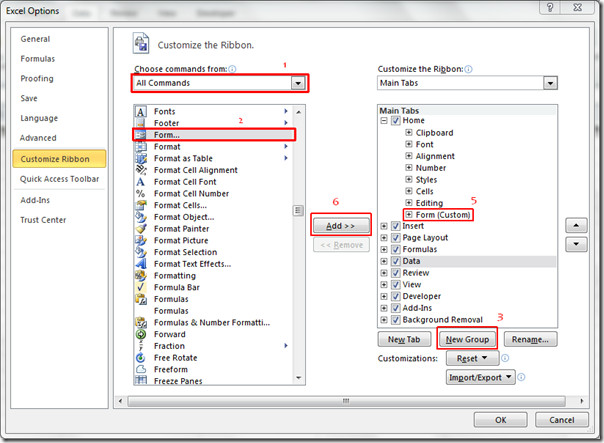 You will see the Form command at the end of the Home ribbon.

Now Select the cell beneath the first course name field.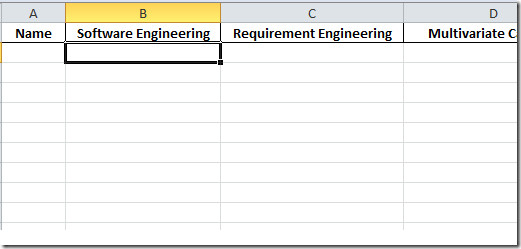 Click Form button to  open it's dialog, now we will start entering the name and marks obtained in the respective subjects.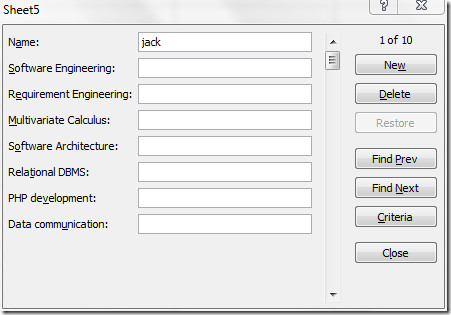 Once Form is filled, you can enter marks for the other student, click Find Next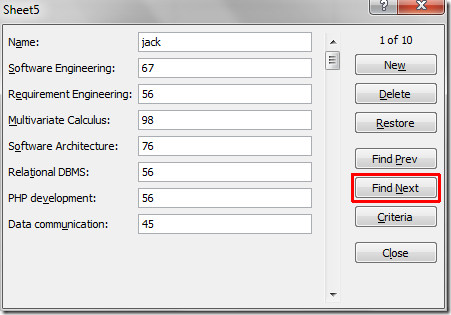 Once done with entering marks for all the students, you can click New to add a record of a new student by specifying his/her name.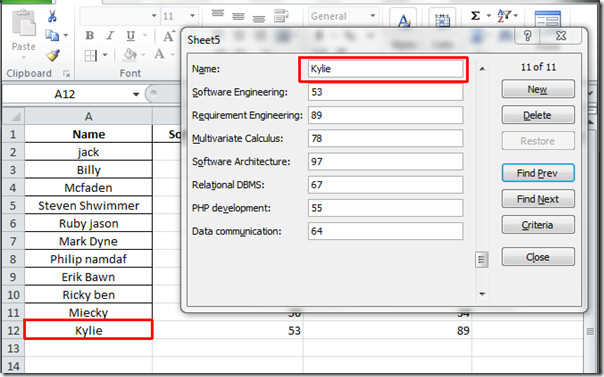 Records of all the students are populated in a quite simple way, as seen in the screenshot below.