Minimize Outlook 2010 To System Tray
If you're having many programs pinned in taskbar, you might want to shift one or two applications from taskbar to system tray. Outlook 2010 offers a small handy option to always minimize the program to system tray. Let's take a look a how to minimize Outlook to system tray.
To hide the Outlook window from taskbar when minimized, right-click Outlook in system tray and select Hide When Minimized.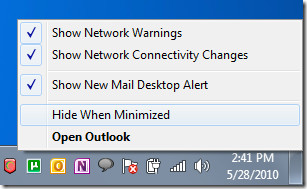 It will instantly remove Outlook from taskbar, letting you to access it only from system tray.