How To Insert Date/Time In Report [Access 2010]
By default, Access 2010 doesn't place date/time stamp on reports, however, if needed you can enable date/time at required position. Let's see how to show it.
From main navigation pane, right-click Report and select Layout View.

Now from Report Layout Tools Design tab, in Header/Footer group, click Page Numbers.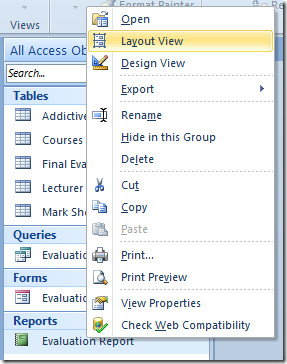 It will bring up Page Numbers dialog, now set the page numbers settings; Format, Position and Alignment and click OK.
It will insert page number at specified position.