How To Insert New Sheet In Excel 2010 Workbook
By default Excel 2010 opens 3 sheets in workbook, so you can switch between sheets for carrying out different operations. If you need to insert more sheets in a workbook, Excel offers a simple way to insert as many sheets as you want.
If you need to insert another sheet in workbook. Navigate to Home tab, and from Cells group, open Insert drop-down list and click Insert Sheet.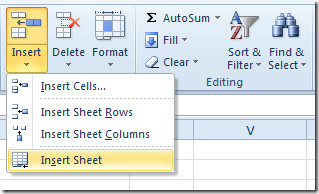 It will insert a new Sheet in Excel Workbook.