How To Open PST And OST Files Without Using Outlook 2010
PST and OST are two most important files which carries your Outlook's mail items, contacts, events, tasks, etc. Considering the significance, it may become indispensable to access PST (Personal Storage Tables) and OST (Offline Storage Tables) files without having to install Outlook 2010 (or any other version) on your new system. Viewing PST and OST files also comes useful when Outlook is inflicted by viruses or simply doesn't respond due to unknown reason. Kernel PST and OST viewer (two separate tools) are developed for gaining access to your PST and OST files respectively.
Using these tools, you can easily open and view the contents of Personal Storage Tables and Offline Storage Tables. Both applications are absolutely free and comes with a same snappy interface. The main navigation bar holds all the content of your PST/OST file in question. Beneath navigation bar, you will find links to Calendar, Tasks, Journals, Notes. The main window is extensible and comes with broad layout, you can easily move the separators for best viewing.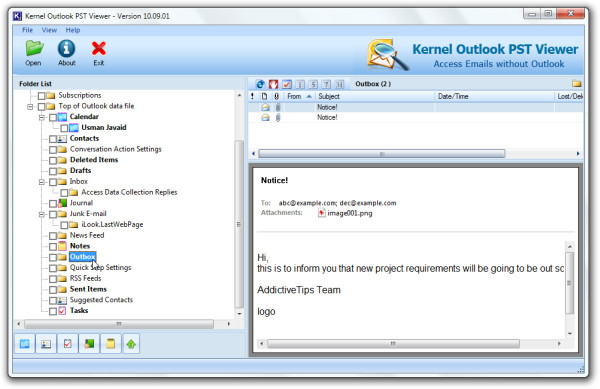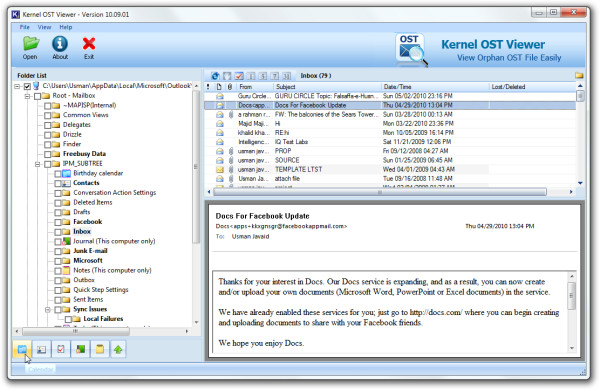 It is to be noted here that these application wont work if any of Outlook instance is running in the background. As these applications and Outlook are mutually-exclusive, you have to run one at a time.
The applications supports Windows XP, Windows Vista, and Windows 7, testing was done on Windows 7 x86 system.